527 Glue Vs. E6000: How do you decide between them? As an avid crafter and DIYer, I've used my fair share of glues and know the struggle of determining which is best suited for a project.
In this article, we'll be comparing and contrasting 527 Glue and E6000 – two very capable but different adhesives. We'll explore the key factors like strength, flexibility, dry time, longevity, and toxicity.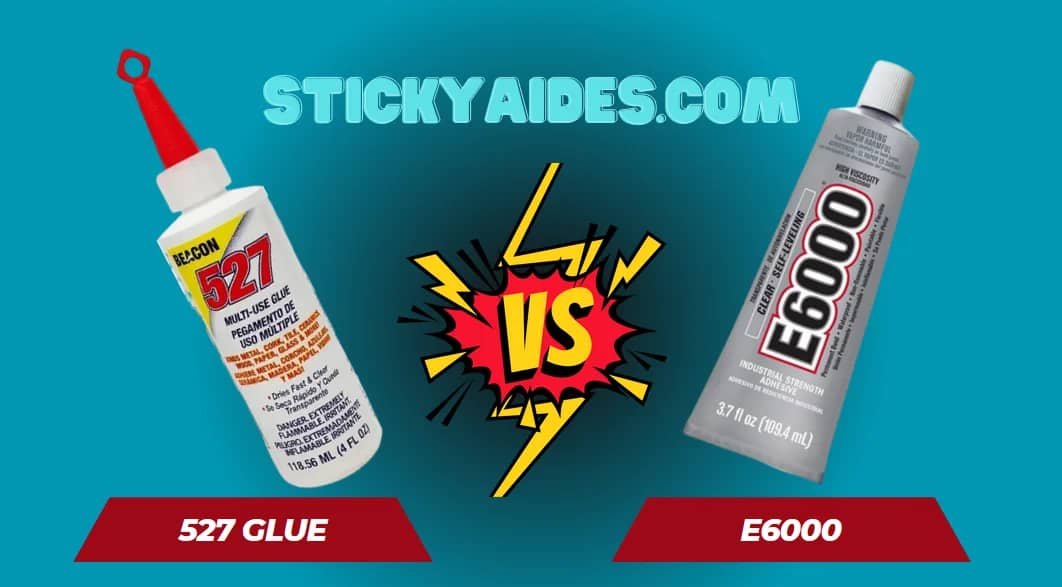 I'll draw from my own experiences using these glues as well as scientific testing data. You'll also get handy tips for applying, removing, and cleaning up both 527 and E6000. By the end, you'll have a clear sense of their respective strengths and when one has the edge over the other. Let's glue this thing together!
527 Glue Vs. E6000: What's The Difference?
The key difference between 527 Glue Vs. E6000 is:
📝 My Hands-on Test of 527 Glue

✅Pros
One of my favorite projects was a huge framed rhinestone Christmas tree that took first place at our State Fair. The clear-drying formula of 527 Glue made sure that every rhinestone stayed securely in place. It's truly a remarkable product, and I can't praise it enough.
From smooth surfaces to delicate crafts, 527 Glue adheres flawlessly. I have repaired shattered glass awards, and while the cracks are still visible, the glue holds everything together remarkably well. It surpassed my expectations and proved to be better than any other glue I've tried for similar applications.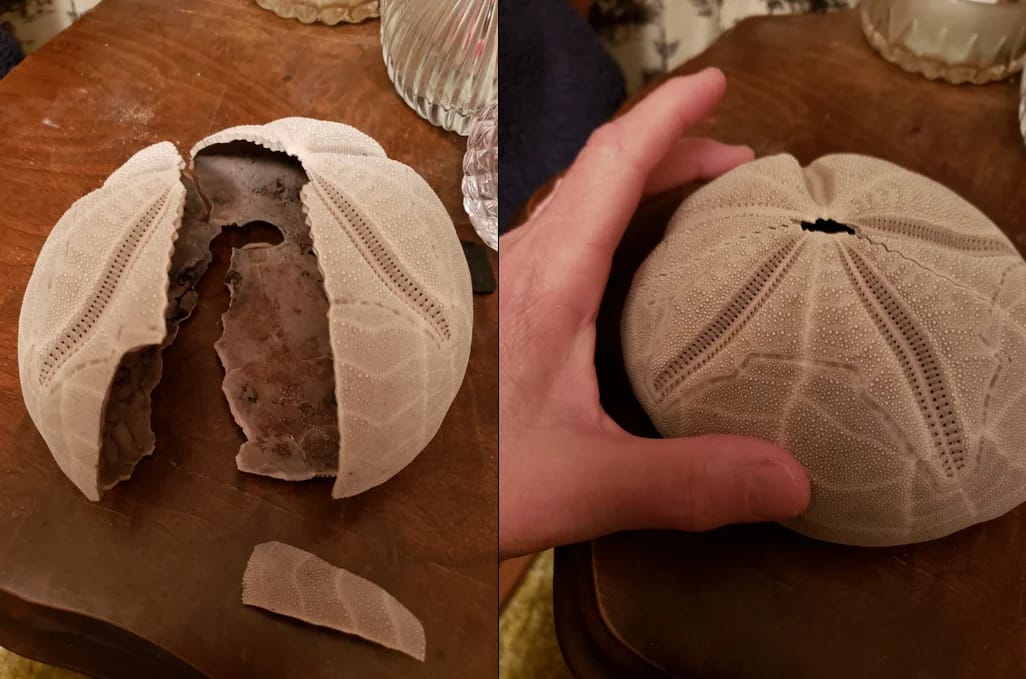 When it comes to quick-drying and super-strong holds, 527 Glue is unmatched. I have used it for a wide range of projects, including jewelry, mosaics, and various crafts that require a fast-dry adhesive. Its versatility and reliability make it my go-to choice every time.
From paper to fabrics, and even holding rocks together, it never fails me. Its adhesive properties are simply outstanding, making it an essential tool in my crafting arsenal.
Its thin consistency makes it perfect for intricate work, such as attaching cords, chains, or decorative pieces with flat backs. Plus, the lack of odor is a bonus, ensuring a pleasant crafting experience.
What's more, the adhesive strength of 527 Glue is remarkable. It sticks securely, ensuring that whatever I'm working on remains intact. I can always count on it to provide a reliable bond, whether I'm working with wood, glass, or even plastic. It outperforms any other glue I've used for my projects.

FAQ of 527 Glue
Q: Can 527 Glue be used to fix a broken concrete yard bunny's ear?
A: 527 Glue is effective and could hold the bunny's ear for a while, but since it will be exposed to outdoor conditions, it would be better to use an epoxy-type adhesive. Gorilla Glue might have a suitable option in their product line.
Q: Does the glue retain flexibility after it dries?
A: I personally use this super glue for beading on driftwood. As the driftwood dries and swells with the moisture in the air, sometimes a bead may detach. It works well on wood, bone, glass, and metal (to some extent). However, if the item is made of fabric or requires thorough washing, 527 Glue might not be suitable. I hope this helps.
Q: Is 527 Glue suitable for jewelry making, specifically for gluing glass to metal?
A: I use 527 Glue along with another glue/sealer called Lilly Glaze to glue glass cabochons with cardstock images on them to a metal bezel in jewelry making. I have made earrings that have lasted for many years using this combination. However, if you are gluing a piece of glass to metal without using an image, I'm not certain if you would encounter bubbling or if the glass would remain transparent when glued to the metal.
Q: Will 527 Glue work for adhering a coconut button to fabric?
A: 527 Glue is strong and can bond to most materials. However, when it comes to fabric, it depends on the purpose. If it is for an art piece or collage-type bonding, it would work beautifully. But if it is for clothing that needs to be washed, I would not recommend using it. There are fabric glues available (see can b7000 be used on fabric)that can withstand washings, although I don't have a specific name in mind.
Q: Can 527 Glue be used to reattach a crystal to another crystal?
A: I use 527 Glue, as well as 6000 glue, for setting cabochon stones in my beaded jewelry. One advantage of 527 Glue is that when you are trying to glue something back together, such as a figurine, you only need to hold the pieces together for a moment or two before setting the item aside to let it cure. I usually let it sit for 24 hours before handling it again. Although 527 Glue is expensive, it is definitely worth the investment.
Q: Would 527 Glue work for Perler beads, especially for 3D art?
A: I can say that the color of the bead should remain permanent. It should not bleed or wash away. As for 3D art, I'm not sure about the term you used. However, 527 Glue is highly effective with fine Czech beads, glass, wood, metal, and pottery. It may not be suitable for paper or film materials.
Q: Is 527 Glue flammable both before application and after it dries?
A: I haven't conducted any experiments involving setting my art on fire, so I can't provide an exact answer. However, it is likely that the adhesive remains flammable after it dries.
Q: Will 527 Glue dry transparent? I'm concerned about the yellowing effect of its sister product, Gem-Tec.
A: I can assure you that Beacon 527 is the best glue I've ever used. I work with fine seed beading on driftwood and bone, and it dries crystal clear. It allows a few minutes to adjust the position of the bead before setting up, and I can continue working after about 15 minutes without disturbing the fresh work. It dries completely within a few hours and becomes fully solid after 12 hours. It is very strong, and I rely on it heavily for my beading projects. Don't hesitate to try it; you will love it.
Q: Is the formula in the bottle the same as the 2 oz. tube?
A: The formula is not specified on the exterior of the tube or bottle, so I cannot provide an exact answer to this question. However, I have been using both types of applicators for years, and I find that the bottle performs just as well as the tube. I had to switch to the bottle because the tubes were no longer available at a reasonable price.
Q: Can 527 Glue be used to attach pebbles to a plastic planter for making a fairy house?
A: I haven't used 527 Glue specifically for attaching pebbles to a plastic planter, as my applications have been focused on repairing stoneware and re-attaching shoe soles. However, it is a highly reliable product and generally performs well. It might be worth giving it a try for your project.
Q: Where can I purchase six units of the 4 oz. 527 glue at the best price with shipping toHawaii? I have a wholesale license.
A: Hello, Kathryn! Thank you for reaching out. We have a listing for a box containing six tubes of 527 glue, and you can find it by searching for the ASIN# B0033LV9EE on Amazon. This should provide you with the best price and shipping options to Hawaii.
Q: Can 527 Glue effectively bond soft silicone to wood?
A: I have used 527 Glue for many years in my artwork, particularly with Czech beads and various multimedia materials. It is exceptionally strong once dry and dries to a beautiful, clear finish. Attaching it to wood should not pose any problems, but I would like to know more about the specific type of soft silicone you are referring to.
Q: What is the difference between the 527 glue in this bottle and the one in the 2 oz. tube?
A: The main difference lies in how you prefer to handle the container when applying the adhesive. For years, I only had access to the tube version, which I found convenient. However, with this bottle, you have the option to dispense as much adhesive as you need by gently squeezing it. Once you start, the glue flows fairly freely.
📝 My Hands-on Test of E6000

✅Pros
It is some of the best stuff out there for small projects that need to stay stuck. I love that these come in small tubes because you only need a tiny bit, and the large tubes tend to dry out before you can use them all. These small tubes are perfect for my smaller projects and prevent any waste, as the glue doesn't dry up.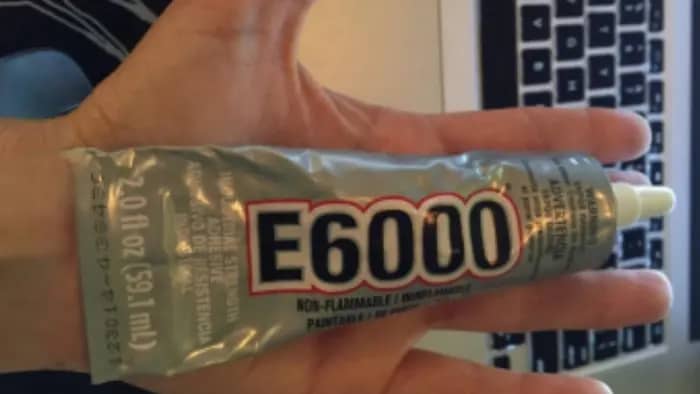 The secret is to let it sit for 24 hours before any use. I highly recommend this glue for various crafting projects, such as craft tumblers, and prefer the one that dries clear.
Still two layers eva, 4 nylon straps with two bucks and adjustments, one just goes over top, other crosses and goes around ankle. Shot of damage for showing it is not perfect, but I also probably could have been more vigilant and keeping it tight. No sewing, e6000 glue.

PlasmaGryphon
Overall, E6000 glue has proven to be much better than any other adhesive I've tried and I will definitely continue using it for my future projects.
❌Cons
The fierce smell of the glue does require using it in a well-ventilated area, and it's not for quick applications. If you really mind the smell, consider E6000 Plus instead. Here is my test on them: e6000 vs e6000 plus

FAQ of E6000
Q: Can E6000 glue cork tiles to an aluminum patio ceiling in Florida and withstand the heat?
A: This glue has been used to glue fake fireplace logs in a gas fireplace heater, so it should be able to withstand the summer heat in Florida.
Q: How long does this glue last on the fabric?
A: This glue works well on fabric, but it's important to be careful with the amount used as too much can cause bleeding through and too little may not stick.
Q: Is E6000 completely waterproof for use in a snow globe?
A: Yes, this glue is completely waterproof and can be used in a snow globe.
Q: Can this glue be used to adhere glass to metal, such as a car window to a metal track?
A: It's not recommended to use this glue for car windows. It's best to use an adhesive specifically made for car windows.
Q: Can D6000 adhere metal to wood, such as metal knobs to a wooden coat rack?
A: It's not certain if this glue will work for this purpose, as it may depend on the amount of strain put on the object.
Q: How can this glue be cleaned up?
A: Use a disposable item such as a toothpick, q-tip, or straw for cleanup.
Q: Would E6000 work to glue foam to a plastic lid of a Pelican case?
A: Yes, this glue can be used to attach the foam to plastic, but it's recommended to scour the plastic surface with 220 grit first and make sure it's clean with acetone or 90% alcohol.
Q: What is the maximum temperature that this adhesive can withstand for a ceramic plate setter in a grill/smoker?
A: It's unlikely that this glue is designed to withstand such high temperatures.
Q: Is E6000 resistant to gasoline and does it harden?
A: It's uncertain if this glue is resistant to gasoline, but constant exposure to gasoline may erode the bond. The glue remains somewhat flexible when it dries. However, I've listed the best gas tank repair kit that should be resistant to gasoline, feel free to read it.
My Latest Updates
👋 Hi! This is Ronald. I just published 2 new articles you may enjoy reading. Feel free to keep reading this one or 👇 check out the new articles anytime.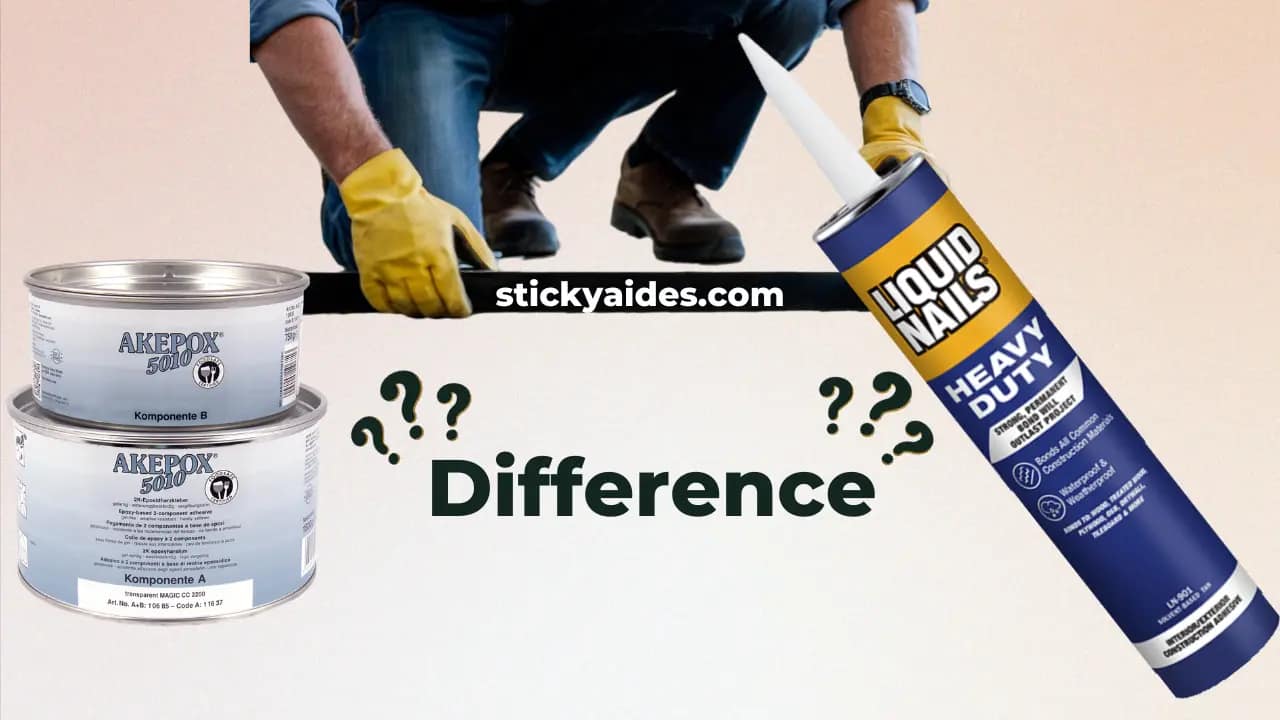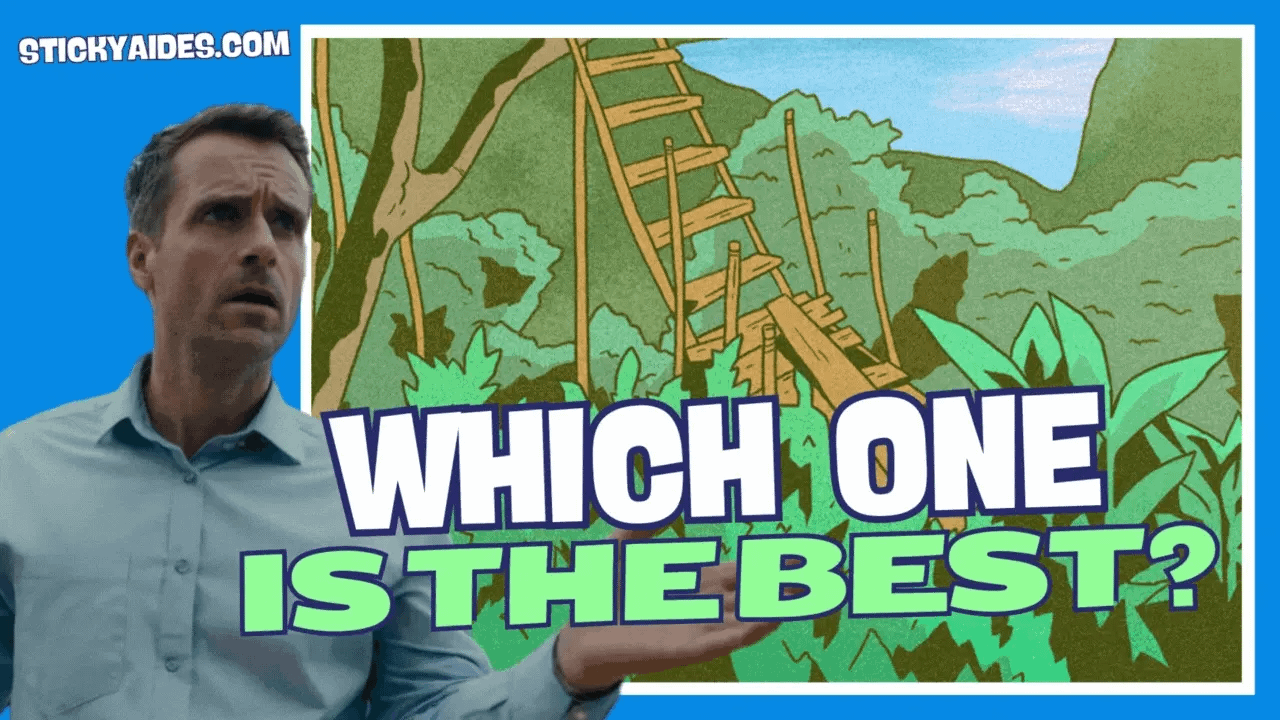 Q: What type of glue is E6000 and does it fill gaps?
A: E6000 is a rubber contact glue that can fill small gaps and create a strong bond.
Q: Does this glue dry out the nozzle and lid like super glue?
A: The lid may stick, but the glue doesn't fuse with the surface like super glue. The nozzle may need to be cleared and scraped out before each new project.
Q: Can E6000 glue stone vases to a marble cemetery monument?
A: It's unclear if this glue would work for this purpose.
Q: How many tubes are in each pack of E6000?
A: There is one tube per pack of E6000.
Q: Is E6000 glue waterproof?
A: Yes, this glue is waterproof and can be used in submerged applications.
Q: Does E6000 glue have an expiration date?
A: Yes, there is an expiration date on the tube of E6000 glue.