Alex Flex Vs. Dynaflex 230 Sealants. Not exactly the most exciting topic, unless you're really into caulking. But choosing the right sealant is crucial to get a professional, lasting seal on your project. Do you go with the tried and true Alex Flex that dries quickly for a seamless finish? Or opt for the premium Dynaflex 230 that firmly seals even the widest gaps?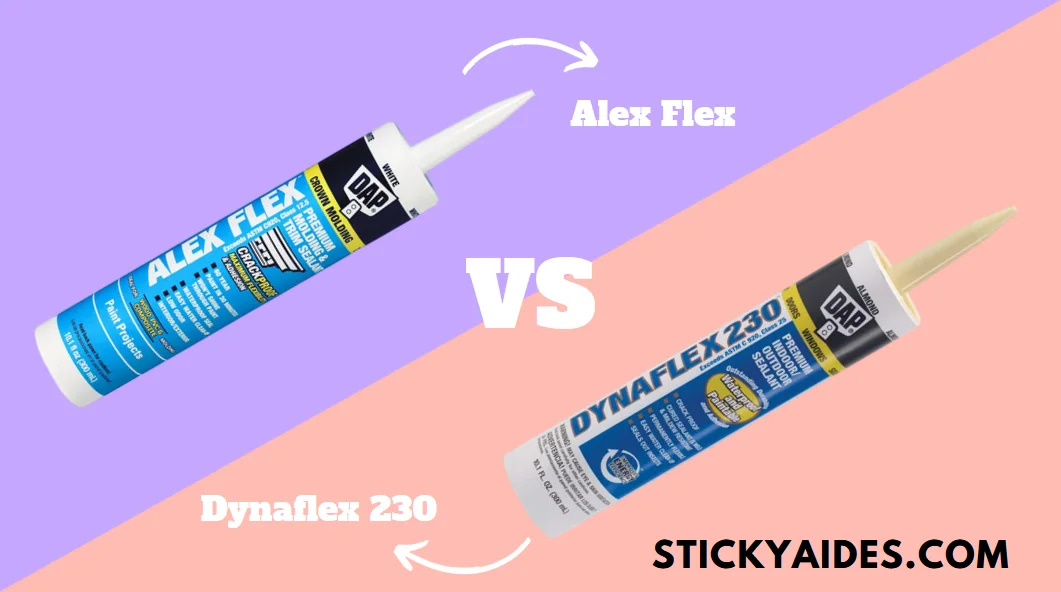 Whether you're sealing windows, doors, siding, or cracks in your driveway, this battle of the sealants will equip you with the knowledge to pick the perfect product for YOUR project. So squeeze out a bead of your favorite caulk and get ready for the Alex Flex vs Dynaflex 230 showdown!
❓Alex Flex Vs. Dynaflex 230: What's the Difference?
The main difference between Alex Flex Vs. Dynaflex 230 is:
Alex Flex offers faster paint readiness and is ideal for interior molding and trim applications(as we will discuss further), while Dynaflex 230 has superior flexibility, waterproofing, and longevity for exterior gaps and joints. Dynaflex 230 also has slightly better movement capability and cold-temperature performance.
📝 My Hands-on Test of Alex Flex

Despite the natural shrinking and expansion of wood trim during different seasons, this caulk stays true and maintains its excellent appearance. I can confidently say that it is the only caulk I will ever use from now on. Trust me, unless you enjoy constantly redoing your trim by painstakingly removing old caulk with a razor blade and replacing it every few years, do yourself a favor and buy this caulk. It will save you a lot of hassle and frustration.
Unlike other fillers I've tried, which showed signs of cracking within four weeks, Alex Flex has remained intact. It was incredibly easy to install and required minimal sanding. It truly works as stated by the manufacturer.
One particular issue I had was a crack in the ceiling where the drywall wasn't taped and mudded correctly. However, thanks to Alex Flex, I was able to close the gap and repaint it without any hassle. This product truly delivers on its promises.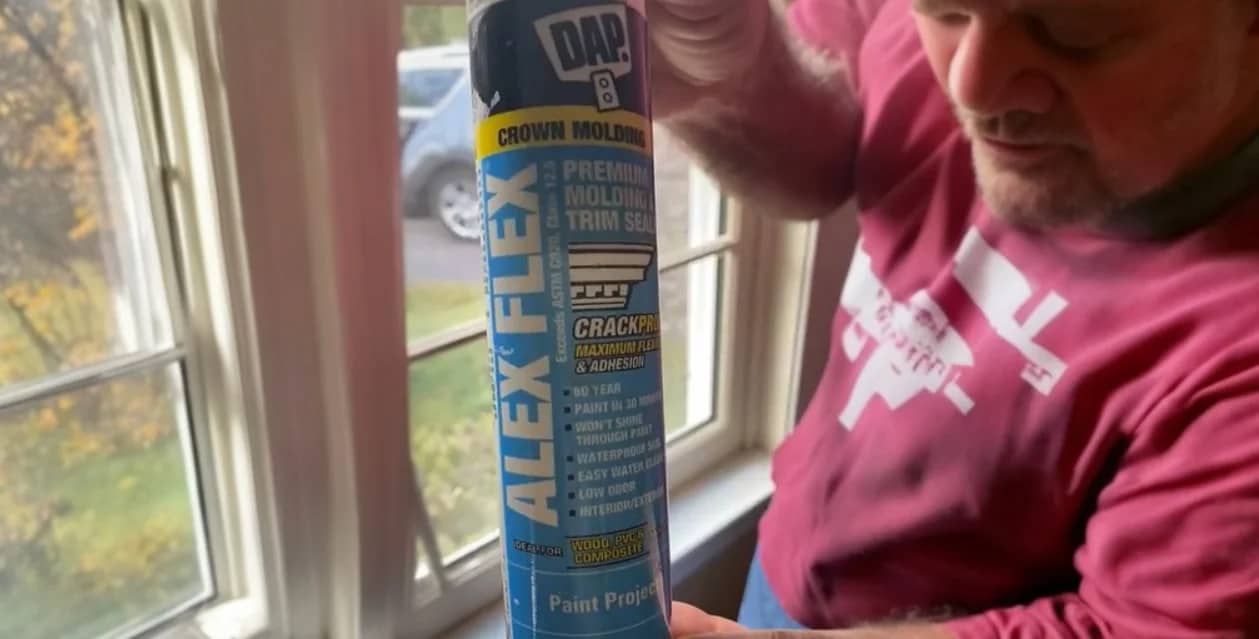 While this caulk is not the best glue to use in shower sealing, it is still relatively easy to work with. However, I would advise caution during the application process, as it tends to get everywhere if you're not careful. Taking the necessary precautions will help you avoid any unnecessary mess.
In conclusion, it spreads easily, allowing me to work with it effortlessly. Second, it holds its form between uses, so I don't have to mix it each time I need it. Third, it dries reasonably quickly, saving me valuable time during my projects.

💬 FAQ of Alex Flex
Q: Is Alex Flex suitable for exterior stucco applications?
A: Unfortunately, it is not recommended for use on exterior stucco as it may wash away in rain. It is intended for interior use only.
Q: Is it possible to apply Alex Flex to a ceiling without experiencing any sagging?
A: Indeed, it is capable of being used on a ceiling without sagging.
Q: Can Alex Flex be utilized to fill gaps on VOG (vinyl on gypsum) wallboard after removing battens?
A: Yes, it can be used for that purpose. However, keep in mind that filling large gaps without additional structural support may not be effective. For gaps measuring 1/2 inch and larger, it is advisable to consider using support while filling the gap in stages.
Q: Are there any drawbacks to using this product compared to the pink stuff or fast-dry/final spackling?
A: When using these types of products to fill dents, holes, or cracks in preparation for painting and concealing them, it is advisable to start with harder, slower-drying products and finish with lighter-weight, faster-drying, and easier-to-sand products. The faster-drying and easier-to-sand products often tend to be weaker.
Q: Will sagging be a concern when using Alex Flex ceiling applications?
A: Most likely, unless it is applied in a very thin layer. It is considerably thinner than standard spackling and has the ability to level itself inside the container.
Q: Can Alex Flex be used to repair vinyl flooring that has a few cracks and a small missing piece?
A: It is not recommended. Alex Flex is specifically designed for drywall applications.
Q: Can this product be applied over red Devil kitchen and bath dura guard siliconized adhesive caulk?
A: No, it will not adhere properly to siliconized caulk.
Q: Alex Flex flexible Vs. Elastopatch, both from the same company, which one lasts longer when painted?
A: In my 130-year-old house, I have primarily used Alex Flex. Apart from one very deep crack, it has held up nicely. I have sculptured plaster and successfully patched and sculpted the dried Alex Flex using a Dremel tool. Alex Flex has a few more applications, but either product should serve you well. I hope this information is helpful.
Q: Is this product thin enough, ranging from 1/16″ to 1/32″, to repair peeled paint effectively?
A: Feathering the edges might be a bit more challenging compared to regular mud, but once dry, it can definitely be sanded. Therefore, it could potentially work for repairing peeled paint.
Q: Can this product be used for art on Canvas?
A: The suitability of this product for art on canvas depends on the artist's creativity. It should adhere to the canvas, allowing the artist to create the desired texture after it dries.
Q: Can this product be smoothed with wet fingers during application?
A: To some extent, it can be smoothed with wet fingers, although it is not as malleable as other materials.
Q: What size of crack can this product effectively repair?
A: In my experience, it can effectively repair small cracks with little to no movement. However, it is worth mentioning that every crack I fixed with this product has reappeared, whereas similar cracks that I repaired using traditional tape and mud have remained in great condition. I would recommend avoiding this product as it seems too good to be true.
Q: Can this product be used to patch a hole over silicone roof coating?
A: I'm not familiar with silicone roof coating. However, this product will not adhere to a silicone-based wall patch.
Q: Once it sets, is it as hard as plaster?
A: After it has set, we never touched it but attempted to sand and paint it. It's similar to a mixture of caulk and plaster, slightly flexible, and doesn't sand as smoothly as plaster.
Q: Since it is flexible, can I skip taping the joints in the gypsum wallboard?
A: Absolutely not. It is essential to use tape and mud for joint reinforcement.
Q: How long should I wait before applying a second coat?
A: Before applying a second coat, lightly sand the patch. If the patch sands away, creating dust instead of balling up and rolling off or clogging the sandpaper, it is likely to dry enough to be recoated.
Q: Can this product be applied to a mesh patch for repairing a larger hole?
A: No, Alex Flex is specifically designed for flexibility. You may want to search for "drywall butterfly patch" on Google for repairing larger holes.
Q: Is it necessary to use tape or mesh with this product to fix settling cracks?
A: It appears that this product is designed to be used without tape or mesh. I have recently used it to repair several settling cracks in old horsehair plaster, and so far, it seems to be working well. The true test will be the changing of seasons, but for now, it seems promising.
Q: Can you use Alex Flex on ceramic surfaces?
A: If the ceramic has a glazed finish, Dap might not adhere well to it. In such cases, it is best to roughen the surface by sandblasting it before applying the product.
Q: Is it necessary to use water-based sealer/paint, or can oil-based sealer and paint be used instead?
A: Yes, you can use oil-based sealer and paint over Alex Flex, rather than limiting yourself to water-based options.
📝 My Hands-on Test of DYNAFLEX 230 Premium Elastomeric Silicone Sealant

I used this to seal cracks and drafts in my 130-year-old house that experiences significant movement. When I tried other brands, like Alex Fast Dry, it would crack in a day. But this caulk keeps my corners from having cracks and provides that extra security for corner cracks. I recommend taping, floating, texturing, and then caulking every corner before priming with PVA primer and painting. It really finishes the corners nicely.
BTW, This product is a little harder to work with than cheaper alternatives because it's a touch stickier, but keep a wet rag nearby and back wipers you go. This stuff is awesome. It flows well and sticks, and it's easy to wash off your fingers with water.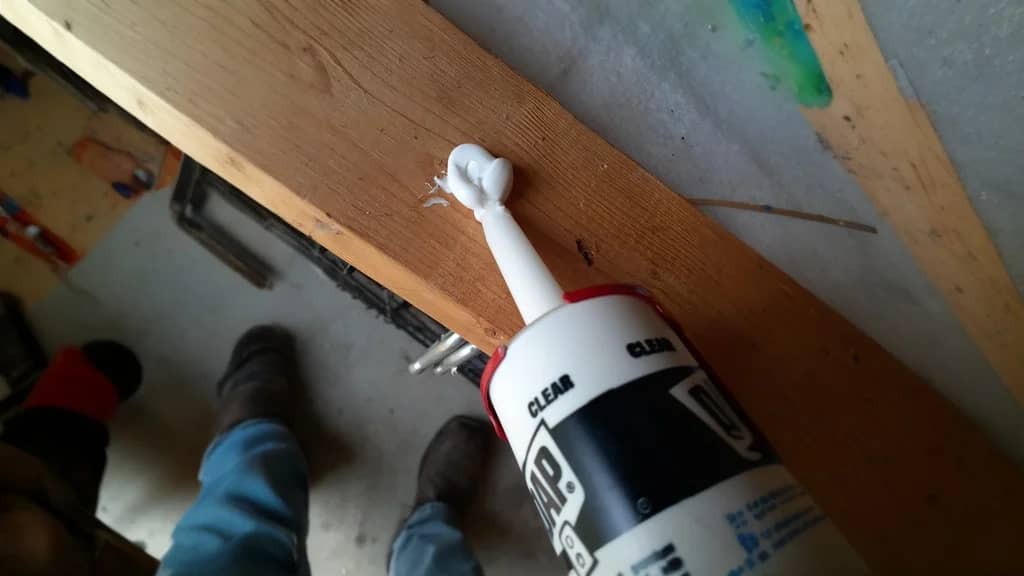 I found that this caulk is perfect for windows, doors, and floorboards. It's just what I needed when I needed it and I'm pleased with it. The consistency is just right for working with and it sticks well.
The price is great and I like this brand because it usually works how I need it to. I bought a 6-pack for a large job and it was perfect. One year later, it has dried nicely and seems to be working well. I'm very happy with the way it has held up.

💬 FAQ of DYNAFLEX 230 Premium Elastomeric Silicone Sealant
Q: Is it possible to paint DYNAFLEX 230 using regular primer+paint in one?
A: Yes, it's possible to paint DYNAFLEX 230 using regular primer+paint in one, but it's important not to paint too soon. Always check the directions before proceeding.
Q: Does DYNAFLEX 230 tend to attract dirt and is it easy to clean?
My Latest Updates
👋 Hi! This is Ronald. I just published 2 new articles you may enjoy reading. Feel free to keep reading this one or 👇 check out the new articles anytime.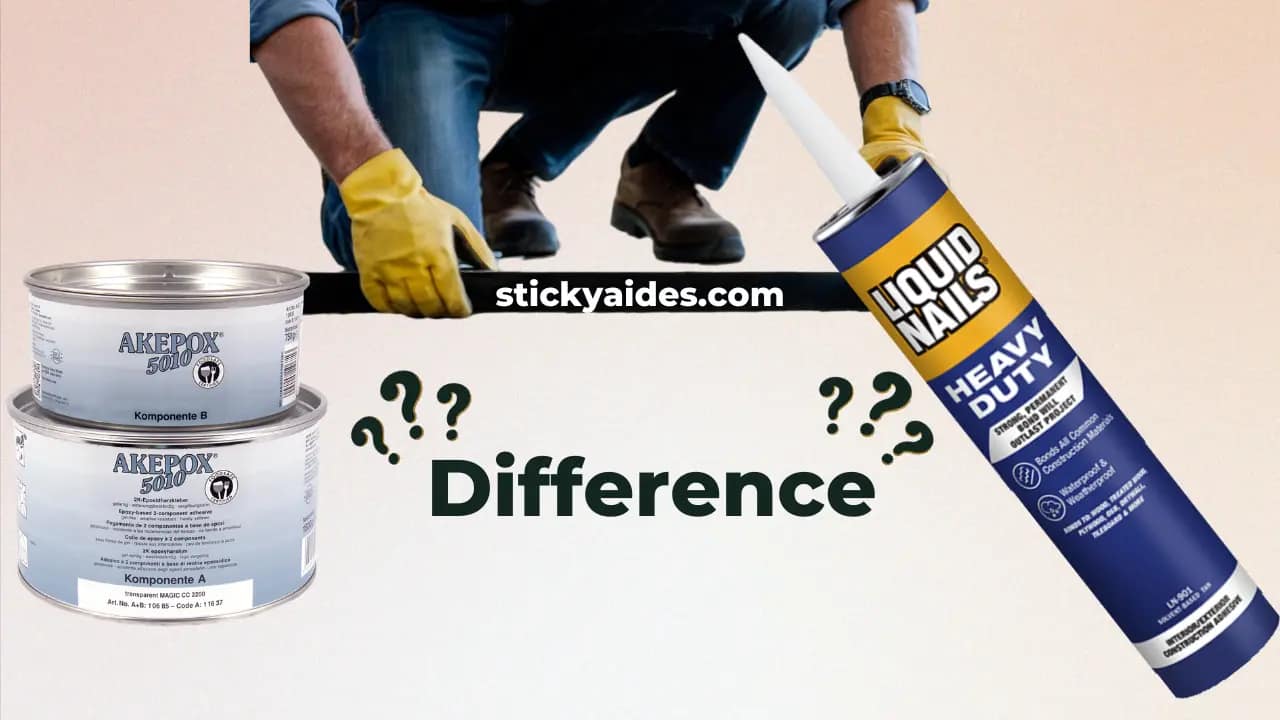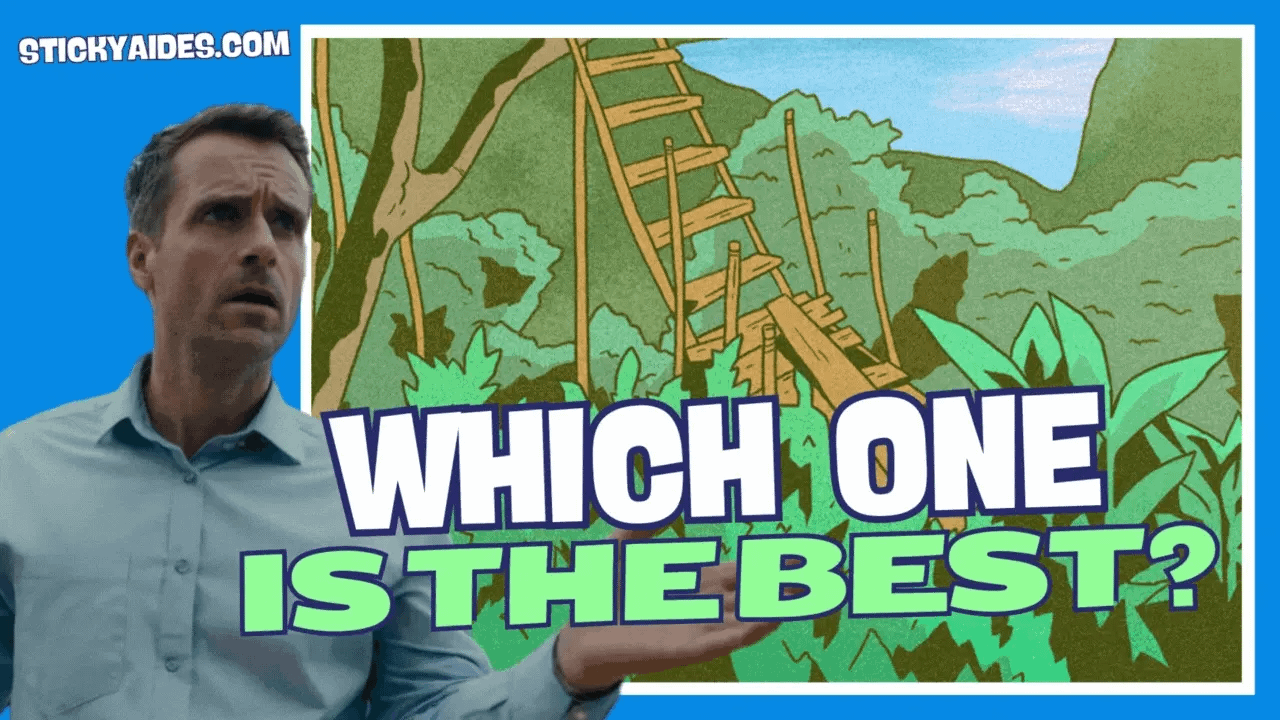 A: Over time, dirt can attach to this non-hardening product. We clean the exterior with water and the interior areas with a paintbrush and shop vac. However, it's worth noting that our environment is very dusty.
Q: Can DYNAFLEX 230 apply to something that's wet or damp?
A: While it's possible to apply this product to something that's wet or damp, it's best to ensure that the surface is clean and dry for optimal results.
Q: Is DYNAFLEX 230 caulking non-toxic and low fumes?
A: Yes, this latex-based caulking with silicone is low VOC and non-toxic.
Q: The photo of the DYNAFLEX 230 shows brilliant white as the color, is it really brilliant white?
A: If the label indicates brilliant white, then that is the color that is in the tube. Brilliant white is simply caulking that will dry completely white.
Q: What pressure is required to get the caulk out of the tube? Is it 12:1?
A: This product is non-hardening and does not require specific pressure to be applied to get the caulk out of the tube.
Q: What is the recommended temperature for installation of this product outside?
A: I recommend a temperature of at least 50 degrees F for installation. It takes several hours to "skin dry," so do not install outside if rain is expected within several hours.
Q: Can this be used to fix a crack in a water fountain?
A: While it's doubtful that this product would be a lasting fix for a crack in a water fountain, Latacrete makes some products that might work better for this purpose.
Q: Can DYNAFLEX 230 be used to seal a tub faucet or do I need a different silicone caulking?
A: DYNAFLEX 230 is not silicone caulking, but rather an elastomeric that is paintable. Paint will not adhere to silicone, so it's important to read the product specifications and compare them with silicone caulking to determine which one might work best for sealing a tub faucet.
Q: Is it possible to use spray paint on DYNAFLEX 230?
A: It's not recommended to use spray paint on DYNAFLEX 230 as the solvent in the spray paint could attack and melt the caulk. Instead, use a polyurethane caulking sealant for spray painting.
Q: Should I apply this to raw wood or should I prime it first and then paint it?
A: Either way will work, but it's recommended to paint first to ensure the best results.