Bondo Vs. JB Weld: They're both heavy hitters that promise to glue, seal, and repair everything from metal to plastic to ceramic to that relationship with your in-laws.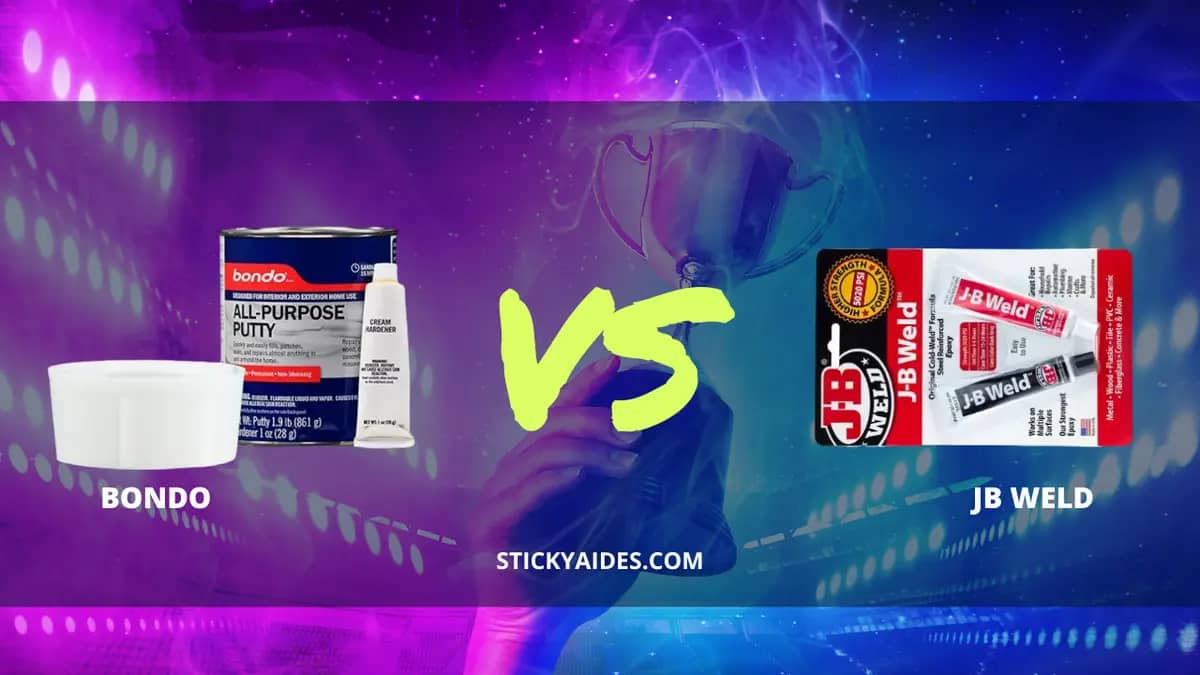 So grab your respirator masks and your mixing sticks, folks. We're about to stir it up and get to the bottom of the ultimate adhesives showdown: Bondo vs JB Weld. In the steel cage match of epoxies, only one can be left fully cured when the bell rings. Let's glue!
3M Bondo Vs. JB Weld: What's The Difference?
The main differences between 3M Bondo Vs. JB Weld is that JB Weld has higher flexural strength and better chemical resistance, while Bondo offers good gasoline/petroleum resistance. But their strength, temperature resistance, cure times, hardness, coverage, mix ratios, etc. are all nearly identical. Both can be used for similar applications bonding metals, plastics, concrete, and more. JB Weld may have a slight performance edge but Bondo also offers some unique benefits.
📝 My Hands-on Test of Bondo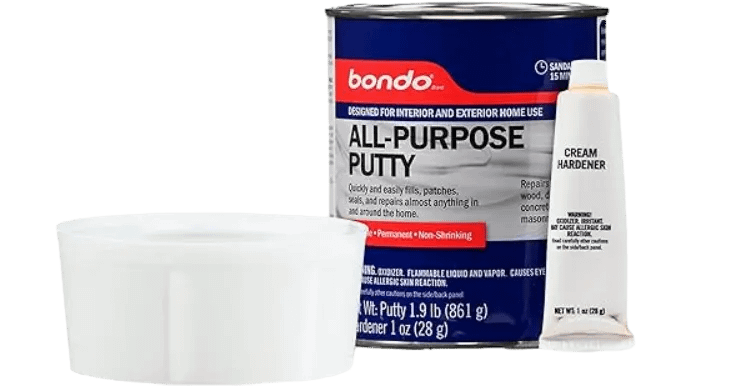 ✅Pros
I got this putty to do some repair work for a friend's wood party/event props to fill some larger chunks. Regular putties and spackles would not have been the best choice for many reasons, so I decided to try them.
I have to say that it works rather well, and it should hold up longer than other products. It was easy to mix and spread, but I have to say that you will need to work quickly when using this product. It does start curing rather fast, I would say the 3-5 minute range before it starts setting. Make sure you have everything you need to make any repairs set out and ready to go before mixing this.
Also, make sure any pre-work is done before mixing. Then mix the Bondo, spread it where needed, and then let it sit for a couple of hours. After that, you can start any sanding that might be needed, and it does sand pretty well for what it is.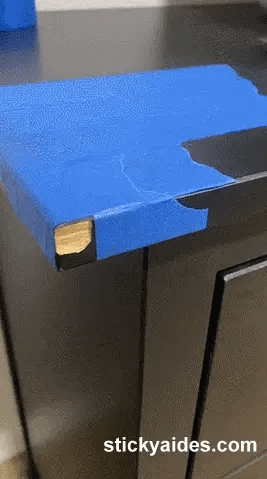 I would recommend it for many repair needs due to its ease of use and durability. If you have ever used regular Bondo for cars, this is basically the same thing, so it works the same.
As for my own home improvement projects, I had a problem with my bathtub and shower; I had a crack. The cost to replace the whole bathtub and shower unit was close to 1800. I thought of the acrylic shower wall adhesive but finally bought Bondo All-Purpose Putty and followed the instructions that are available on YouTube and I applied to each one of them in the proper sequence. Then I applied the primer paint and final paint.
The Bondo is easy to mix and use. I would recommend having an old wet cloth, use a small (1/2 in.) putty knife, and have a piece of old wood or stiff cardboard to keep the knife clean. Use a small amount of product; it sets fast and gives it time to set up. Wait 24 hours before "stressing" the bond. Once it sets, it sands well and is fairly easy to level. So far, I have used it twice, and both times it has held up. Under normal use, it looks like it's going to be permanent.
The drying time was quite fast when I was using it outside when the temps were around 90. This meant I could only mix up small batches and then quickly spread them, usually not being able to use the whole batch and throwing away about a quarter of it. It does have a powerful smell.
❌Cons
It's worth noting that Bondo fillers emit a strong odor during application and can be potentially toxic if breathed in excessively. Therefore, it is advisable to use Bondo outdoors or in well-ventilated areas to minimize exposure.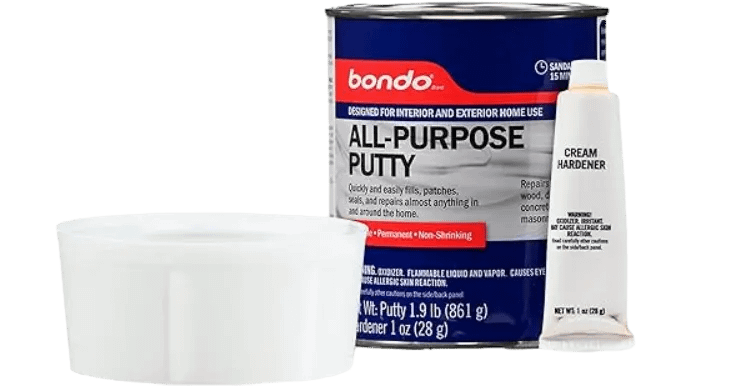 FAQ of Bondo
Q: I need to fix deteriorated wood on the exterior (fascia) and fill nail holes on aluminum siding. Which option is preferable 3M Bondo Home Solutions Wood Filler and another alternative?
A: To repair the rotted wood, it is recommended to first treat it with one of two types of rot repair liquids. One option is a liquid epoxy, while the other is a water-based solution that rehardens the wood (You may consider Drylok in Garage Floor Epoxy 1 Part vs 2 Part). Both of these options are available on Amazon at reasonable prices. The water-based system is easier to apply and clean up, while the epoxy is stronger and more suitable for severely rotted wood. After treating the wood, you can use Bondo to fill any defects and nail holes in the siding. It's important to note that there are two different Bondo products: one specifically for wood and another for all-purpose use. Both work well for filling holes. Remember to harden the wood rot before filling the defects, as the Bondo won't adhere properly otherwise.
Q: Is it a viable option to use Bondo for sealing seams in crown molding? It should not shrink and must be paintable.
A: While it is possible to use Bondo for sealing seams, it would require a significant amount of work. As someone experienced in installing crown molding, I've found that using a good paintable caulk is a faster and more effective solution. If you choose to use Bondo, you would need to sand each seam, and it's worth noting that Bondo dries quickly and becomes very hard.
Q: Can I utilize Bondo to fill the gap between the shower tiles and the plastic base in my shower? Will it be waterproof?
A: Yes, Bondo is waterproof and works great as one of the shower adhesives. It's a two-part product that you mix together, with a working time of approximately 10 minutes. It's important to mix small batches as needed. Bondo will bond to both your shower and the shower tiles. Once it dries, it can be sanded and shaped. If the gap is small, I would recommend grouting and caulking with a good silicone caulk.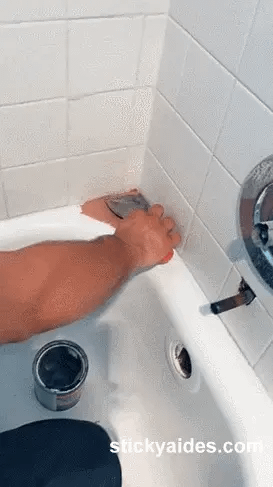 However, if the gap is large, you'll need to use multiple small batches of Bondo to work around the shower base. Make sure to mask off the tile and base before applying. When sanding the Bondo, start with 40 to 80 grit sandpaper and finish with 100 grit. If any Bondo gets on the tile or base, quickly remove it with acetone. If it dries on these surfaces, you'll need to sand it off. While Bondo works well, it can be challenging to work with due to its drying time, so take your time during the process.
Q: Is this the most suitable choice for repairing window frames that were chewed by a squirrel along the bottom part? I need to rebuild them.
A: Yes, Bondo can be used for this purpose.
Q: Can I use Bondo to simultaneously glue a board to a surface that requires filler?
A: Bondo makes a great filler with excellent adhesive properties, but it hardens quite quickly. To fill a large hole, you can use a build-up process by applying a few coats. However, I wouldn't recommend using it as a glue.
Q: How long does Bondo last after opening the can? I only need a small amount at the moment, and I wish it came in smaller containers.
My Latest Updates
👋 Hi! This is Ronald. I just published 2 new articles you may enjoy reading. Feel free to keep reading this one or 👇 check out the new articles anytime.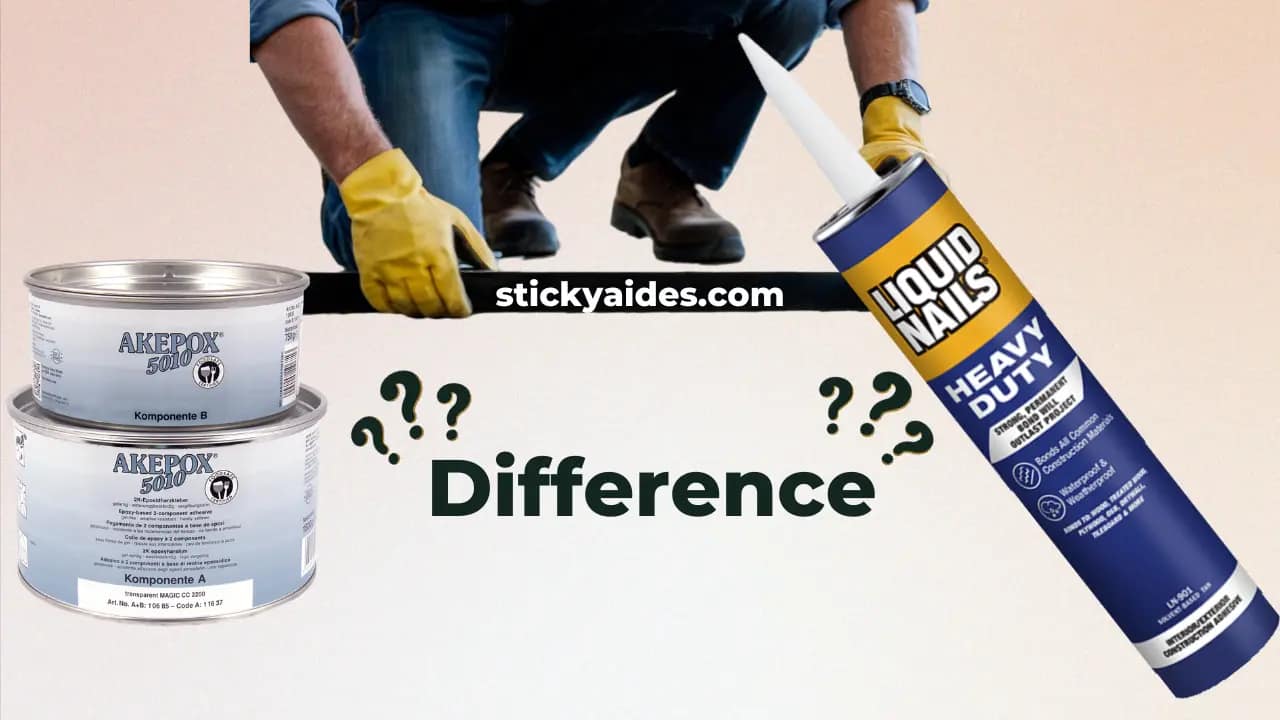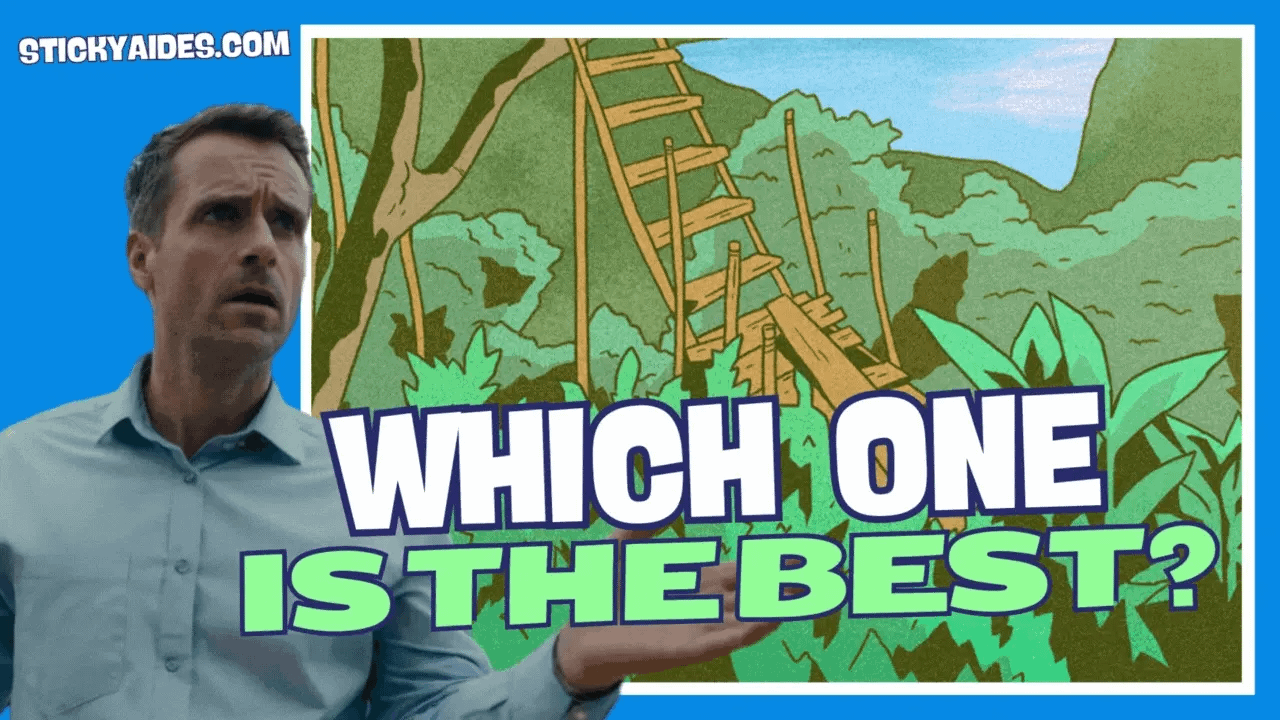 A: I believe it can last at least a year or longer after opening. It's similar to a two-part epoxy where you only take out what you need from the can and mix it with the hardener (included in the tube) on a piece of cardboard or scrap wood. Make sure to seal the can and tube tightly and keep them in a cool, dry place.
Q: Does Bondo have a strong odor like automotive body Bondo?
A: Yes, it has a strong odor initially, but it becomes odorless after it dries.
Q: Is it possible to screw or nail into Bondo without it breaking?
A: No, you should treat it like drywall, so it's not suitable for screwing or nailing into.
Q: Can Bondo be applied over wood putty?
A: It is possible to use it over wood putty, but keep in mind that it may not accept stain like a wood filler would. If your intention is to paint it a solid color, then using it over wood putty should be fine.
Q: Does Bondo come with a tube of hardener, or is it sold separately?
A: Yes, the hardener is included with the product, and it comes packaged inside the lid.
Q: Can I use this to fill a hole on a bumper?
A: This particular Bondo product is an all-purpose putty. While it states it can be used on metal, I have primarily used it for repairing damaged wood, so I cannot guarantee its long-term effectiveness in a bumper repair. Additionally, bumpers are typically made of plastic or fiberglass, and there are specific Bondo products designed for automotive repairs. It's best to use a product specifically formulated for automotive applications, such as Bondo Bumper Repair Kit or Bondo Plastic Metal. These products are designed to adhere to automotive surfaces and provide better durability and flexibility for bumper repairs. Always follow the manufacturer's instructions and recommendations for the best results.
📝 My Hands-on Test of JB Weld

What I love most about JB Weld is its versatility. It works wonders on many different materials, and it's much better than other adhesives like crazy glue or gorilla glue. I highly recommend allowing the recommended 24-hour wait time for the adhesive to fully cure for the best results.
✅Pros
While using JB Weld, I did notice that the recommended 1:1 or 50/50 ratio of hardener to adhesive left the results slightly sticky. However, I found that using a 40/60 ratio of more hardener still gave me plenty of time to work with and finished without any stickiness.
It's easy to apply and comes with easy-to-follow instructions. I used it to repair the aluminum casting on my lawnmower that holds the carburetor on, and it's now solid as a rock.
One of my favorite things about JB Weld Original is how well it holds under pressure in most conditions. I have used it to patch small holes in metal and to fix a set of high-end Italian-made stainless steel cookware that I've had for 30 years. The handle on one of the pot lids snapped off at the spot weld connections, but JB Weld Original saved the day. I highly recommend this product for applications needing high storage and heat resistance.
Overall, I am thoroughly impressed with JB Weld and highly recommend it to anyone looking for a reliable adhesive. It's the best stuff for metal-to-metal adhesion and can even be used to weld broken metal items. It sets up fast and dries to a truly steel-like hardness. I'm glad I found this product and will continue to use it for all my DIY projects.

💬 FAQ of JB Weld
Q: Would JB Weld be considered electrically conductive?
A: No, it is not electrically conductive. We have mentioned it in conductive glue vs solder already.
Q: I'm trying to block a crack between cylinders 5 and 7 against the head with JB Weld. The narrowest point between the cylinders is sleeved. Do you think it will hold up without breaking from the high temperature?
A: I was looking into the temperature ratings of different epoxy products, and I actually found one that can withstand temperatures of up to 2100F, but it has low tensile strength. I would suggest staying away from welding since the crack is 5/8″ long and sleeved at each end. Currently, I am pressure testing the area and the water jacket has held 30 lbs for 12 hours. If it continues to hold pressure, I may also consider using some high-tech block sealers. I appreciate your input and wish me luck in putting life back into this old hemi.
Q: Can I use JB Weld to repair small punctures and leaks in an older aluminum boat?
A: This is a general-purpose epoxy that worked great for me on cast iron. It says that you can use it for marine purposes, but you might also consider using a boat life caulk or specific product made by JB-Weld that is designed for water.
Q: Can JB Weld be used to stop an exhaust leak at the point where a donut goes flanges off of the manifold? Or which JB Weld would work?
A: If your donut is bad, I recommend that you replace it. JB Weld is a metal epoxy, and if you apply it, you'll end up creating a permanent bond wherever you've applied it, making it difficult to make a proper repair later without grinding it off. If it's a crack you need to fix, spread it on thick and press in some wire mesh or a fiberglass-style patch. Let it cure and it should be good. I have patched some long cracks that way. I hope that helps!
Q: Is there a way to remove the hardened JB Weld or soften it once it has hardened?
A: You could try using 747 adhesive remover we recommended in sentinel 626 vs 747. It dissolves many types of hardened epoxies, and one of the reviewers in those listings specifically said it worked on JB Weld. However, please note that (1) you need to soak your item, you can't just brush Attack on it, so this will only work for small items; (2) make sure Attack won't dissolve your parts; and (3) be sure to read the comments and safety instructions and pay attention — this is seriously toxic stuff.
Q: My motorcycle's clutch handle broke in half in a fall. Can I use JB Weld to reunite the two pieces?
A: The plastic turn signal lever on my 1983 Cadillac broke in half a couple of years ago, and I used JB Weld to piece it together. It is still holding up fine, and it's a stiff lever, so it might work if you can get a good tight seal. If not, it's still a must to have around the house. I just fixed a pair of shoes with some.
Q: How much JB Weld would I need to attach two pieces of aluminum that are 5 feet by 14 inches?
A: If you want to cover the entire panel, my best guess would be less than 20oz, but more than 10oz. However, if the panels are flexible, JB Weld might crack. A cheaper option might be construction adhesive. Best of luck!
Q: Can I use JB Weld to seal a leaking auto battery top that is sulfuric acid-resistant? I read about a Masterbond epoxy for such a purpose, but it's expensive.
A: I used JB Weld to seal a soda can alcohol stove, but I don't know whether it can seal the auto battery top that is sulfuric acid-resistant. JB Weld is not specifically designed for use with sulfuric acid, so I would recommend against using it for this purpose. Instead, I suggest using a product that is specifically designed for use with sulfuric acid, such as Masterbond epoxy which you mentioned. It might be more expensive, but it is important to use a product that is designed for a specific purpose to ensure safety and effectiveness.