E6000 Vs. Contact Cement – Both offer strong bonding power for major projects, but each has unique properties that make them better suited for certain applications.
For DIYers and crafters, choosing between E6000 Vs. Contact Cement can be a confusing decision if you're unfamiliar with their specific strengths. E6000 is a versatile glue with flexibility, while contact cement relies on instant adhesion through its sticky latex formula.
In this comparative guide, we'll take E6000 Craft Adhesive and DAP Weldwood Original Contact Cement as an example to break down the key differences between these two major-league glues.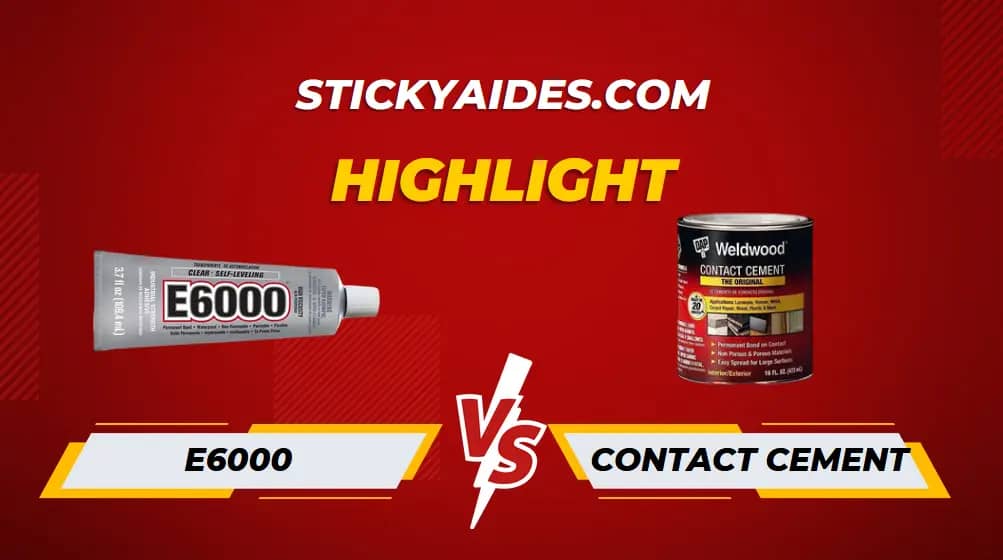 Let's examine the pros and cons of each option so you can make an informed choice between these industrial-grade adhesives. Join us as we settle the debate between E6000 and contact cement!
E6000 Vs. Contact Cement: What's The Difference?
The key difference between E6000 Vs. Contact Cement is:
E6000 is more flexible, waterproof, and chemical resistant while Contact Cement is better for high heat applications. E6000 has lower VOCs and is often used for craft bonds, while Contact Cement is commonly used for countertops and laminates.
📝 My Hands-on Test of E6000

✅Pros
I had a pair of shoes with a loose sole, and this glue came to the rescue. With just a few minutes of application, the sole was securely attached, and after letting it sit for a day, it held up perfectly even after my daily use for the past two weeks.
One thing I appreciate about this glue is its strong adhesion. Once it dries, it becomes super durable, and I have full confidence in its long-lasting hold. Plus, there's no expansion, which is a huge bonus.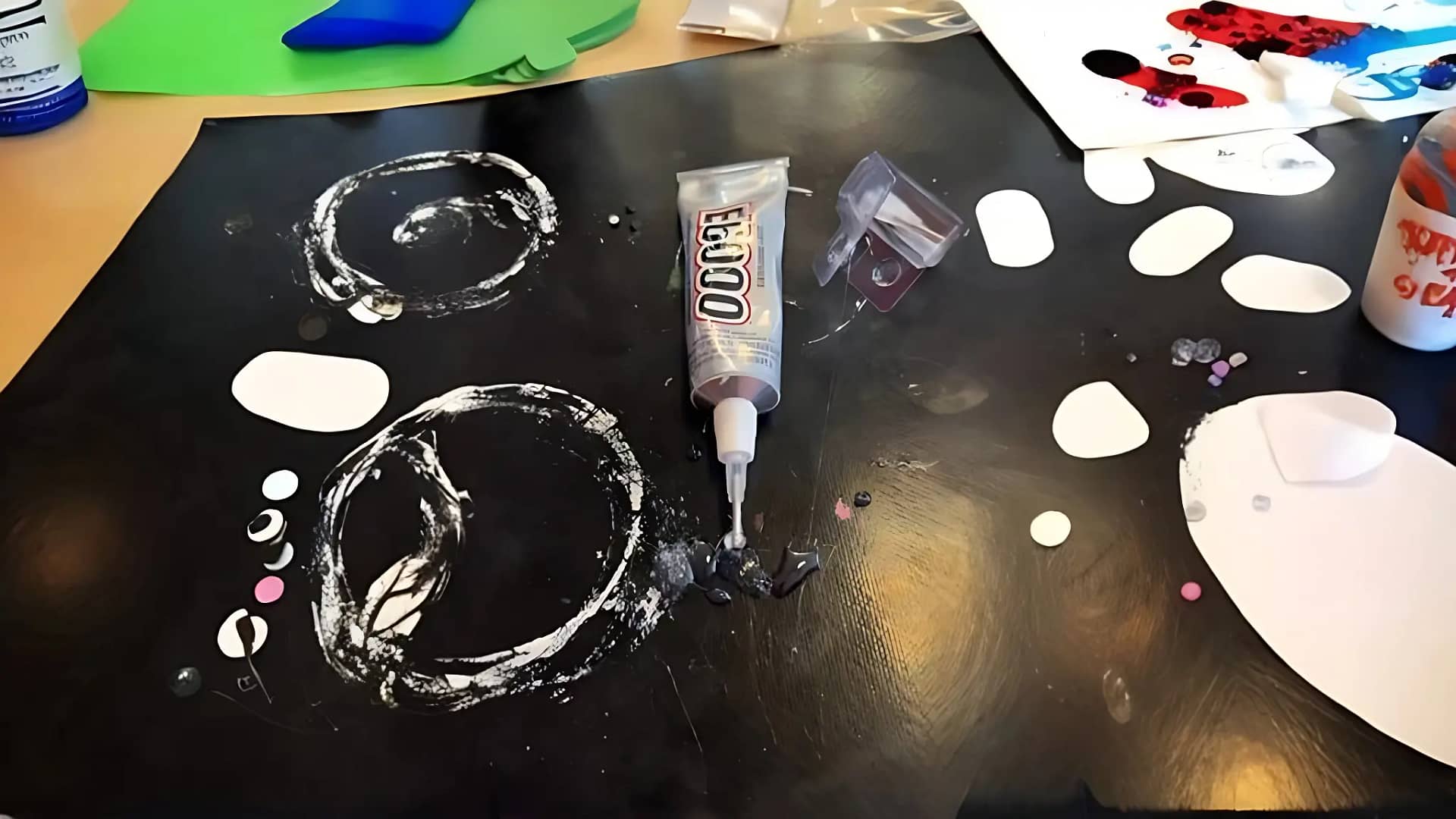 Another great aspect is the affordability. Not only does this glue perform exceptionally well, but it's also priced competitively, especially when compared to similar products found in big national hardware chains.
Crafting is one of my hobbies, and I'm always on the lookout for reliable adhesives. This glue has become my go-to choice for various craft projects. It works wonders on different materials, whether it's EVA foam, perforated vinyl, or even lycra fabric. The tackiness sets in around 30 minutes, and within 24 hours, I have a strong bond that maintains flexibility.
I'm also impressed with its versatility beyond crafting. I've used it to fix broken crystals, and the results are astonishing. The glue is transparent and thick, allowing for precise application and immediate connection between the broken pieces. It's become my trusty companion when it comes to repairing delicate items like crystals.

❌Cons
One thing to note is the odor of the glue. It can be strong, so it's important to work in a well-ventilated area and avoid breathing it in excessively. However, considering its adhesive power, the slight inconvenience of the odor is a minor trade-off.
FAQ of E6000
Q: Can E6000 glue cork tiles to an aluminum patio ceiling in Florida and withstand the heat?
A: This glue has been used to glue fake fireplace logs in a gas fireplace heater, so it should be able to withstand the summer heat in Florida.
Q: How long does this glue last on the fabric?
A: This glue works well on fabric, but it's important to be careful with the amount used as too much can cause bleeding through and too little may not stick.
Q: Is E6000 completely waterproof for use in a snow globe?
A: Yes, this glue is completely waterproof and can be used in a snow globe.
Q: Can this glue be used to adhere glass to metal, such as a car window to a metal track?
A: It's not recommended to use this glue for car windows. It's best to use an adhesive specifically made for car windows.
Q: Can D6000 adhere metal to wood, such as metal knobs to a wooden coat rack?
A: It's not certain if this glue will work for this purpose, as it may depend on the amount of strain put on the object.
Q: How can this glue be cleaned up?
A: Use a disposable item such as a toothpick, q-tip, or straw for cleanup.
Q: Would E6000 work to glue foam to a plastic lid of a Pelican case?
A: Yes, this glue can be used to attach the foam to plastic, but it's recommended to scour the plastic surface with 220 grit first and make sure it's clean with acetone or 90% alcohol.
Q: What is the maximum temperature that this adhesive can withstand for a ceramic plate setter in a grill/smoker?
A: It's unlikely that this glue is designed to withstand such high temperatures.
Q: Is E6000 resistant to gasoline and does it harden?
A: It's uncertain if this glue is resistant to gasoline, but constant exposure to gasoline may erode the bond. The glue remains somewhat flexible when it dries. However, I've written an article about" what can i use to seal a plastic gas tank" that should be resistant to gasoline, feel free to read it.
Q: What type of glue is E6000 and does it fill gaps?
A: E6000 is a rubber contact glue that can fill small gaps and create a strong bond. You might be interested in rubber cement vs contact cement.
Q: Does this glue dry out the nozzle and lid like super glue?
A: The lid may stick, but the glue doesn't fuse with the surface like super glue. The nozzle may need to be cleared and scraped out before each new project.
Q: How many tubes are in each pack of E6000?
A: There is one tube per pack of E6000.
Q: Is E6000 glue waterproof?
A: Yes, this glue is waterproof and can be used in submerged applications.
Q: Does E6000 glue have an expiration date?
A: Yes, there is an expiration date on the tube of E6000 glue.
My Test on DAP Weldwood Original Contact Cement

This adhesive worked great for gluing EVA foam for a project I was working on. A hot tip is to put the glue into a small applicator bottle for control and precision when applying it. The ease of use and perfect functionality make it a valuable tool for many applications.
✅Pros
I found this product to be extremely useful for various projects. It can be used on many things and has become an essential tool for my work. The versatility it offers is remarkable.
The function of this product is impressive. It does exactly what it's supposed to do, and it works perfectly. The super sticky nature of the glue ensures strong and reliable adhesion. I would definitely buy this product again, despite the shortcomings of the material I was using it on.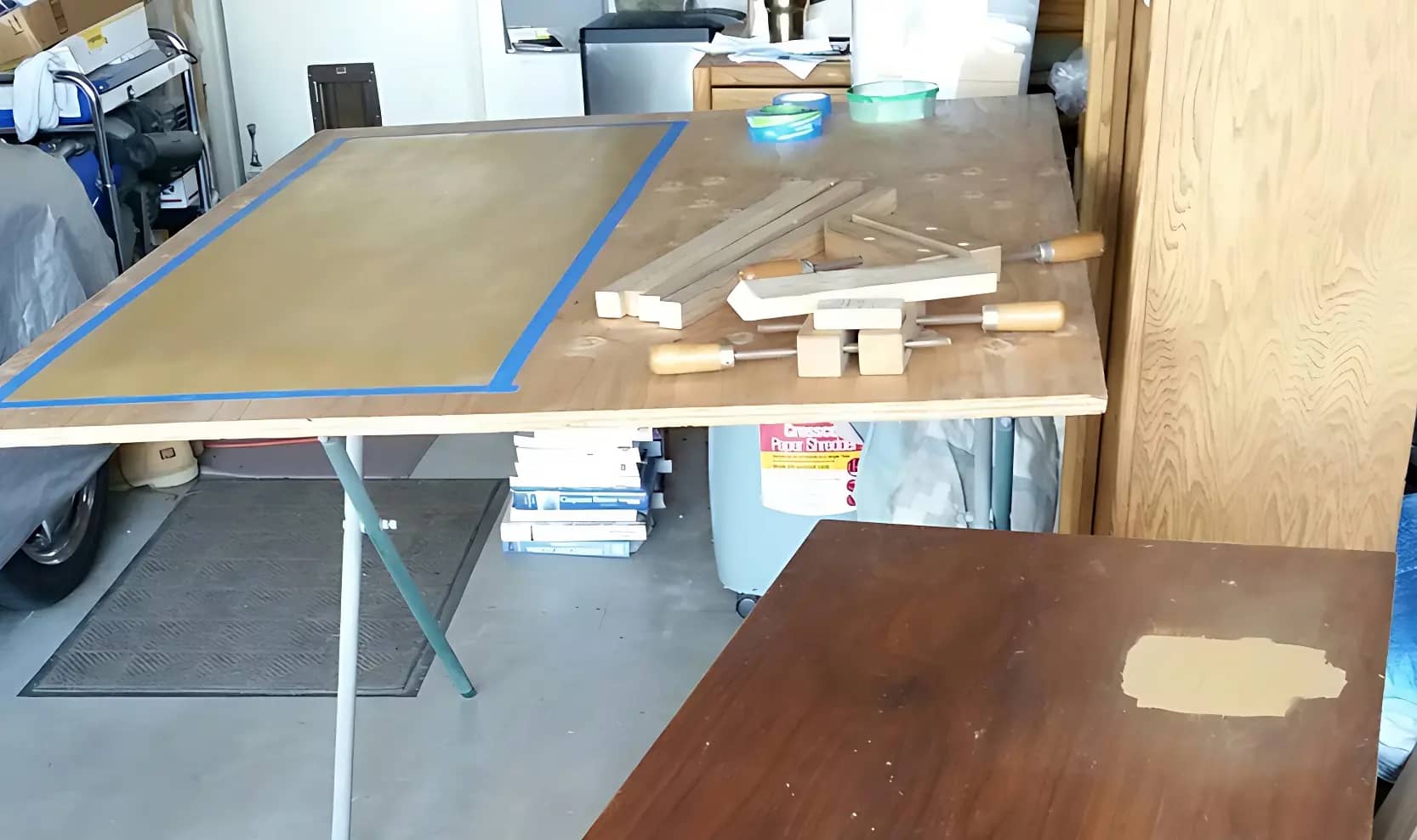 When I first got this Dap Weldwood Original Contact Cement, I was excited to use it for attaching a paper-backed veneer to our old American of Martinsville dresser. The water damage had caused the veneer to lift and crack, making it necessary to re-veneer the top. After thorough research, I decided to go with cherry veneer, and this contact cement proved to be strong and reliable. The process of applying the glue to both surfaces and pressing them together was straightforward, and the result was a perfectly flat veneer that I could stain to match the aged appearance of the dresser.
The effectiveness of this Weldwood Contact Cement is impressive. Once the glue sets, it becomes permanent and provides a durable bond. I followed the instructions carefully, allowing the glue to become tacky on both surfaces before joining them. The weight distribution technique I used during the drying process ensured a flawless finish. The end result exceeded my expectations.
❌Cons
While this product worked well for my needs, I must mention that it emits strong fumes and requires caution during use. The flammability of the vapors necessitates taking safety precautions such as turning off pilot lights and ensuring proper ventilation. Additionally, the volatile nature of the glue makes storage a concern. Despite these factors, the glue's performance justifies its use in projects where its effectiveness is crucial.

FAQ of DAP Weldwood Original Contact Cement
Q: How much surface area can a single point cover when using it for laminate countertops?
A: One coat goes a long way. I was able to cover an area measuring 24 inches x 18 inches and still had 3/4 of the can left over.
Q: Can Contact Cement effectively bond pool table bumpers to the rails?
A: Yes, as long as the surfaces to be bonded are smooth. Avoid using it on fabric, and be prepared to clean up any excess as it dries yellow.
Q: Would Contact Cement be suitable for fixing a green machine bike seat?
A: If you mean attaching the seat to the frame, it's unlikely to work well.
Q: Can this glue be used on rubber or leather shoe midsoles and outsoles?
A: I had success using it to glue the sole of my work sneakers back on according to the instructions, and it's still holding after months. I also used it to glue the bezel back on my watch, and it's been secure for over a year, even with constant wear. As long as the surface is mostly clean, it should provide a strong bond.
Q: Is Contact Cement suitable for bonding plastic to plastic?
A: It depends on the type of plastic and the surface area of contact. It offers strong bonding strength if the contact area is large.
Q: Can I use Contact Cement to bond a deck pad to a paddleboard and make it waterproof?
A: I believe this contact glue will hold up in saltwater. Make sure to read the directions and remove any wax from the board's surface.
Q: How should I mix Contact Cement?
A: No mixing is required.
Q: Will this glue bond a dense rubber parking block to concrete?
A: Some users have recommended construction adhesive, particularly construction adhesive for bricks, for this type of application. Alternatively, you may want to consider using concrete anchors.
Q: I want to attach a 1/8-inch thick rubber mat to plywood. Will Contact Cement work?
A: Contact Cement would be a good choice for attaching rubber to wood.
Q: Can I use Contact Cement to glue two pieces of polyethylene together?
A: I'm not an expert, but you could try purchasing a smaller bottle to test it out.
Q: Will Contact Cement work for typical bicycle or dolly/cart inner tube tire patches?
A: I don't think it's strong enough for that purpose.
Q: I'm adhering a sheet of 24g stainless steel to wood. Will Contact Cement work? Also, how strong is the smell, and how quickly does it dissipate? I'll be working in an elevator.
A: I used Contact Cement to bond two sheets of stainless steel together on a commercial bar back in 2004, and it's still holding strong. The smell is quite strong, so make sure you have good ventilation. Also, be sure to keep the top tightly sealed, or the glue may become thick and unusable.
Q: Can I use Contact Cement on cement block walls?
A: Yes, you can use it, but the success of the bond will depend on factors such as weight, the specific product being used, and the presence of moisture.
Q: What does "5 cycle freeze-thaw cycle" mean?
A: From my understanding, it means the adhesive has been subjected to 5 cycles of freezing and thawing. In most cases, this refers to the adhesive's performance after it has set. So, if you plan to use it outdoors, it should withstand freezing and thawing over time.
Q: Okay, let's get straight to the point. Does it work as well as Barge?
A: In my opinion, it works just as well, if not better, than Barge for leather applications. However, be aware that the fumes and odor are quite strong. Ensure you have adequate ventilation, and be careful to keep the lid tightly sealed to prevent the glue from becoming thick and unusable.
Q: Will Contact Cement effectively bond seat foam to plastic?
A: Yes, that's why I purchased it.
Q: Can Contact Cement be used to apply fabric to a painted cabinet?
A: It could work, depending on the fabric's weight and the solidity of the paint. However, I would recommend using 3M 90 spray adhesive instead, as it's easier to apply and offers the same concept.
Q: Is Contact Cement suitable for stacking leather to leather?
My Latest Updates
👋 Hi! This is Ronald. I just published 2 new articles you may enjoy reading. Feel free to keep reading this one or 👇 check out the new articles anytime.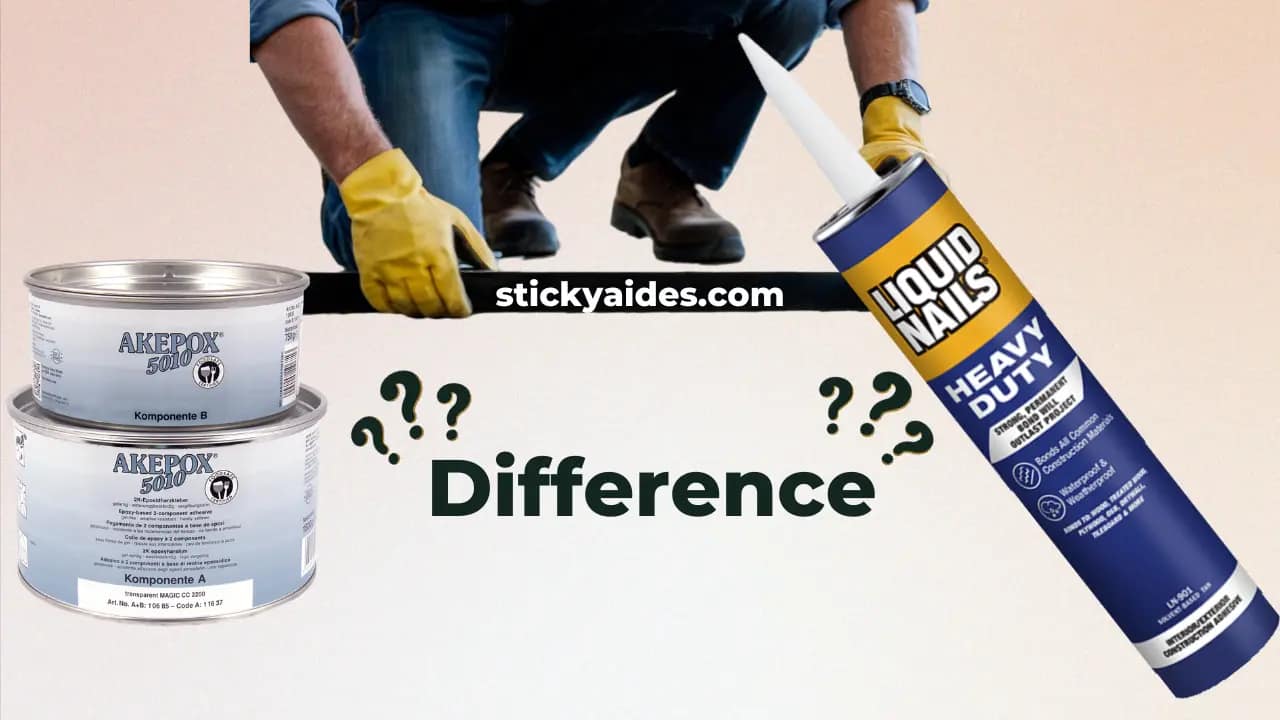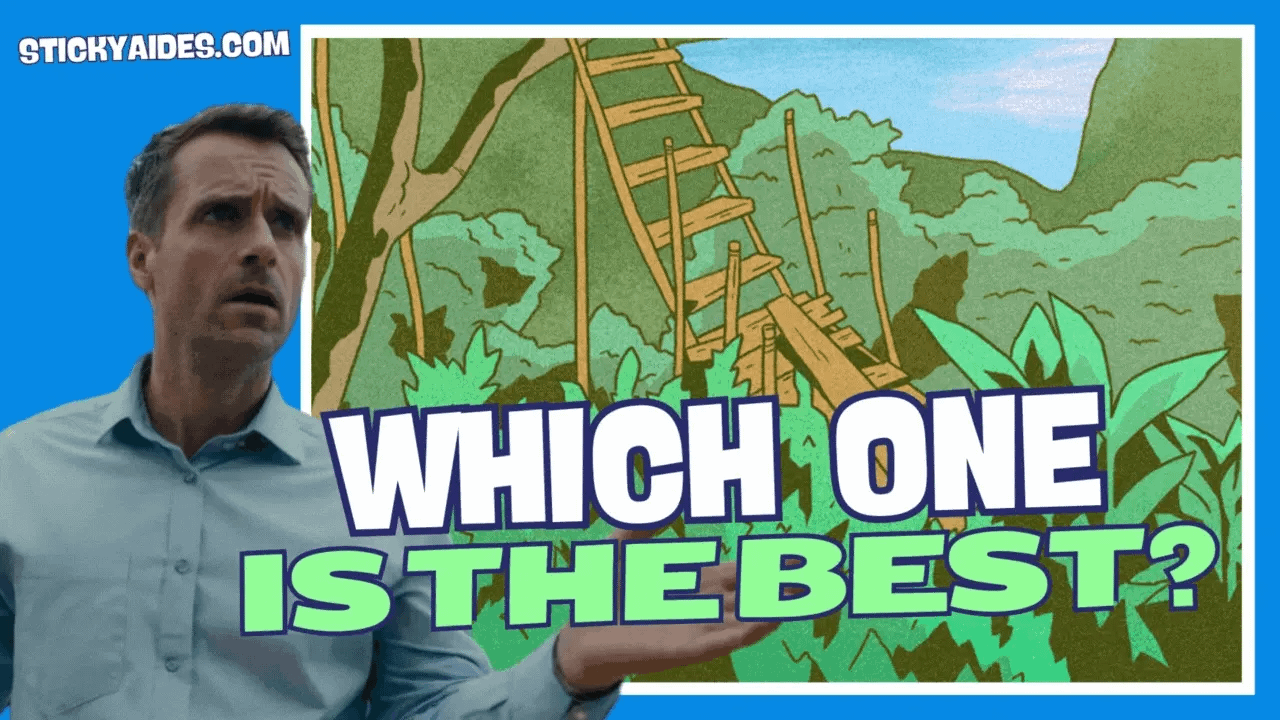 A: Contact Cement is great for cementing leather to leather. I don't know of any better product for that purpose.
Q: Can DAP glue cork to a glass surface, such as wine corks to a glass?
A: Yes, it can bond cork to glass, but if there's any heat exposure, the corks might come off. For a more reliable bond, I would recommend using a two-part epoxy.
Q: Can this cement be sprayed using an upholstery glue spray gun
A: The DAP adhesive you mentioned is not typically designed to be sprayed using an upholstery glue spray gun. It is best applied using a brush or a spreader. If you need to spray an adhesive, I would recommend looking for a specific spray adhesive designed for upholstery applications.