The main difference between E6000 vs. Gorilla Glue is that E6000 is a solvent-based glue with 900% elongation while Gorilla Glue is water-based with an elongation of 600%. E6000 can be used indoors while Gorilla Glue is most effective when used outdoors. Another difference is the time they take to dry.
A test showed that E6000 can sustain the tension of up to 3500 lb/in while Gorilla Glue can sustain a pull of 3626 lb/in. So you can say that Gorilla Glue forms a stronger bond. I myself did tests on E6000 as well, you can read this article for more details: E6000 vs. B7000 | In-depth Analysis
| Features | E6000 230010 | Gorilla Super Glue Gel |
| --- | --- | --- |
| Type of glue | Solvent-based | Water-based |
| Elongation | 900% | 600% |
| Indoor/Outdoor use | Indoor | Outdoor |
| Drying time | 24 hours | 10-45 seconds |
| Odor | Strong odor | Mild odor |
| Toxicity | Toxic when ingested or inhaled | Non-toxic |
🧪My Hands-on Test of E6000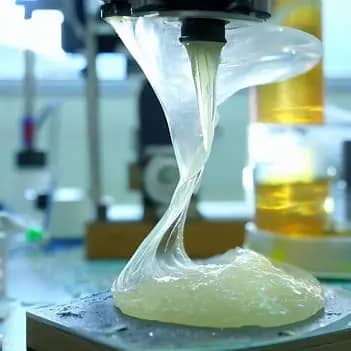 The fierce smell of the glue does require using it in a well-ventilated area, and it's not for quick applications. However, it is some of the best stuff out there for small projects that need to stay stuck. I love that these come in small tubes because you only need a tiny bit, and the large tubes tend to dry out before you can use them all. These small tubes are perfect for my smaller projects and prevent any waste, as the glue doesn't dry up.
I have used this glue on wood, rubber, and metal, and it sticks well. The secret is to let it sit for 24 hours before any use. I highly recommend this glue for various crafting projects, such as craft tumblers, and prefer the one that dries clear. Overall, E6000 glue has proven to be much better than any other adhesive I've tried and I will definitely continue using it for my future projects.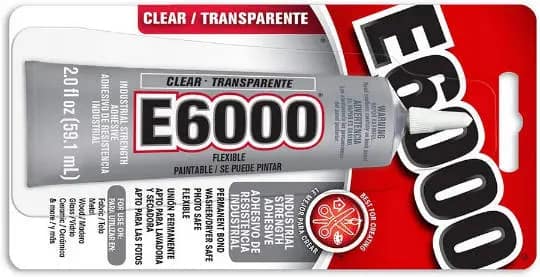 💬 FAQ of E6000
Q: Can E6000 glue cork tiles to an aluminum patio ceiling in Florida and withstand the heat?
A: This glue has been used to glue fake fireplace logs in a gas fireplace heater, so it should be able to withstand the summer heat in Florida.
Q: How long does this glue last on the fabric?
A: This glue works well on fabric, but it's important to be careful with the amount used as too much can cause bleeding through and too little may not stick.
Q: Is E6000 completely waterproof for use in a snow globe?
My Latest Updates
👋 Hi! This is Ronald. I just published 2 new articles you may enjoy reading. Feel free to keep reading this one or 👇 check out the new articles anytime.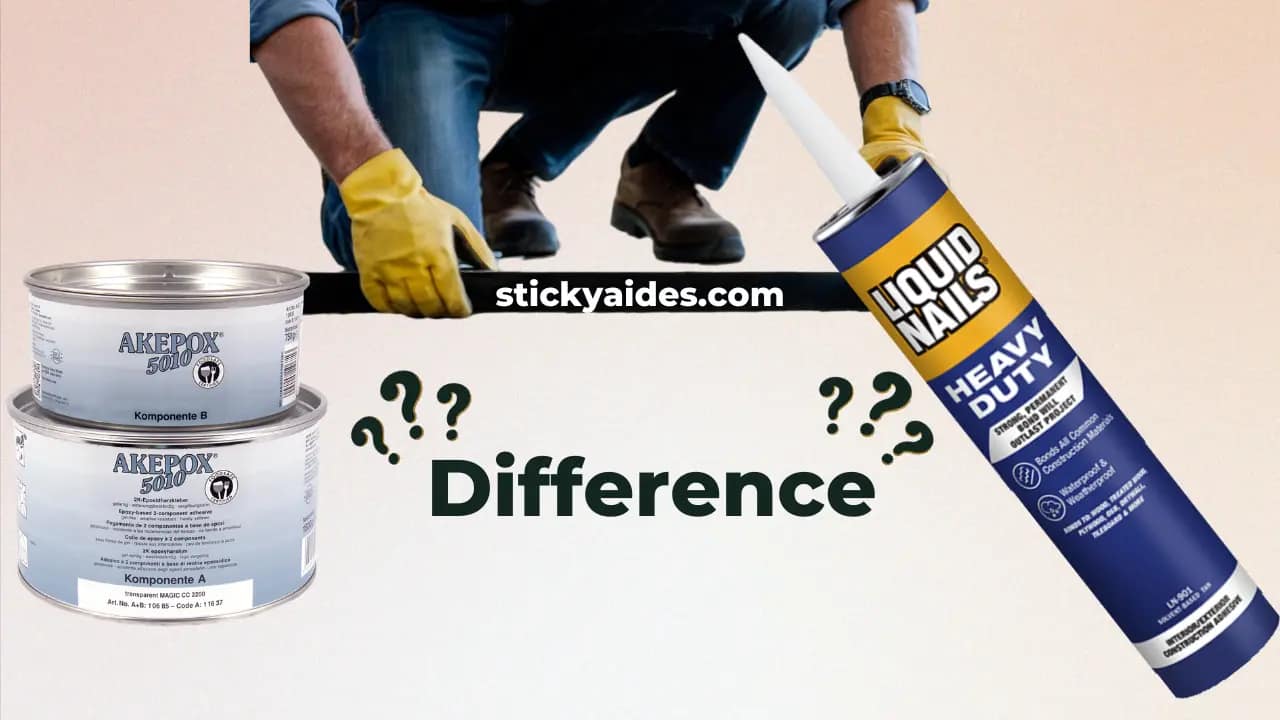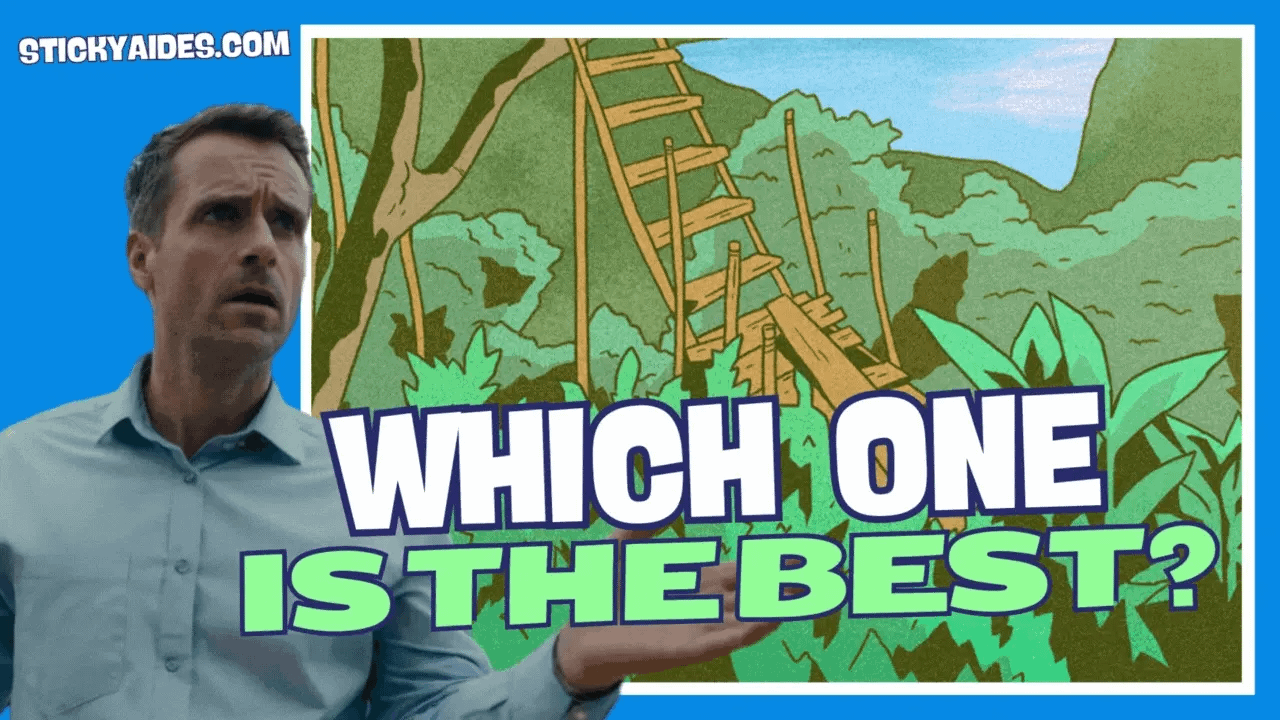 A: Yes, this glue is completely waterproof and can be used in a snow globe.
Q: Can this glue be used to adhere glass to metal, such as a car window to a metal track?
A: It's not recommended to use this glue for car windows. It's best to use an adhesive specifically made for car windows.
Q: Can D6000 adhere metal to wood, such as metal knobs to a wooden coat rack?
A: It's not certain if this glue will work for this purpose, as it may depend on the amount of strain put on the object.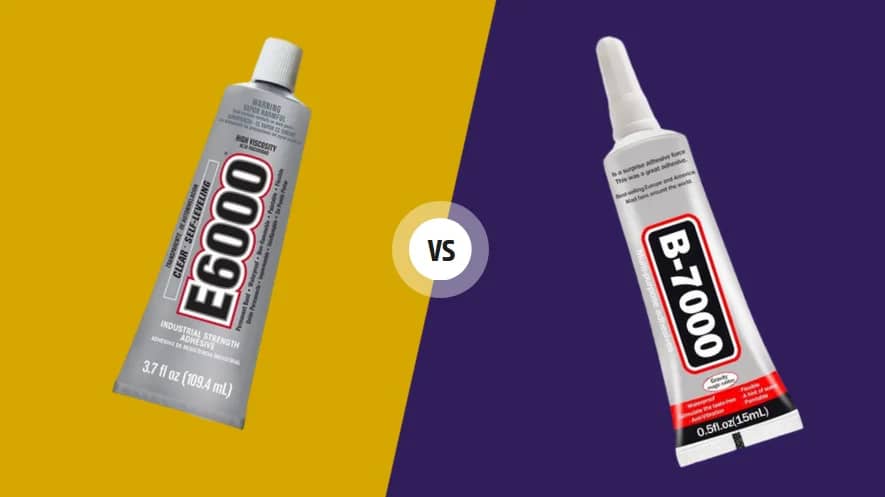 Q: How can this glue be cleaned up?
A: Use a disposable item such as a toothpick, q-tip, or straw for cleanup.
Q: Would E6000 work to glue foam to a plastic lid of a Pelican case?
A: Yes, this glue can be used to attach the foam to plastic, but it's recommended to scour the plastic surface with 220 grit first and make sure it's clean with acetone or 90% alcohol.
Q: What is the maximum temperature that this adhesive can withstand for a ceramic plate setter in a grill/smoker?
A: It's unlikely that this glue is designed to withstand such high temperatures.
Q: Is E6000 resistant to gasoline and does it harden?
A: It's uncertain if this glue is resistant to gasoline, but constant exposure to gasoline may erode the bond. The glue remains somewhat flexible when it dries.
Q: What type of glue is E6000 and does it fill gaps?
A: E6000 is a rubber contact glue that can fill small gaps and create a strong bond.
Q: Does this glue dry out the nozzle and lid like super glue?
A: The lid may stick, but the glue doesn't fuse with the surface like super glue. The nozzle may need to be cleared and scraped out before each new project.
Q: Can E6000 glue stone vases to a marble cemetery monument?
A: It's unclear if this glue would work for this purpose.
Q: How many tubes are in each pack of E6000?
A: There is one tube per pack of E6000.
Q: Is E6000 glue waterproof?
A: Yes, this glue is waterproof and can be used in submerged applications.
Q: Does E6000 glue have an expiration date?
A: Yes, there is an expiration date on the tube of E6000 glue.
🧪My Hands-on Test of Gorilla Glue (Gorilla Super Glue Gel XL)
One example of my use so far was when the decorative silver strip on my suitcase's pull-out handle was popping out. Before it broke off and caused either an injury to the hand or weakened the handle, I decided to apply the Gorilla Super Glue Gel XL to reattach it permanently. And by permanently, I mean it! This glue should hold that silver strip in place long after the rest of the suitcase is destroyed! This stuff feels tough!
However, there are some precautions to keep in mind when using this glue. For instance, I had to be careful while cleaning the nozzle after each use since moistening the nozzle with a towel can solidify the fresh gel almost instantly onto the nozzle. It is easier to let the gel dry a bit and break off the dried gel. Also, the glue dries fast, so I had to hold the piece in place for the first minute or so to ensure that it sets on an uneven spot with divides.
Nevertheless, this glue has undoubtedly saved me a lot of money and frustration. For example, I had an old wooden cabinet falling apart due to age, and I was able to piece it back together with ease using the glue. Like the direction says, I made sure to clamp the wood pieces tightly together for 8 hours, and it worked wonders.
The product is also versatile since it can be used on different types of materials, such as plastic, wood, and fabric, which is a plus. It is also long-lasting and does not dry out quickly, which is something that I have experienced in the past with other similar products.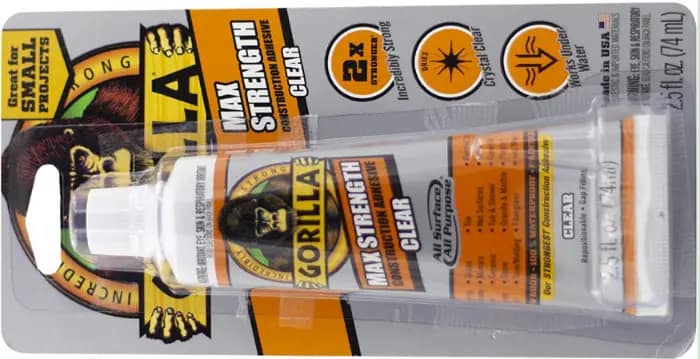 💬 FAQ of Gorilla Glue
Q: Is it safe to use Gorilla Super Glue Gel on glass surfaces?
A: We don't advise using Gorilla Super Glue Gel on the glass as the bond may weaken over time due to the alkalinity in the glass.
Q: Can I use this to bond stainless steel to stainless steel?
A: Yes, it should work.
Q: Is it possible to use this to bond steel to wood?
A: I wouldn't recommend using this glue for that purpose. I suggest using an epoxy resin for a strong bond instead.
Q: Does Gorilla Super Glue Gel work well on metal?
A: Yes, it works on metal surfaces.
Q: Where can I find the Gorilla Glue?
A: I was searching for the Gorilla Glue I usually use and stumbled upon it.
Q: Can I use Gorilla Super Glue Gel to bond a silicone gasket to steel containers?
A: Hello, Gorilla Super Glue Gel works on steel surfaces, but gluing silicone is considered "trial and error."
Q: Why do I need to mist water when using Gorilla Glue?
A: Gorilla Super Glue doesn't require water. Only Original Gorilla Glue needs water since it is a moisture-curing polyurethane.
Q: Is it possible to use this to glue a ceramic tile to a wooden picture frame?
A: Yes, you can use it if the tile is already self-adhesive and you want to reinforce it. Once applied, make sure the glue is completely dried for a period of time.
Q: Is Gorilla Super Glue Gel safe for use on Styrofoam?
A: I have found it to adhere to everything, but I cannot advise on the fumes when working with Styrofoam.
Q: Can I use it to fix a handle on a microwave?
A: Yes, I used it to fix a plastic knob on my dryer, so it might work for your microwave handle.
Q: Will it hold decorative plates on the wall?
A: It is strong enough to hold decorative plates on the wall, but when you reposition or remove the plates, the glue may rip a big hole in the wall. Therefore, I wouldn't recommend it for this application.
Q: Can Gorilla Super Glue Gel be used to bond aquarium ornaments?
A: Gorilla Super Glue Gel isn't waterproof, and we cannot confirm it's non-toxic once cured. We also don't advise using Gorilla Glue products in applications that could lead to direct food contact or consumption or in situations where glue may be ingested.
Q: Can I use this glue to attach something to the wall?
A: Yes, Gorilla Super Glue Gel works on most surfaces and is thick enough to be used for vertical applications.
Q: What's the difference between 102433xl & 7700104 or the best glue under constant twisting pressure?
A: Gorilla Super Glue products dry rigid and not flexible.
Q: Can I use Gorilla Super Glue Gel to bond vinyl to EPO foam?
A: We don't recommend using Gorilla Super Glue Gel on foam materialsas it may dissolve or eat away at the foam. For bonding vinyl to EPO foam, we recommend using a specialized adhesive designed for foam materials.