E6000 vs. JB Weld: Staring blankly at the wall of glues before you, your gaze darts between the grey tube of E6000 and that familiar black and red label of JB Weld. How are you supposed to choose when both promise incredibly strong bonds?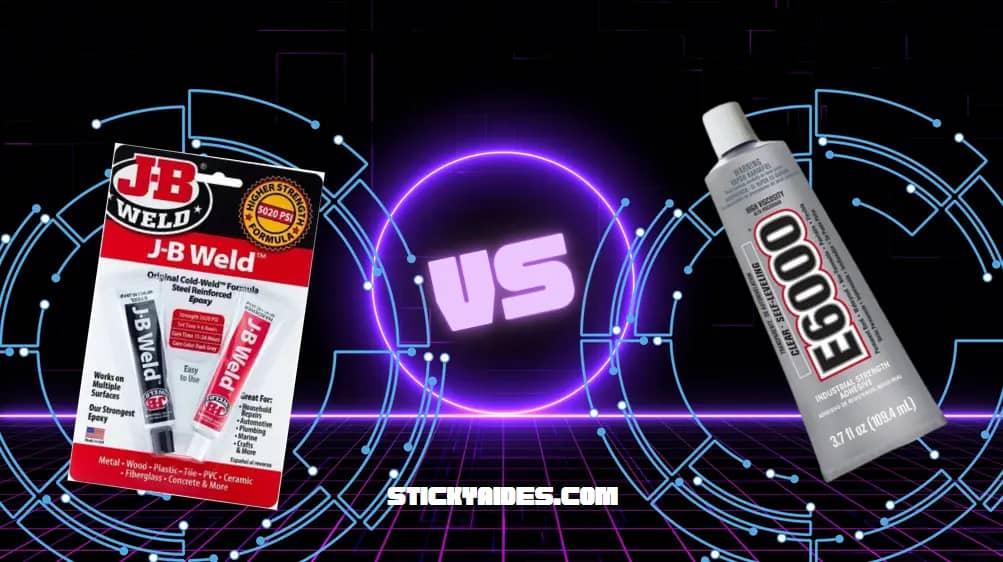 We'll compare their holding power, drying time, uses, and more – no advanced chemistry degree required.
By the end, you'll have all the info you need to grab the right glue and finally unstick yourself from the aisle. The time has come to face off E6000 vs JB Weld in the battle of the household glues! Let's see which one will end up being your new BFF (Best Fixating Friend).
E6000 vs. JB Weld: What's The Difference?
The key difference between E6000 vs. JB Weld is:
E6000 has higher flexibility and elongation but lower strength compared to JB Weld. E6000 can bond with a wider variety of materials but has lower chemical resistance. JB Weld forms a harder bond and can withstand higher temperatures. E6000 cures faster and is more user-friendly as a versatile household glue.
📝 My Hands-on Test of E6000

✅Pros
The fierce smell of the glue does require using it in a well-ventilated area, and it's not for quick applications. However, it is some of the best stuff out there for small projects that need to stay stuck. I love that these come in small tubes because you only need a tiny bit, and the large tubes tend to dry out before you can use them all. These small tubes are perfect for my smaller projects and prevent any waste, as the glue doesn't dry up.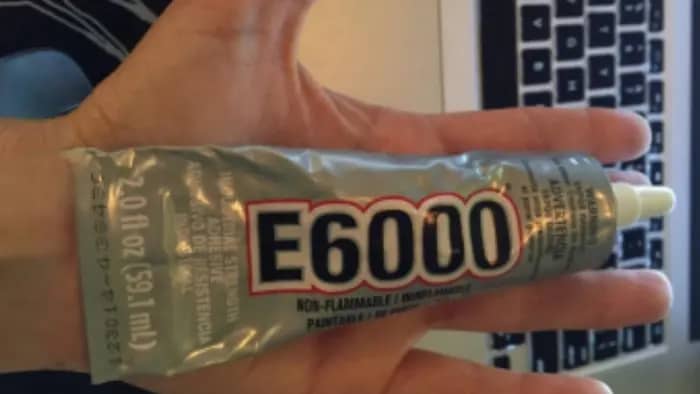 The secret is to let it sit for 24 hours before any use. I highly recommend this glue for various crafting projects, such as craft tumblers, and prefer the one that dries clear.
Still two layers eva, 4 nylon straps with two bucks and adjustments, one just goes over top, other crosses and goes around ankle. Shot of damage for showing it is not perfect, but I also probably could have been more vigilant and keeping it tight. No sewing, e6000 glue.

PlasmaGryphon
Overall, E6000 glue has proven to be much better than any other adhesive I've tried and I will definitely continue using it for my future projects.

FAQ of E6000
Q: Can E6000 glue cork tiles to an aluminum patio ceiling in Florida and withstand the heat?
A: This glue has been used to glue fake fireplace logs in a gas fireplace heater, so it should be able to withstand the summer heat in Florida.
Q: How long does this glue last on the fabric?
A: This glue works well on fabric, but it's important to be careful with the amount used as too much can cause bleeding through and too little may not stick.
Q: Is E6000 completely waterproof for use in a snow globe?
A: Yes, this glue is completely waterproof and can be used in a snow globe.
Q: Can this glue be used to adhere glass to metal, such as a car window to a metal track?
A: It's not recommended to use this glue for car windows. It's best to use an adhesive specifically made for car windows.
Q: Can D6000 adhere metal to wood, such as metal knobs to a wooden coat rack?
A: It's not certain if this glue will work for this purpose, as it may depend on the amount of strain put on the object.
Q: How can this glue be cleaned up?
A: Use a disposable item such as a toothpick, q-tip, or straw for cleanup.
Q: Would E6000 work to glue foam to a plastic lid of a Pelican case?
A: Yes, this glue can be used to attach the foam to plastic, but it's recommended to scour the plastic surface with 220 grit first and make sure it's clean with acetone or 90% alcohol.
Q: What is the maximum temperature that this adhesive can withstand for a ceramic plate setter in a grill/smoker?
A: It's unlikely that this glue is designed to withstand such high temperatures.
Q: Is E6000 resistant to gasoline and does it harden?
A: It's uncertain if this glue is resistant to gasoline, but constant exposure to gasoline may erode the bond. The glue remains somewhat flexible when it dries. However, I've listed the plastic epoxy for gas tank repair that should be resistant to gasoline, feel free to read it.
Q: What type of glue is E6000 and does it fill gaps?
A: E6000 is a rubber contact glue that can fill small gaps and create a strong bond.
Q: Does this glue dry out the nozzle and lid like super glue?
A: The lid may stick, but the glue doesn't fuse with the surface like super glue. The nozzle may need to be cleared and scraped out before each new project.
Q: Can E6000 glue stone vases to a marble cemetery monument?
A: It's unclear if this glue would work for this purpose.
Q: How many tubes are in each pack of E6000?
A: There is one tube per pack of E6000.
Q: Is E6000 glue waterproof?
My Latest Updates
👋 Hi! This is Ronald. I just published 2 new articles you may enjoy reading. Feel free to keep reading this one or 👇 check out the new articles anytime.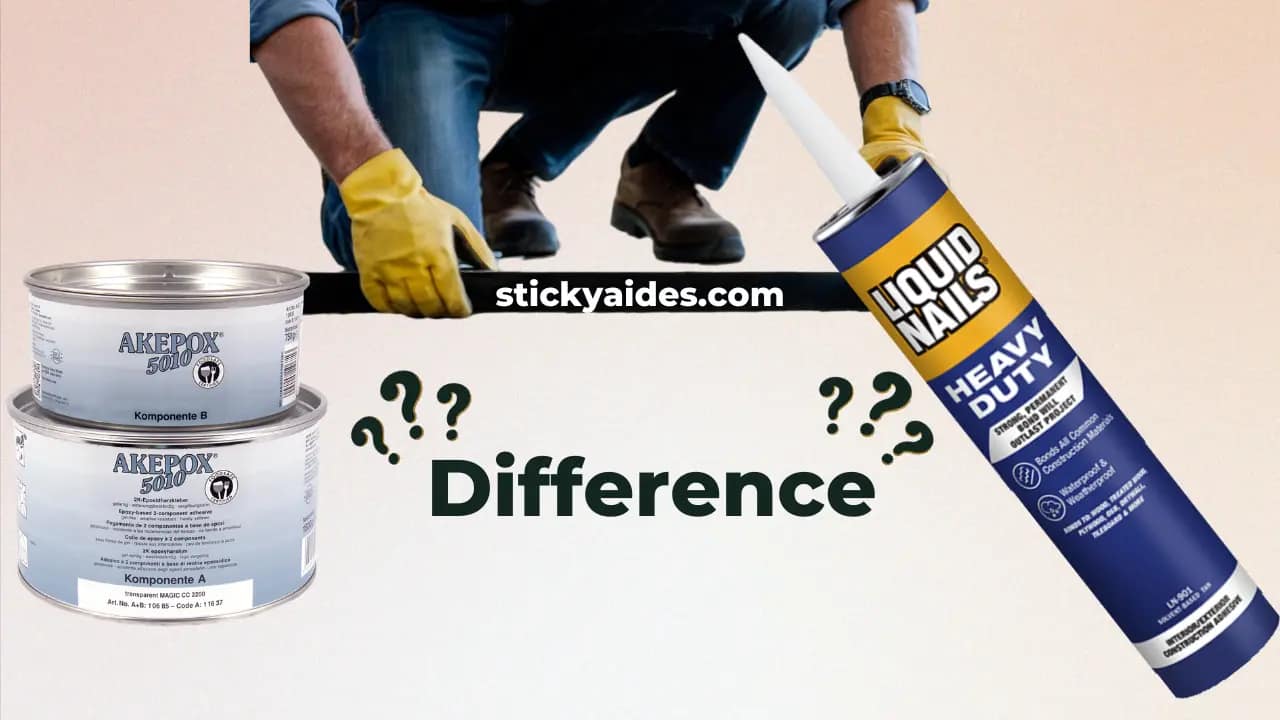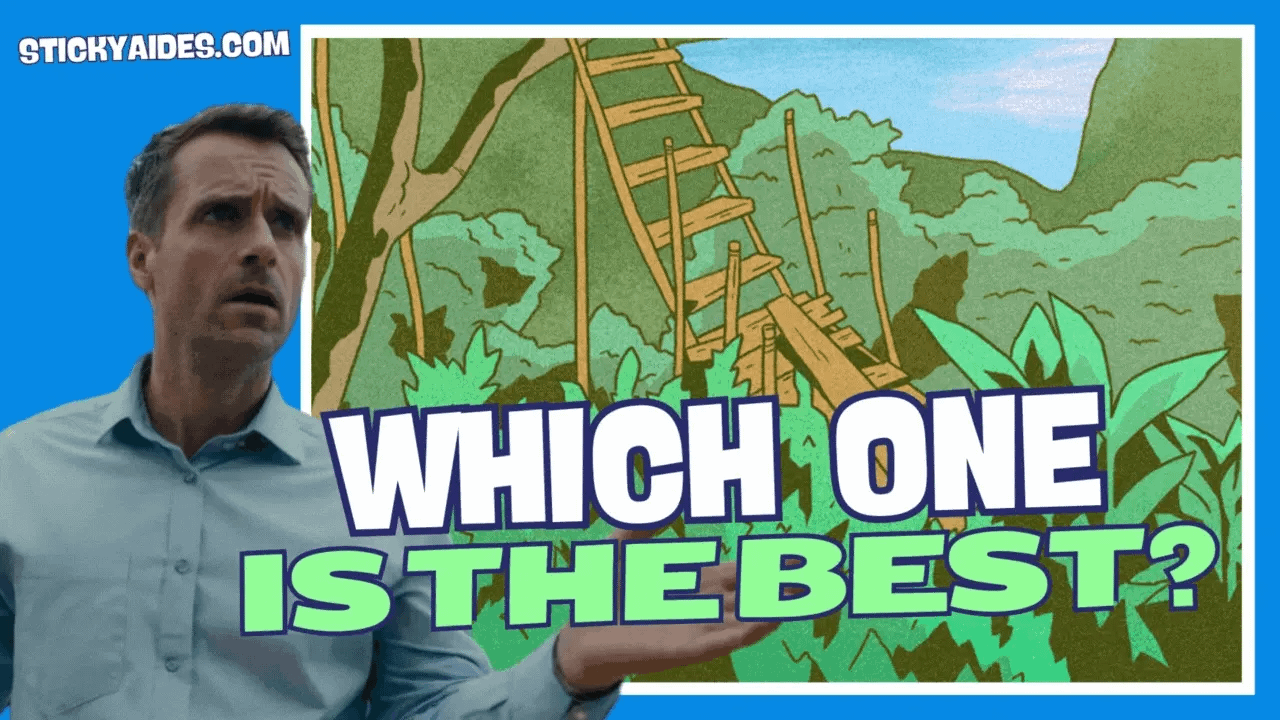 A: Yes, this glue is waterproof and can be used in submerged applications.
Q: Does E6000 glue have an expiration date?
A: Yes, there is an expiration date on the tube of E6000 glue.
📝 My Hands-on Test of JB Weld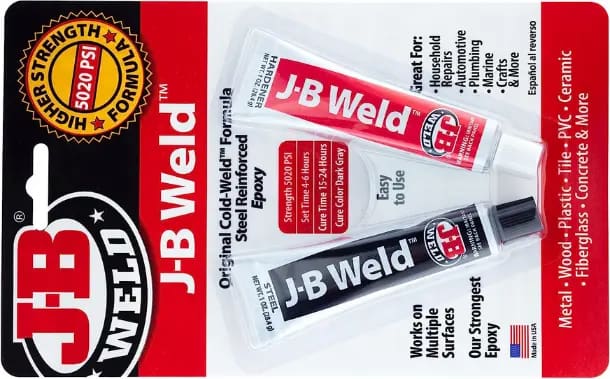 What I love most about JB Weld is its versatility. It works wonders on many different materials, and it's much better than other adhesives like crazy glue or gorilla glue. I highly recommend allowing the recommended 24-hour wait time for the adhesive to fully cure for the best results.
✅Pros
While using JB Weld, I did notice that the recommended 1:1 or 50/50 ratio of hardener to adhesive left the results slightly sticky. However, I found that using a 40/60 ratio of more hardener still gave me plenty of time to work with and finished without any stickiness.
It's easy to apply and comes with easy-to-follow instructions. I used it to repair the aluminum casting on my lawnmower that holds the carburetor on, and it's now solid as a rock.
One of my favorite things about JB Weld Original is how well it holds under pressure in most conditions. I have used it to patch small holes in metal and to fix a set of high-end Italian-made stainless steel cookware that I've had for 30 years. The handle on one of the pot lids snapped off at the spot weld connections, but JB Weld Original saved the day. I highly recommend this product for applications needing high storage and heat resistance.
Overall, I am thoroughly impressed with JB Weld and highly recommend it to anyone looking for a reliable adhesive. It's the best stuff for metal-to-metal adhesion and can even be used to weld broken metal items. It sets up fast and dries to a truly steel-like hardness. I'm glad I found this product and will continue to use it for all my DIY projects.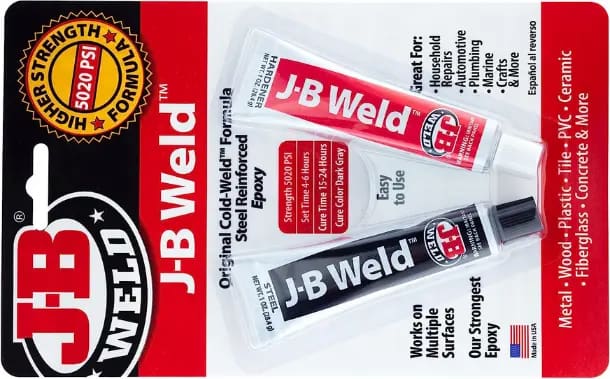 Is JB Weld Conductive?
No, it is not electrically conductive. I came across a video on YouTube where a guy made a cylinder head out of JB Weld, and it did not ground the spark plug.
💬 FAQ of JB Weld
Q: Would JB Weld be considered electrically conductive?
A: No, it is not electrically conductive. I came across a video on YouTube where a guy made a cylinder head out of JB Weld, and it did not ground the spark plug. Please look into my article about "Conductive Glue vs. Solder" for a electrically conductive adhesive solution.
Q: I'm trying to block a crack between cylinders 5 and 7 against the head with JB Weld. The narrowest point between the cylinders is sleeved. Do you think it will hold up without breaking from the high temperature?
A: I was looking into the temperature ratings of different epoxy products, and I actually found one that can withstand temperatures of up to 2100F, but it has low tensile strength. I would suggest staying away from welding since the crack is 5/8″ long and sleeved at each end. Currently, I am pressure testing the area and the water jacket has held 30 lbs for 12 hours. If it continues to hold pressure, I may also consider using some high-tech block sealers. I appreciate your input and wish me luck in putting life back into this old hemi.
Q: Can I use JB Weld to repair small punctures and leaks in an older aluminum boat?
A: This is a general-purpose epoxy that worked great for me on cast iron. It says that you can use it for marine purposes, but you might also consider using a boatlife life caulk or specific product made by JB-Weld that is designed for water.
Q: Can JB Weld be used to stop an exhaust leak at the point where a donut goes flanges off of the manifold? Or which JB Weld would work?
A: If your donut is bad, I recommend that you replace it. JB Weld is a metal epoxy, and if you apply it, you'll end up creating a permanent bond wherever you've applied it, making it difficult to make a proper repair later without grinding it off. If it's a crack you need to fix, spread it on thick and press in some wire mesh or a fiberglass-style patch. Let it cure and it should be good. I have patched some long cracks that way. I hope that helps!
Q: Is there a way to remove the hardened JB Weld or soften it once it has hardened?
A: You could try using 747 adhesive remover. It dissolves many types of hardened epoxies, and one of the reviewers in those listings specifically said it worked on JB Weld. However, please note that (1) you need to soak your item, you can't just brush Attack on it, so this will only work for small items; (2) make sure Attack won't dissolve your parts; and (3) be sure to read the comments and safety instructions and pay attention — this is seriously toxic stuff.
Q: My motorcycle's clutch handle broke in half in a fall. Can I use JB Weld to reunite the two pieces?
A: The plastic turn signal lever on my 1983 Cadillac broke in half a couple of years ago, and I used JB Weld to piece it together. It is still holding up fine, and it's a stiff lever, so it might work if you can get a good tight seal. If not, it's still a must to have around the house. I just fixed a pair of shoes with some.
Q: How much JB Weld would I need to attach two pieces of aluminum that are 5 feet by 14 inches?
A: If you want to cover the entire panel, my best guess would be less than 20oz, but more than 10oz. However, if the panels are flexible, JB Weld might crack. A cheaper option might be construction adhesive. Best of luck!
Q: Can I use JB Weld to seal a leaking auto battery top that is sulfuric acid-resistant? I read about a Masterbond epoxy for such a purpose, but it's expensive.
A: I used JB Weld to seal a soda can alcohol stove, but I don't know whether it can seal the auto battery top that is sulfuric acid-resistant. JB Weld is not specifically designed for use with sulfuric acid, so I would recommend against using it for this purpose. Instead, I suggest using a product that is specifically designed for use with sulfuric acid, such as Masterbond epoxy which you mentioned. It might be more expensive, but it is important to use a product that is designed for a specific purpose to ensure safety and effectiveness.