E6000 vs. Shoe Goo: which adhesive elixir should you choose for this sacred shoe surgery – Your favorite boots look like they lost a fight with a lawnmower. The soles are flapping in the wind like a loose tooth before it falls out. Every step feels like you're walking on a broken flip-flop. Clearly, it's time to break out the magical shoe glue and breathe new life into these puppies.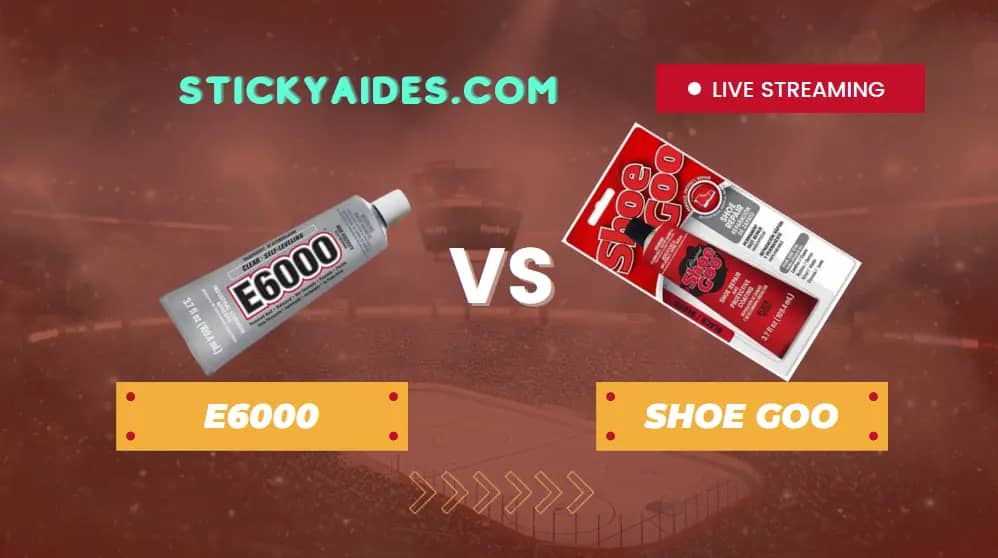 Before you randomly grab a tube off the shelf, let's examine these dueling glues in depth. We'll compare their ingredients, bonding capabilities, and overall voodoo vibes. Arm yourself with knowledge before gluing your footwear's fate. The right adhesive decision could have your boots boogieing for years to come – while the wrong one might leave you flopping down the street like a clown with untied shoes.
E6000 vs. Shoe Goo: What's The Difference?
The main difference between E6000 vs. Shoe Goo is:
E6000 uses perchloroethylene while Shoe Goo uses petroleum-based solvents
Shoe Goo specially formulated for shoe/leather repairs and flexibility
E6000 better for rigid surfaces like wood, metal, glass
Shoe Goo water resistant immediately, E6000 fully waterproof when cured
E6000 for Shoe Repair

✅Pros
Moving on to other craft-related uses, the E6000 excelled in securing rhinestones. I've had issues with other glues, but this adhesive held them in place without fail. Whether it's for crafting or adding embellishments to shoes, I haven't experienced any rhinestones falling off.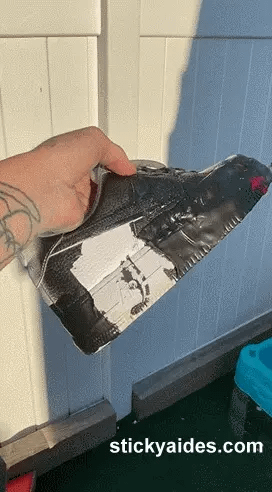 One of the standout features of the E6000 is its versatility. The manufacturer claims it can bond plastics, metal, rubber, leather, masonry, vinyl, and wood. I put this claim to the test in various scenarios and was impressed. It truly lives up to its reputation as a substitute for multiple glues and adhesives. The flexibility, high strength, and resistance to water, chemicals, and acids make it an indispensable tool in my craft projects.
❌Cons
However, there were a few downsides I encountered during my testing. When I attempted to use E6000 on glass-to-glass applications, it didn't yield satisfactory results, so I cannot recommend it for that specific purpose. Additionally, the glue does have a strong odor, which may be bothersome for some users. Furthermore, the lack of a precision tip led to excess glue oozing out, causing some mess during my crafting endeavors.

FAQ of E6000
Q: Would E6000 be suitable for affixing holographic foils inside a transparent hard plastic cellphone case? I want to ensure a delicate and clear result.
A: It appears to have a thick consistency, which may not allow the film to adhere tightly to the case as desired. Additionally, even if the adhesive is clear, it may still be visible. Perhaps considering a spray adhesive or exploring options specifically designed for this purpose would be more suitable to achieve the desired outcome.
Q: Can you suggest an alternative to sewing for attaching a zipper onto a cloth-tote handbag? Is E6000 a suitable option?
A: While it may serve the purpose, I cannot guarantee it as the best adhesive for that specific task. It would be advisable to explore fabric glues that can penetrate the fibers effectively. Alternatively, have you considered an iron-activated adhesive that can be heated and then cooled to bond the zipper to the tote? E6000 could potentially work, provided you exercise caution and apply pressure overnight to allow the glue to permeate the fabric. Nonetheless, it would be wise to try a fabric-specific adhesive first, and testing E6000 on fabric scraps beforehand can be a good approach.
Q: Can E6000 withstand low to freezing temperatures for outdoor projects? I noticed heat resistance mentioned in previous discussions.
A: The cured product can withstand temperatures ranging from -40F to 150F. This implies that the adhesive should maintain its efficacy within this temperature range. Additionally, it is advised to let the uncured tube thaw and reach room temperature before use if it has been frozen.
Q: If used as a seam sealer, will the fabric remain flexible and foldable?
A: The fabric would retain some degree of flexibility, but I would not recommend using it on garments. However, for items like tents, duffle bags, or gym bags, it should provide adequate flexibility.
Q: Is E6000 suitable for bonding plastic to metal?
A: E6000 exhibits exceptional adhesion to various materials, including wood, metal, glass, fiberglass, ceramics, concrete, leather, rubber, vinyl, and many plastics.
Q: Can it effectively bond rubber to stainless steel?
A: Based on scientific principles, it might not hold for an extended period if subjected to significant force. However, if force is not a concern, it can work well.
My Latest Updates
👋 Hi! This is Ronald. I just published 2 new articles you may enjoy reading. Feel free to keep reading this one or 👇 check out the new articles anytime.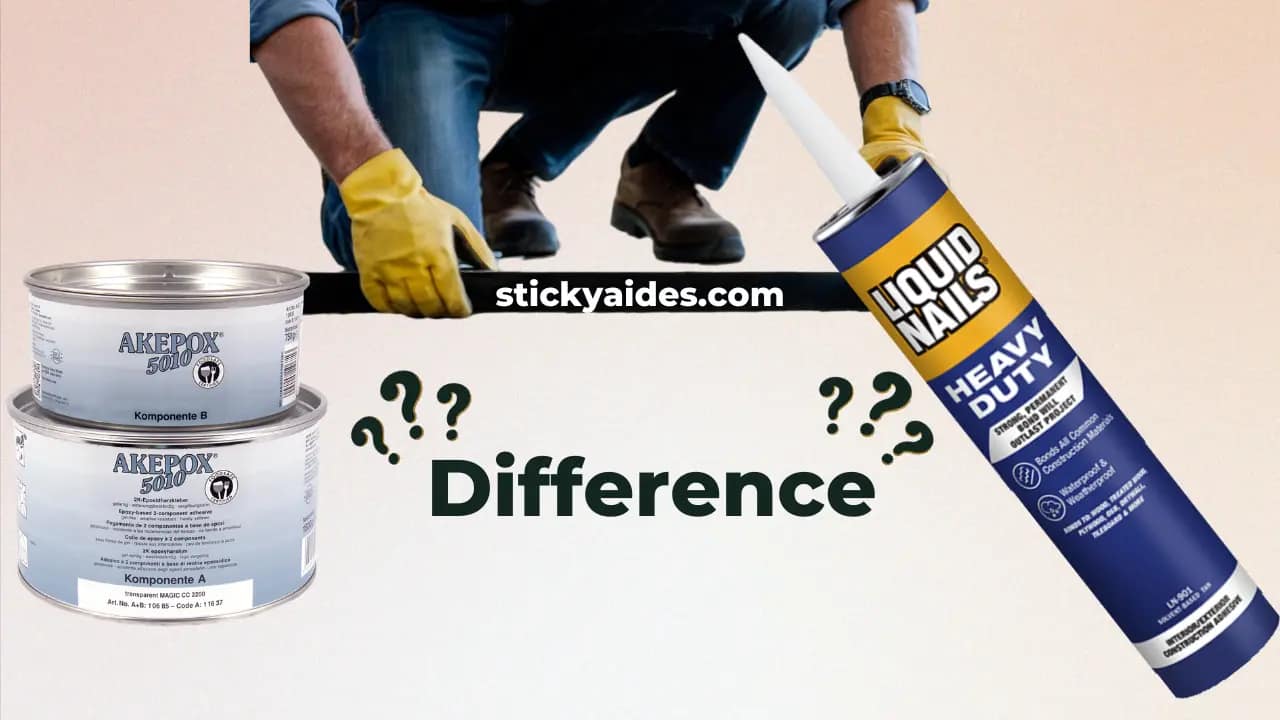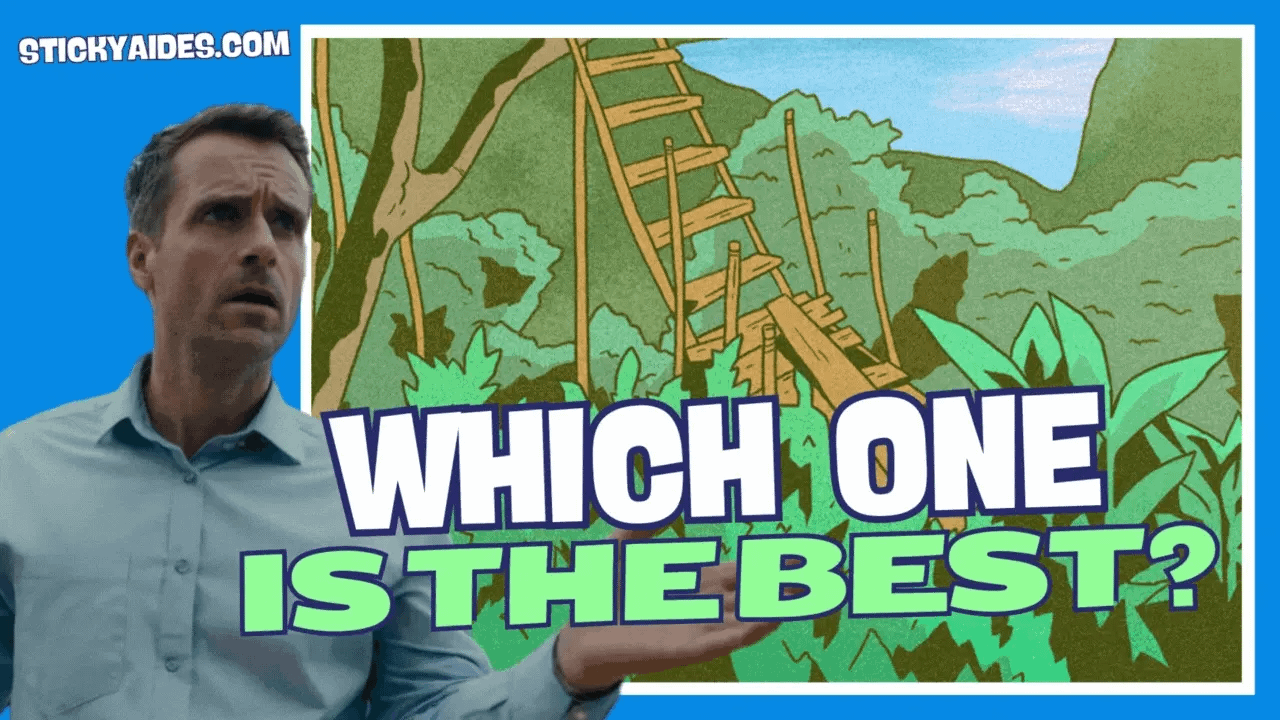 Q: Is it compatible with Tyvek material?
A: It is likely to be compatible. Since Tyvek is a spun fiber, the adhesive should have a surface to adhere to. To be certain, it would be wise to test a small piece first.
Q: Can it be used to reattach a quartz crystal that detached from the pendulum attachment on a chain?
A: I believe it can work, as I have successfully used it to bond plastics in the past.
Q: Is E6000 suitable for gluing a 1-inch pin back?
A: Yes, it works very well. Thank you for your inquiry.
Q: How effectively does E6000 bond two pieces of plastic together?
A: E6000 is a reliable adhesive that can easily bond plastic materials. I have personally used it for various applications, and it has proven to be a great product.
Q: I have a ceramic paw print that I want to attach to my dog's cedar wood urn box. Will E6000 be strong enough to prevent it from falling off and breaking?
A: I don't believe it would be suitable for this purpose. E6000 is primarily intended for craft projects and forms a rubber-like consistency when it hardens. For wood and ceramic or mixed materials, I would recommend using a glue specifically designed for those types of materials, such as Gorilla Glue or other wood and ceramic adhesives. Best of luck!
Q: Can E6000 be used on metal surfaces?
A: I have not personally tried it on metal, but based on its excellent performance with other materials, I believe it should work well on metal surfaces.
Q: Will E6000 provide a strong bond for attaching a metal leg to a glass base?
A: Yes, it should. Just ensure that you clean the surfaces thoroughly with alcohol or window cleaner before applying the adhesive.
Q: Is it suitable for bonding metal caps to wooden salt and pepper shakers, for example?
A: Although the description states that it works on wood, metals, fabric, and more, I have only used it for bonding plastic to fabric. However, based on its strong performance in the application I used it for, enduring significant abuse without any issues, I believe it should provide a sturdy bond between wood and metal. It is recommended to let it dry overnight for optimal results. Please note that the adhesive emits a strong odor during use but works exceptionally well.
Q: Can E6000 effectively glue two pieces of leather togetherA: Yes, E6000 is suitable for bonding leather. It forms a strong and durable bond when used on leather surfaces. Just make sure to clean the surfaces properly and apply the adhesive evenly for the best results. Allow it to dry and cure completely according to the instructions before subjecting it to any stress or load.
Read More: b7000 vs e6000
My Test on Shoe goo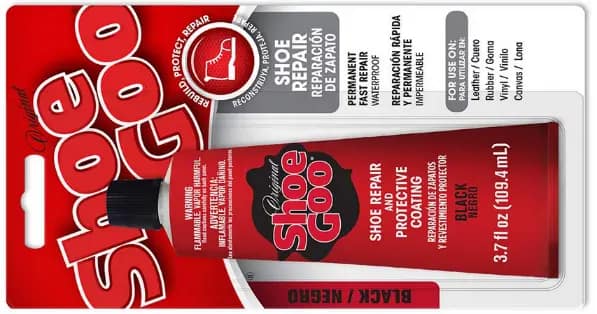 The mini tubes are perfect for my limited use. A full tube would dry out before I could finish it. With the individual tubes, each stays fresh until needed like for repairing my sheepskin slippers – I reattach the soles every 6 months and the Shoe Goo works great, holding for about that long with daily wear.
The small tubes make the adhesive easy to handle, preventing waste. For a reasonable price, they've repaired my worn shoes, letting me keep my favorites. I apply generous glue and use clamps overnight to ensure a secure hold. Most repairs have lasted well.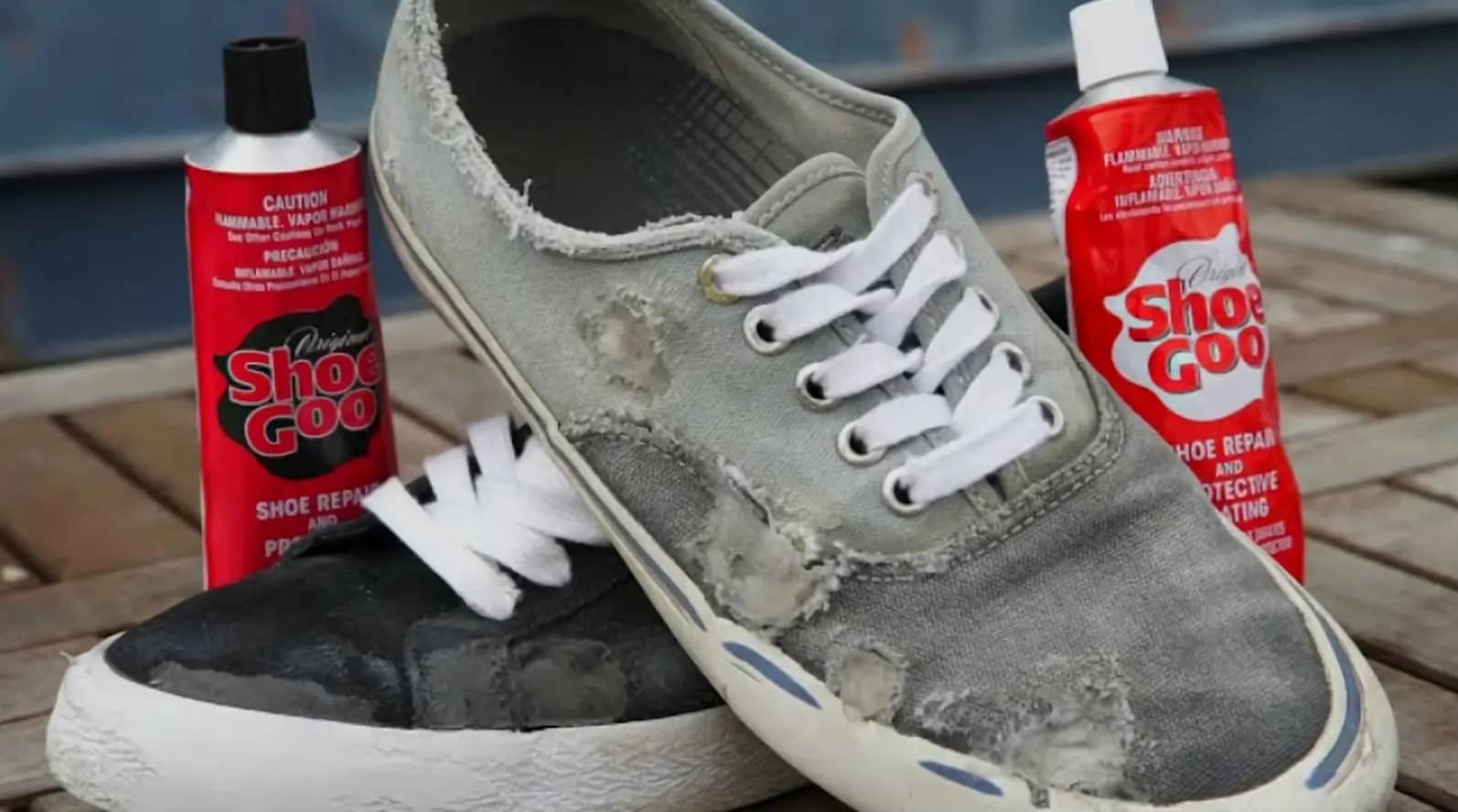 For repairs only needed every few months, the individual tubes suit me perfectly. I'm a convert after struggling with other glues – Shoe Goo performs well initially and the mini tubes mean less waste. Full tubes always dried out before use, but with the individual tubes, each stays fresh for one repair. With Shoe Goo, my worn-out shoes keep on walking.
The small nozzles have been difficult to control at times but the product overall has worked great, securely holding repairs for weeks to months. Its versatility from hiking boots to sneakers makes Shoe Goo an indispensable product in my shoe toolbox.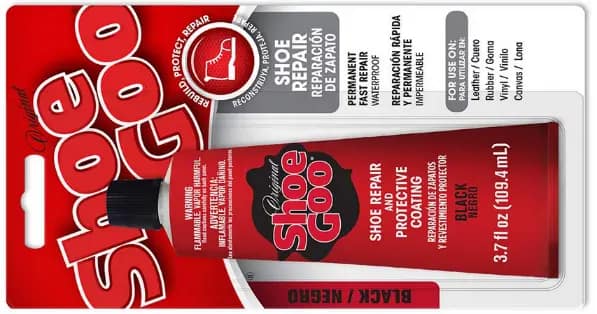 FAQ of Shoe Goo
Q: Would Shoe Goo bond neoprene and rubber materials? I need to repair the fin booties.
A: Yes, Shoe Goo should work for bonding neoprene and rubber. I have used it to re-attach rubber soles that separated from the main part of sneakers. As long as the surfaces are clean, Shoe Goo creates a strong, flexible bond with most shoe materials including rubber, neoprene, synthetics, and leather.
Q: Is Shoe Goo effective for use on leather?
A: I have used Shoe Goo on leather shoes multiple times with good results. Each time I purchase new leather shoes, I apply Shoe Goo to the leather sole for added durability. About a year ago, I used it to repair a pair of leather shoes and they are still holding up well. Overall, I have found Shoe Goo works effectively on leather.
Q: When dispensed from the tube, what should the consistency of the product be? The product I received looks lumpy and not very adhesive.
A: I have received a product that was old or improperly stored and had a grainy, lumpy consistency rather than a smooth paste. In my experience, when Shoe Goo is fresh and ready to use, it dispenses as a thick, smooth adhesive. If it appears lumpy, dried out, or lacks strong adhesiveness, it may need to be discarded and replaced. I would recommend confirming the freshness date and storage details for the best results.
Q: Does Shoe Goo bond well to rubber and leather materials?
A: Yes, I have found Shoe Goo works very well for bonding rubber and leather. I used it to repair my Crocs sandals, which are made of rubber, and the bond is still holding strong. While I have not personally used it on leather shoes yet, based on its effectiveness with rubber and synthetics, Shoe Goo should also create a durable bond with leather as it is designed for shoe repair.
Q: Once opened, how long will this product last before drying out or becoming unusable?
A: Shoe Goo has an ample shelf life once opened if stored properly. I purchased a 4-pack of tubes just to have spares on hand for future use. As long as the tube opening is sealed well after each use, a single tube of Shoe Goo can last many months. I used one full tube within 6-8 months after opening with no issues. However, extreme heat or extended direct sunlight exposure could speed up drying and reduce its usefulness quicker.
For the best results, seal the tube well when not in use and store it in a cool, dry location away from extreme heat. As with any adhesive, if it has become very thick, stringy, or shrunk significantly from the sides of the tube, it is best to discard it and start with a fresh tube. But with proper storage and for casual use, a single open tube of Shoe Goo should retain a usable consistency for 6-12 months.
Q: Would Shoe Goo work for bonding a metal horseshoe?
A: Shoe Goo is primarily intended and designed for repairing and bonding shoes made of materials like rubber, leather, and fabrics. It likely would not create a strong, durable bond with metal materials such as a horseshoe. For bonding metal, you would be better served using a product specifically designed for use with metal substrates, such as a metal-epoxy or heavy-duty construction adhesive. You can find those heavy duty adhesives here:
– Gorilla Heavy Duty Construction Adhesive – 5 Best Adhesive For Foam Board To Metal
– Rhino Glue Gel, Heavy Duty 40 Gram Clear – best glue for lego sets
While Shoe Goo is a great product for its intended use with shoes, metal bonding requires a different solution.
Q: I applied one tube of product to the inner midsole of my Nike Air Max shoes after the sole separated. Kept clamped with weights for 72 hours. The sole fell off again within a week of normal wear. Any tips to help the bond last longer?
A: It sounds like the bond between the midsole and outer sole of your Nikes may have been too damaged or weak for Shoe Goo alone to repair long-term.