When something in your life busts, breaks, or goes belly-up, JB Weld has got your back. They've got more glues than a third grader has boogers. But for all you metal and marine heads out there, we gotta talk JB Weld Steel Stick vs. Water Weld.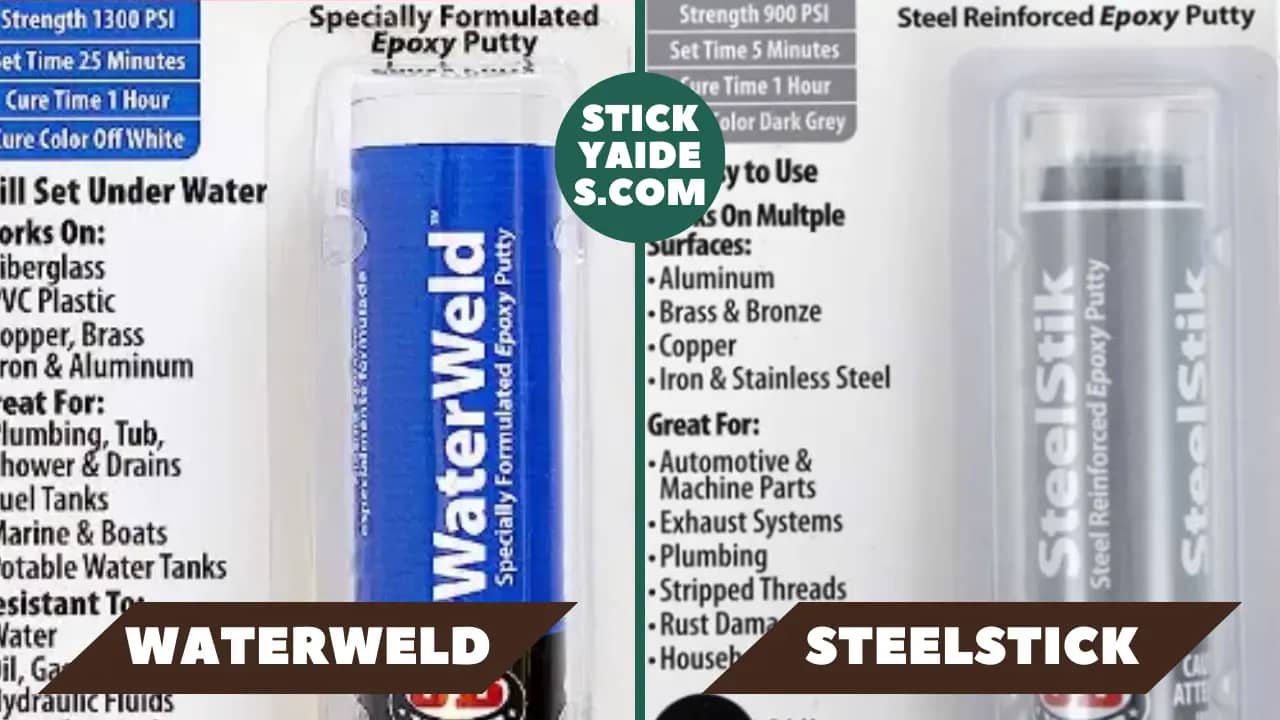 Steel Stick sets fast in 4-6 minutes with steel-reinforced epoxy reaching 3960psi for rebuilding metal parts stronger than new. It machines smoothly and dries in an industrial steel gray.
Water Weld is a white epoxy putty made for wet repairs on pools, plumbing, and boats. It sets slower in 15-25 minutes but reaches 1300psi strength, hiding repairs with an off-white color blend.
So for all you fix-it fanatics, choose Steel Stick for high-strength structural and metal repairs, and Water Weld when you gotta get your glue on underwater. Your repaired possessions will thank you, and you'll be glad you picked the right glue for the job!
JB Weld Steel Stick vs. Water Weld: What's The Difference?
The key difference between JB Weld Steel Stick vs. Water Weld is:
JB Weld WaterWeld is designed for underwater and wet surface repairs, while JB Weld SteelStick is better for structural and metal repairs requiring high strength.
WaterWeld sets slower but cures to an off-white color that blends in for cosmetic repairs. SteelStick has a faster set time and higher strength with steel-reinforced epoxy that machines well for precision repairs. Choose WaterWeld for in-water repairs and SteelStick for high-strength metal and machinery repairs.
My Hands-on Test of WaterWeld Epoxy Putty

✅Pros
It has truly exceeded my expectations, and the affordable price attached to it makes it even more worthwhile. Furthermore, it arrived quickly, saving me both time and money.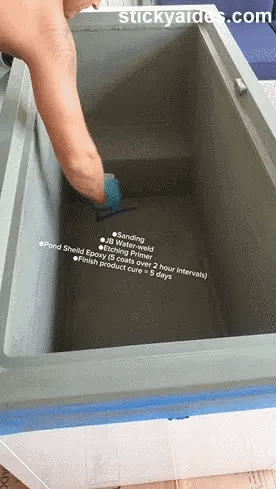 How I did the above plunge bath project:
Sanding
JB Water-weld
Etching Primer
Pond Sheild Epoxy (5 coats over 2-hour intervals)
Finish product cure=5 days
Strong and Safe Solution for Potable Water
I had a leaky connection at the bottom of my rain barrel that couldn't be fixed with silicone. I needed a strong and safe solution for potable water, and WaterWeld worked beautifully. Not a single drop has leaked since I applied it. The ease of use was impressive, though I do recommend wearing gloves during the application process. It did exactly what it claimed to do, and now I always make sure to have a tube of this on hand.
Fixing a Crack
One of the most impressive repairs I achieved with WaterWeld was fixing a crack in the base of my laptop. After a minor drop, I noticed the crack and decided to follow a fix I found on a tech site using it. Following the directions provided, I applied the putty to cover the crack and let it set up. I then smoothed it down with fine steel wool, ensuring a seamless finish. The result was impressive, and I now feel much better knowing that the crack is filled and the laptop is protected.
Versatility and Effectiveness
Nevertheless, I can't emphasize enough how great this putty works in various scenarios. Another particular application that impressed me was using it to retexture a water feature wall. The putty filled in the areas with more pronounced textures, ensuring a smoother glide for the water. After drying, I used waterproof paint to recolor the wall, resulting in a water feature that no longer loses any water. I highly recommend this putty for its versatility and effectiveness.
In addition to its fantastic performance, WaterWeld also offers long-lasting results. I've tested it on multiple surfaces, including metal, plastic, and wood, and it has consistently provided strong bonds that withstand the test of time. I even used it to repair a broken ceramic figurine, and it has held up perfectly, even with regular handling.
❌Cons
However, I did encounter a minor setback when I tried to fix a pinhole leak in a cast iron sewer pipe. Despite my efforts, the product didn't work as expected, and the leak persisted. In the end, I resorted to using a silicone self-fusing tape as a temporary solution until I had the time to replace that section of the pipe. It's worth mentioning that this version of JB Weld has a finer consistency, making it more water-tight compared to the original. While it didn't work for my specific case, I believe it could still be effective for other applications.

FAQ of JB Weld WaterWeld
Q: Is WaterWeld effective for repairing pool leaks?
A: As a last resort, I purchased WaterWeld to fix my pool, which had already required the replacement of two pump motors and a whole pump assembly. It was a $200 pop-up Intex pool from Wal-Mart. I patched it once this season using a pool patch kit and a significant amount of Gorilla Tape (which you can see here duct tape vs gorilla tape) as a precaution.

To my dismay, while shocking the pool, which the kids described as "dark green" and constantly unplugged the pump from, I discovered a leak. I applied the putty but had to use a substantial amount before it somewhat stopped the leak.

Finally, after about 30 minutes and applying more putty, the leak was successfully sealed, at least for now. I plan to test its endurance against water pressure and chlorine to solve the green pool issue. Additionally, I wonder if it can be used to secure power plugs and prevent the kids from tampering with the pump again. WaterWeld has worked remarkably well, but it's important not to skimp on the quantity. Since I intend to dispose of the pool this year, I won't be able to determine its long-term effectiveness. I'm simply hoping it will last for another seven weeks.
Q: Does it adhere to wet surfaces?
A: Certainly. I used it to seal a gap between the plastic of my pool skimmer and the grout and tile of the pool lining, all while underwater. It worked splendidly and is still holding strong after several months.
Q: Can it fix a wet PVC pipe joint that's leaking?
A: Yes, it should work. Ensure that you cut a section with both the outer and inner layers of JB Weld and thoroughly blend them together using your fingertips. Roughen the entire surface where you plan to apply the epoxy using sandpaper, as this will help it adhere properly.

If the pipe is spraying water under pressure, make sure to turn off the water before applying the putty; otherwise, the water will escape underneath it. Clean and sand the area, apply the putty, and wait for at least an hour for it to harden. I have personally used WaterWeld on 8-10″ PVC leaks at fittings, and although not under high pressure, it worked well for a greenhouse cooling system.

It has also been effective in sealing a 1″ hole my son punctured in a fiberglass bathtub and plugging holes in natural gas and galvanized pipes. Remember, preparation is key, so clean and sand the area before applying the putty. I usually wait for about an hour before testing the repaired area. It's a strong and reliable product that I highly recommend to fellow plumbers.
Q: Can WaterWeld be used to fix a small hole in a plastic chainsaw oil tank?
A: I'm uncertain about how the oil might affect the seal of the weld. However, I used WaterWeld on a plastic rain barrel to seal a metal faucet I had installed a few years ago, and it is still securely sealed. Based on my experience, I believe it should work for your situation. If I were in your position, I would give plastic oil tank repair kit a try. Good luck!
Q: Can WaterWeld repair a leaking water tank while it is still leaking?
A: In my experience, achieving better results required working on a dry surface. Therefore, when I used the product, I turned off the water mains and tried to drain the affected parts. If the leak is small and slow, there might be a chance that it acts as a temporary plug. However, I wouldn't place any bets on it.
Q: Is this the best JB Weld product for DIY tooth repair?
A: It worked quite well for me, although it may take a day or so to fully harden.
Q: What's the method for achieving a uniform color when the product already starts with a uniform off-white color?
A: Once you break off the desired amount of material needed for your task, you will notice a different color of hardener inside the material column. During the kneading process, these colors will blend together. Keep kneading until you achieve a uniform color. At this point, the product is ready for installation. Please note that the product generates heat during the kneading process, so wearing rubber gloves is advisable.
Q: Can WaterWeld be used to seal a crack in a fiberglass tub? Will it provide sufficient strength
A: Yes, JB Weld WaterWeld can be used to seal a crack in a fiberglass tub. It is known for its strong bonding properties and can provide sufficient strength for such repairs. Clean the area around the crack thoroughly, sand it to roughen the surface, and then apply the JB Weld epoxy putty according to the instructions. Allow it to cure completely before using the tub again. This should help seal the crack and reinforce the damaged area.
My Hands-on Test of SteelStick

✅Pros
What sets SteelStick apart is that it goes beyond simply gluing surfaces together. It's perfect for those situations where there's a "loss of tissue" in materials like plastics and metals that are under pressure from weight. Let me give you an example: just recently, I had a wheel supporting a cart that weighed around 30 to 40 pounds. There were no surfaces to glue together, so I had to rely on J-B Weld to mold and replace a disintegrated plastic housing.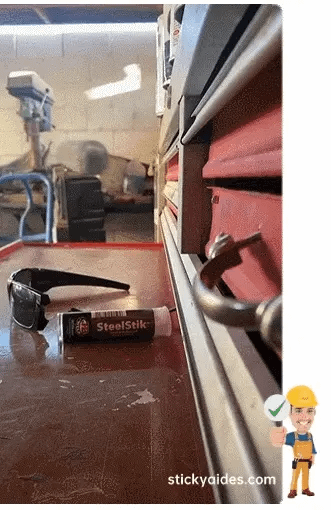 Ease of Use
In terms of ease of use, hardening speed, and affordability, SteelStick is top-notch. Trust me when I say, you won't regret getting your hands on it. However, I do want to note that the color of the product might be a bit misleading. It's supposed to be steel-colored, but it's actually black or a very dark grey. Other than that, it performs exceptionally well, but make sure to use it quickly after mixing.
Mixing Process
I had a hole in my car that needed patching, and J-B Weld was just what I needed. It was incredibly easy to work with, providing ample working time. It felt pliable like clay within the working time, but once it set, it became stiff and hard. The mixing process was straightforward: just combine the two parts until the color consistency matches, and you're good to go. The color differentiation between the separated and mixed parts is quite noticeable, making it easy to gauge when it's ready to be applied. I can confidently say that J-B Weld provided everything I needed and more to successfully patch the hole in my car.
Performance
I'm sure many of you have seen the Mighty Putty commercial on TV and thought it sounded great. Well, I have good news for you—I discovered that J-B Weld is essentially the same as Mighty Putty, but without the exorbitant shipping and processing fees.
In fact, I used it to put up a towel rack in a guest bathroom without drilling through the tile, and it held up perfectly. The next day, I could hang anything on it without worrying about it breaking.
❌Cons
The only minor issue I encountered was that the product doesn't "stick" and conform to the wheel as well as a true 2-part epoxy would. However, it was still easy to work with, and I used different grits of sandpaper to shape it. In fact, I've even ordered bondo metal reinforced filler to give it a try.

FAQ of JB Weld SteelStick
Q: Can SteelStick be used to adhere a small crack on a copper water jacket of a water heater?
My Latest Updates
👋 Hi! This is Ronald. I just published 2 new articles you may enjoy reading. Feel free to keep reading this one or 👇 check out the new articles anytime.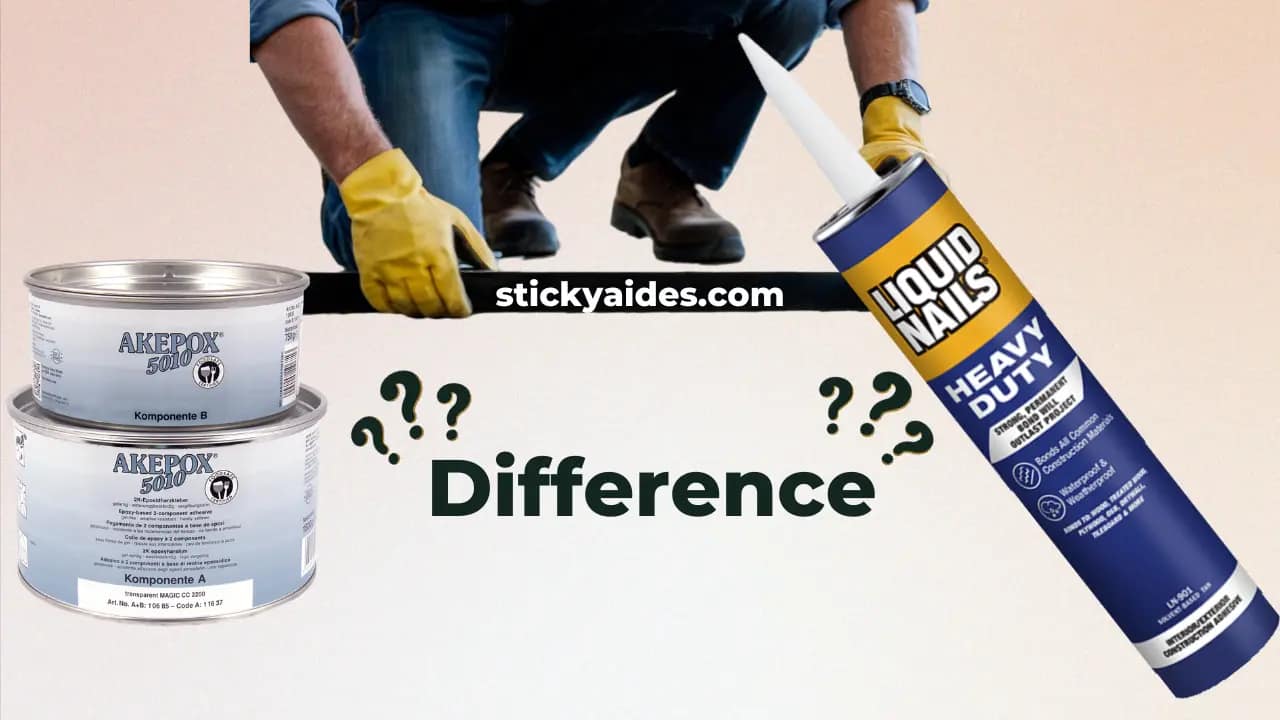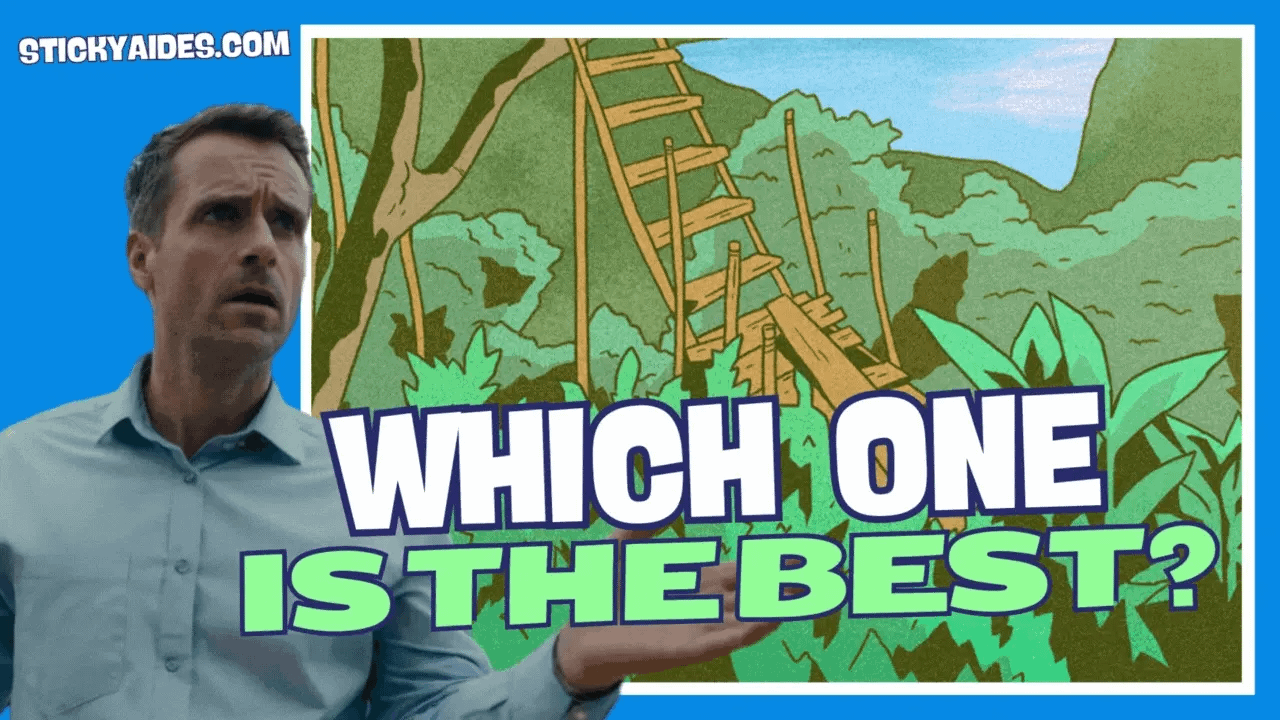 A: Yes, it can be used for that purpose. However, it is recommended to first use rough sandpaper to prepare the surface and then clean it. If the jacket is as thick as a circular saw blade or more, it would be better to use a razor blade and make multiple cuts on the surrounding area.
Q: How does SteelStick look once it's fully cured? Can it be painted black?
A: Although I haven't personally painted it, I believe you can paint it. However, after it cures, it turns into a dark grayish black color.
Q: I need to attach a metal firescreen to a brick fireplace surround. Would SteelStick be suitable for that?
A: No, I don't think SteelStick would be suitable for attaching metal to brick surfaces. It is more suitable for bonding metal to metal.
Q: Is SteelStick magnetic?
A: No, it is not magnetic.
Q: I want to repair a chipped tooth on a gear. Will SteelStick make the repaired tooth detectable by a magnet?
A: No, SteelStick is epoxy and it is not magnetic.
Q: At what temperature can I apply SteelStick?
A: For optimal results, it is recommended to apply the adhesive at room temperature. If you are working in cold conditions, the bonding may not be as strong. You can work the compound with your fingers to make it pliable and mold it to the desired shape. It hardens in a short time, but it may take longer to cure in cold air.
Q: Can I use SteelStick to plug a 1/2″ hole in an aluminum door? The hole was left after removing a doorbell.
A: Yes, SteelStick would be suitable for plugging that hole. It's an inexpensive way to fix it compared to getting a new door.
Q: Will SteelStick work on a metal gas line coming out of a fuel pump?
A: Yes, it can temporarily work on a metal gas line. It has been used to stop fuel leaks in similar situations. However, for a permanent solution, it is recommended to fully and properly replace the damaged line.
Q: I have a broken key. Can SteelStick repair it?
A: I'm not aware of any adhesive that can mend a key. The torque applied to turning a key is usually too great for any glue to hold.
Q: Can SteelStick fill two small scratches on a brake slave cylinder's machined surface that seals with a crush washer to a banjo fitting that's leaking?
A: It might be possible to use SteelStick to fill the scratches if you mix it correctly and apply it actively. Make sure to thoroughly clean the area with an appropriate solution before applying the adhesive mixture.
Q: Can I use SteelStick to fix a rear defogger tap? Does it conduct electricity?
A: SteelStick, JB Weld, is actually a good insulator and not a conductor. If you need a conductive putty to repair your defroster, you may want to consider using a product like this: best conductive glue
Q: I want to fill in a dent in a stainless steel appliance. Does the epoxy match the color of stainless steel?
A: No, the epoxy does not match the color of stainless steel. It appears more gray and does not have a shiny finish. SteelStick is primarily meant to replace welding, so it is not intended to be visually appealing.
Q: I want to repair tines in a dishwasher rack. Is SteelStick non-toxic and safe to use in a food environment? Will it hold up well?
A: It would be best to use Plastic Weld stick 8237 for repairing tines in a dishwasher rack. This product is specifically designed for such applications and is safe to use in a food environment. It offers better durability and performance for this purpose.
Q: Can I use SteelStick to seal a hole in an aluminum boat
A: It is recommended to use an adhesive specifically designed for aluminum when sealing a hole in an aluminum boat. See Devcon vs. JB Weld. For optimal results, it is best to match the materials, using aluminum adhesive for aluminum surfaces and steel adhesive for steel surfaces.
Q: Will SteelStick work on wood?
A: Yes, in general, SteelStick can be used on wood. However, if you are using it as a filler, it may be more cost-effective to use a product like Bondo. If you need it as a glue, Liquid Nails, available at Home Depot, would be a suitable option. Keep in mind that JB Weld dries in minutes, while Liquid Nails takes longer to cure. If you provide more details about your specific application, I can provide more tailored advice.