Looking to glue some metal back together? Well step right up ladies and gents, we've got just the magical elixirs for you! Introducing JJB Weld vs. Pratley Steel – two epoxy potions promising to patch up your projects in a pinch.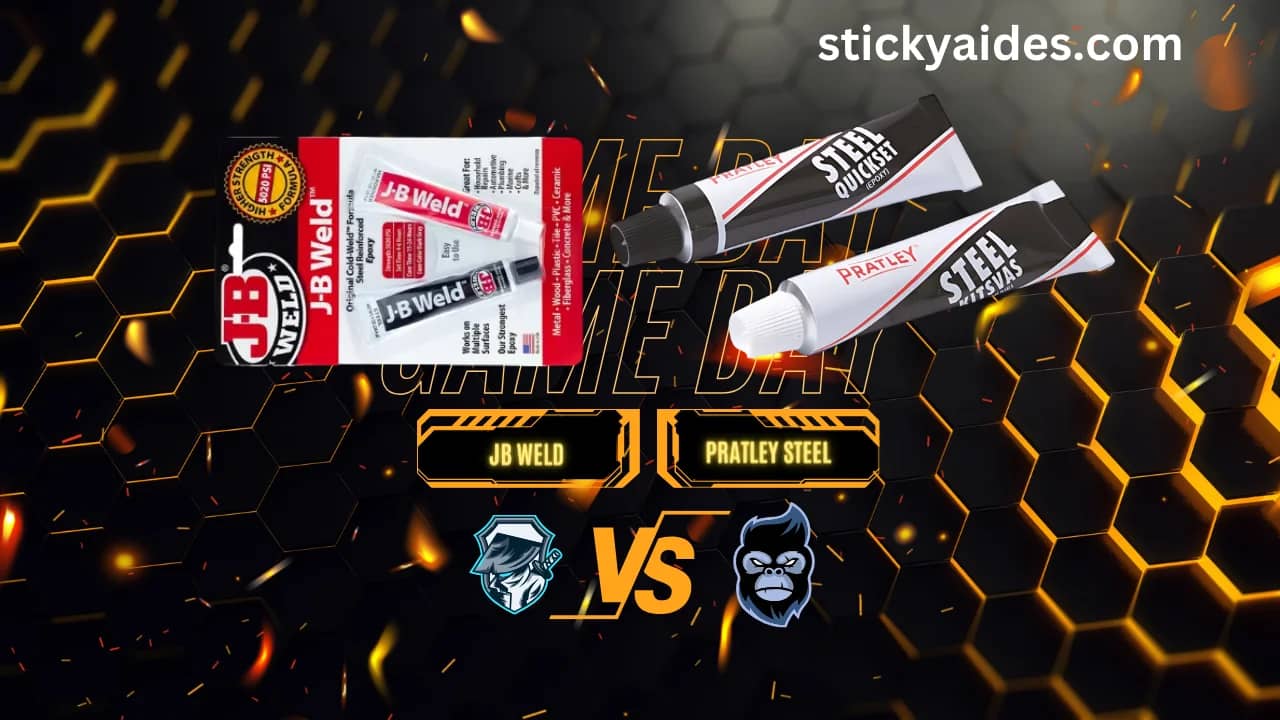 So before you grab just any old tube off the shelf, put on your thinking cap and compare carefully. When it comes to picking the perfect option for your application, the devil's in the details. A few minutes of studying up now could save you hours of headache later. Read on to learn whether JB Weld or Pratley Steel has the right magical mixture for your mission!
JB Weld vs. Pratley Steel Epoxy Putty: What's The Difference?
The main difference between JB Weld vs. Pratley Steel Epoxy Putty is:
JB Weld has a longer working time but slower cure time compared to Pratley Steel which sets and cures much faster. Both can bond to metals and multiple substrates. JB Weld has higher specified strength properties while Pratley does not provide quantitative strength data.
📝 My Hands-on Test of Pratley Steel Quickset

✅Pros
Once the two putty colors became one, I continued kneading the mixture in my hands for about 8 minutes. The directions provided clear guidance on the consistency to look for, and I could feel the putty becoming hardened. While it doesn't magically transform into steel, it does become remarkably strong over the course of two days.
My first test for the Pratley Steel Putty was to repair our mailbox, which had already been broken and repaired twice before using other products like JB Weld. Unfortunately, those previous attempts didn't hold up against the direct sun or the test of time. However, this putty proved to be a game-changer. It was incredibly easy to work with, allowing me to mold it with my hands and shape it with tools. Once set, I even painted it, and the end result looked fantastic.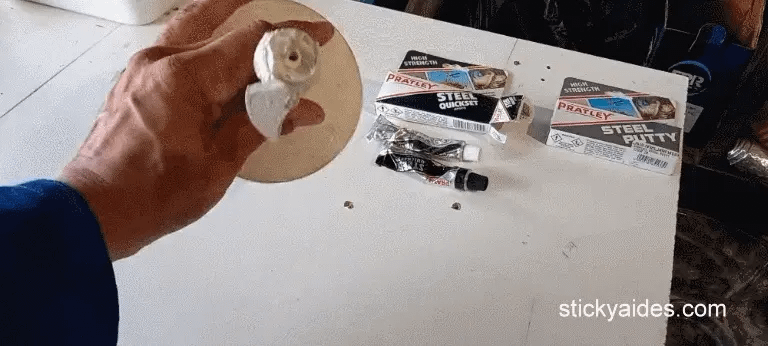 In addition to mailbox repairs, I also used the Pratley Steel Putty to connect and reinforce two aluminum tubes. I had previously tested a similar product from JB Weld, but I found the Pratley putty to be drier and stiffer during the mixing process. However, both products were set up in approximately the same amount of time and exhibited similar shear strength.
The versatility of this putty impressed me further when I used it to rebuild a handle for our stovetop griddle. Despite the heat and constant use, the putty held up exceptionally well. It proved to be durable and maintained its shape, even under the demanding conditions of a hot stovetop.
Another project where the Pratley Steel Putty exceeded my expectations was the repair of a broken piece of cast iron on an antique air rifle receiver. Once fully cured, the putty became incredibly hard and allowed for easy filing and shaping. After painting the hardened putty, it seamlessly blended in with the rest of the receiver, creating a visually pleasing result.
One thing I appreciated about the Pratley Steel Putty is that a little goes a long way. It's important to mix a small amount at a time, as it sets hard within 8 hours and fully cures after 48 hours. For rusted steel surfaces, I found that grinding them clean before application yielded the best results.
❌Cons
While the majority of my experiences with the Pratley Steel Putty were positive, I did encounter a couple of instances where it didn't perform as expected. For example, when I tried to repair a pit hole leak on a 3/4″ copper hot water pipe, the putty didn't adhere even after several attempts. It's worth noting that this particular application might not be suitable for the putty, especially in damp areas. In such cases, alternative solutions like clamps might be more effective. Based on my experience, I understand the frustration and the feeling of having wasted money.

FAQ of Pratley Steel Quickset
Q: Can I use Pratley Steel to repair a peeling refinished porcelain bathtub from the inside?
A: I can't say for certain, but based on my experience, it didn't work on glass, so I wouldn't recommend it for that purpose.
Q: Is Pratley Steel suitable for filling cracks in automobile rims?
A: Yes, it should work for that application.
Q: Will it work for a leaky pipe?
A: Yes, it can be used for fixing leaky pipes.
Q: Does it effectively stop leaks?
A: I haven't used it specifically for fixing leaks, but I successfully repaired an electrical fixture with it.
Q: Can a second coat be applied after the first coat has completely hardened?
A: There's no need for a second coat since this is a putty product.
Q: Can Pratley Steel be used on silver? I have a large silver candelabra with a broken side.
A: Personally, I didn't have success using this putty on silver. Instead, I recommend using JB Weld, which works well on various metals and can be sanded for a smooth finish.
Q: Would this item work for fixing a cracked 26″ rim on a Cadillac Escalade ESV?
A: It should work, but the size of the crack matters. If it's a gap that the material can be pressed into, it should be effective. Make sure to clean the area thoroughly before application.
Q: Can it be used to plug and re-drill a screw hole?
A: While it's an option, drilling into the fully hardened putty might be challenging.
Q: Is this suitable for use on glass?
A: No, it is not recommended for use on glass. Epoxy or silicone would be better alternatives.
Q: Does this putty work in high-temperature applications, such as bonding exhaust leaks?
A: I haven't tested it in high-temperature applications. However, I found JB Weld to be effective for fixing a metal bracket.
Q: Can it mend a rusted metal yard decoration?
A: Yes, it should be able to mend your broken yard decoration. Ensure that you prepare the metal surface before using the putty and follow the instructions carefully.
Q: Will it bond stainless steel to stainless steel?
A: Yes, it can bond stainless steel to stainless steel. Just make sure the surfaces are clean and free of oil and grease.
Q: Can it fill a hole in the gasoline tank of a car?
A: It is not recommended for patching a gasoline tank. However, you might want to know how to fix a cracked gas tank.
Q: Will it work to repair a leak inside the firebox of an outside wood boiler?
A: I don't think so. When I used it on a steel surface, it cracked.
Q: Can it seal a plastic fuel tank for a weed wacker?
My Latest Updates
👋 Hi! This is Ronald. I just published 2 new articles you may enjoy reading. Feel free to keep reading this one or 👇 check out the new articles anytime.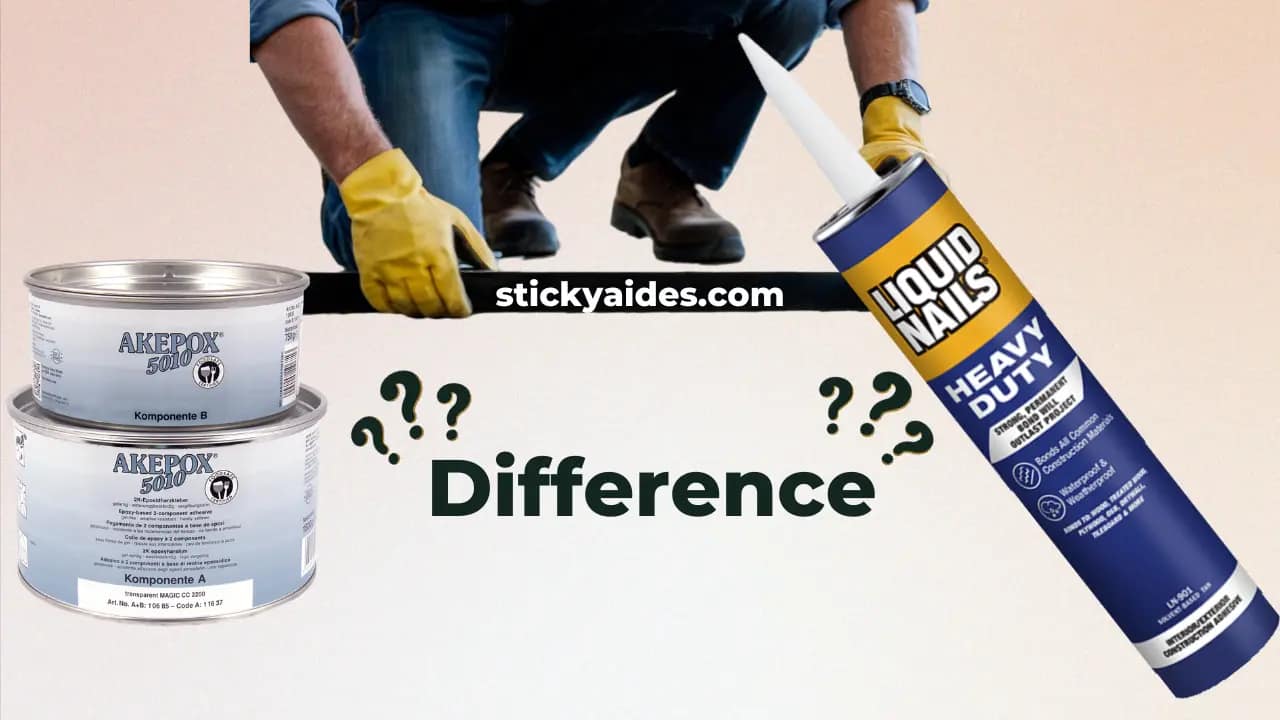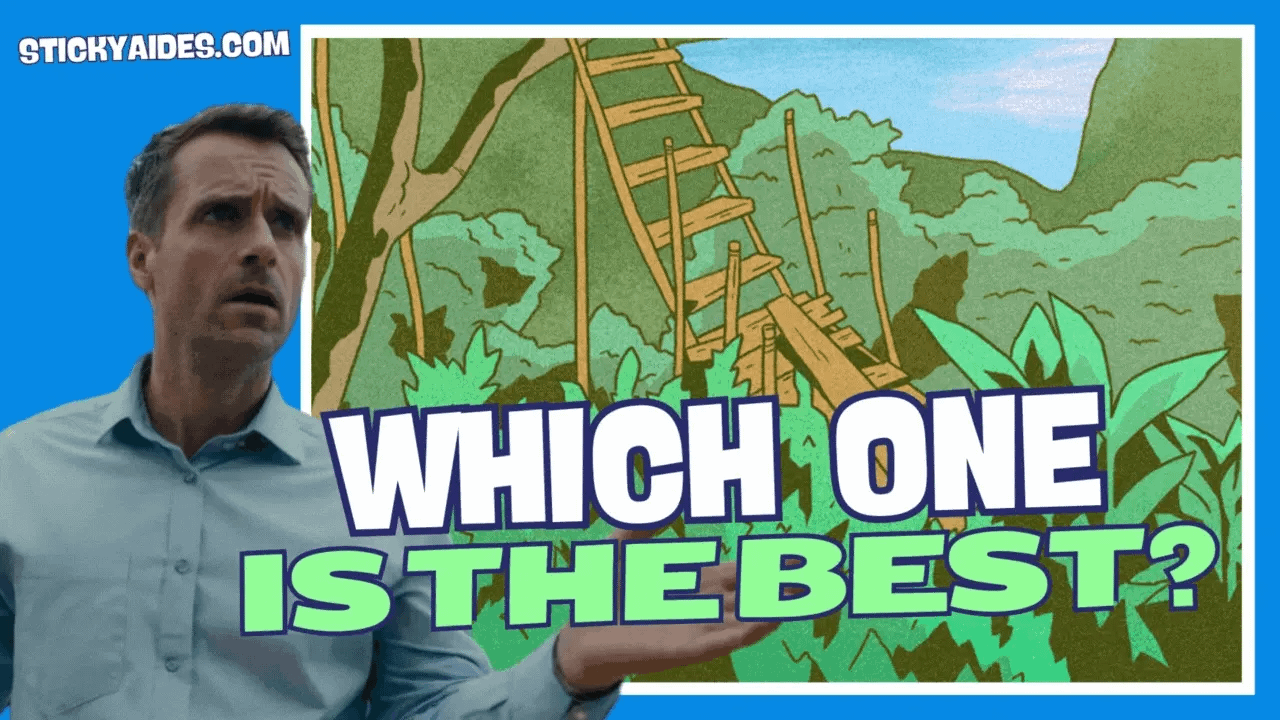 A: It's not the best product for this purpose. While it might work temporarily, it is too hard and may not withstand the vibration of a weed wacker. So check my article on the best epoxy for gas tank repair.
Q: Would this be suitable for gluing a large garden pot back together?
A: It depends on the type of pot and break. The putty is very thick and sets as hard as steel, which may make it too heavy for the job. If you need a joiner and filler, a more viscous ceramic glue might be a better choice.
Q: What is the PSI rating?
A: Most epoxy putties have a strength ranging from 700 to 900 p.s.i.
Q: Can I use it to secure a loose screw in a hole on my laptop? Should I wait for it to harden first?
A: No, it is not recommended for that purpose.
Q: What is the maximum pressure and temperature it can withstand?
A: I can't provide you with exact numbers, but I used this product to repair my ice cream scooper, and it worked exceptionally well. It is as hard as concrete and is sturdy, strong, reliable, and dependable. While I used it in regular room temperature applications, I don't have specific information on its maximum pressure and temperature resistance. It's always a good idea to consult the manufacturer or product specifications for detailed information on its capabilities.
📝 My Hands-on Test of JB Weld

✅Pros
One of the standout qualities of JB Weld is its versatility. It excels in fixing a wide range of issues, from sealing leaks in old car radiators to repairing carburetors and patching up small holes. I've personally used it for all of these tasks, and it truly works like magic!
But JB Weld isn't limited to automotive repairs alone. It proves itself invaluable for various DIY projects as well. For instance, I used it on a Stake-Out stick type DIY anchor, and a single tube provided enough epoxy to construct three 12-foot anchors, complete with handles and stainless tips. Remarkably, I still had 1/3 of the tube left!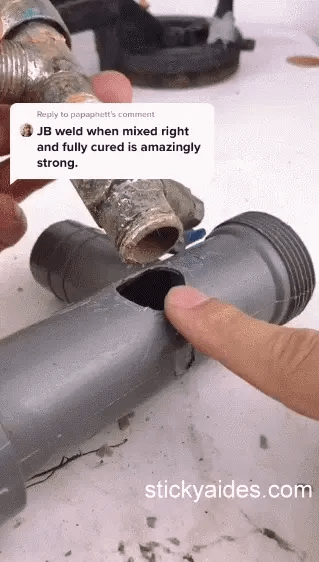 Ease of Use
The ease of use and durability of JB Weld are hard to beat. It's a two-part epoxy that hardens to a steel-like consistency, ensuring rock-solid results. Just be sure to follow the surface preparation instructions diligently. Remove any traces of grease or oil, and roughen the surface with sandpaper for optimal adhesion.
In my experience, the original formula of JB Weld tends to be stronger and more reliable in terms of adhesion compared to the quick-setting version. If you can afford to wait a couple of days for it to cure fully, you'll see even better results. I've used it extensively in my auto repair shop to secure window tabs, mirrors, and other components.
Value for Money
When it comes to value for money, JB Weld is unbeatable. It's hands down the best cold steel adhesive I've come across. The fact that it's a two-part epoxy ensures a strong and long-lasting bond. It's definitely the top choice for any project that requires a reliable two-part epoxy adhesive.
❌Cons
However, there are a few considerations to keep in mind. While JB Weld is excellent for most applications, I would advise against using it to adhere magnets. The metal fibers in the epoxy can encapsulate the magnet and accumulate on its surface, diminishing its effectiveness.

💬 FAQ of JB Weld
Q: Can JB Weld be used to repair cracks in a diesel tank?
A: Unfortunately, it would be nearly impossible to achieve a clean enough surface on the metal, and epoxy is not stronger than the original steel.
Q: After it hardens, can JB Weld be drilled without shattering?
A: The package states that when mixed at a 1:1 ratio, JB Weld forms a permanent bond and can be shaped, filed, sanded, and drilled after curing. I can confirm this from personal experience when we accidentally drilled a larger hole and filled it with JB Weld. We were able to drill a smaller hole without any issues.
Q: Will JB Weld 8265S bond stainless steel to stainless steel? I need to attach stainless steel towel bars to stainless steel wall fasteners.
A: I believe it should work well. It's likely to be stronger than regular epoxies. Just ensure that there is no oil film on the parts before applying JB Weld.
Q: Hi, I accidentally hit a rock and cracked my aluminum engine oil pan. Will JB Weld provide a permanent fix or just a temporary one? The crack is 3 inches long.
A: The main challenge lies in cleaning the metal surface thoroughly. In this case, I would recommend replacing the oil pan or having it professionally welded.
Q: Is JB Weld Cold-Weld suitable for a cracked car valve cover? Can it withstand the heat generated by the valve cover?
A: It depends. The material of your valve cover may expand or contract under heat and cold conditions. It's uncertain how JB Weld will react to these changes. If you decide to try it, make sure to degrease the contact areas for a strong bond. Please let us know if it works for you.
Q: Can I use JB Weld to fix a small hole in my sink? A plumber recommended it.
A: It's definitely worth a try.
Q: I have a 5-gallon gas can, and the seam on the handle has split at the top. Will JB Weld prevent gas from leaking during transport from the service station?
A: I believe JB Weld would effectively seal your gas can, but you should ensure it cures for at least 2 hours or follow the instructions provided.
Q: Can JB Weld be used for repairing a petrol tank?
A: For minor rust, there are special inside-tank coating products available. However, I would not recommend taking the risk of a failed repair for cracks and significant damage. A leaking tank inside a building could cause severe damage.
Q: Could JB Weld be used to bond a copper sheet to wood?
A: Yes, that should work.
Q: Can JB Weld be used to glue resin to cast metal?
A: I believe it can. Just make sure to roughen the surfaces for better adhesion.
Q: Can JB Weld be used on tires?
A: No, it's not suitable. Tires flex and generate heat during driving, and any epoxy would be too rigid to withstand those conditions. It's not worth risking your safety and health.
Q: Can JB Weld be used in a high-pressure water tank?
A: JB Weld has excellent bonding capabilities, but it's important to note that no adhesive can hold better than the paint on the tank. If the tank is painted, JB Weld may rip off the paint. Additionally, if the tank has a rusted seam, no glue can prevent further rusting and potential splitting. Real welding might repair the tank, but if it's extensively rusted inside, it would be a waste of money. The pressure inside the tank could be dangerous if the seam fails later, and no glue can prevent that.
Q: Can JB Weld be used for petrol tank repairs?
A: There is no indication that it would not work perfectly fine on a project in contact with gasoline once fully cured.
Q: Can I use JB Weld to weld a nut onto a bolt for my bike crankshaft? The pedal keeps falling off.
A: It's never recommended to use JB Weld in place of lock tight, but it's worth a try. It won't harm the components.
Q: Does JB Weld work for patching cast iron stacks?
A: Yes, it could work.
Q: Can JB Weld seal a crack in the BMW X5 E53 plastic coolant expansion tank?
A: Certain epoxies are designed to work with specific plastics. JB Weld is known for its rigidity and may not hold well on plastic. In this case, I would suggest replacing the tank from the dealer or a scrapyard.
Q: Would JB Weld work to fix a broken radio antenna on my car?
A: JB Weld can fix many things, but unfortunately, it cannot fix a broken marriage.Rating: 0/10 for patching marriages, 10/10 for patching metal holes.
Q: Can JB Weld bond polyethylene to polyethylene?
A: I have successfully used JB Weld to bond alloys, and it works well.
Q: Can JB Weld seal the crack in the BMW X5 E53 plastic coolant expansion tank?
A: It's important to note that some epoxies are specifically designed to work with certain plastics. JB Weld is known for its rigidity and may not provide a strong hold on plastic surfaces. In this case, it would be advisable to replace the tank either from the dealer or a local scrapyard.