Nail Glue vs. Super Glue: You're preparing for a night out, and you need to fix your broken nail.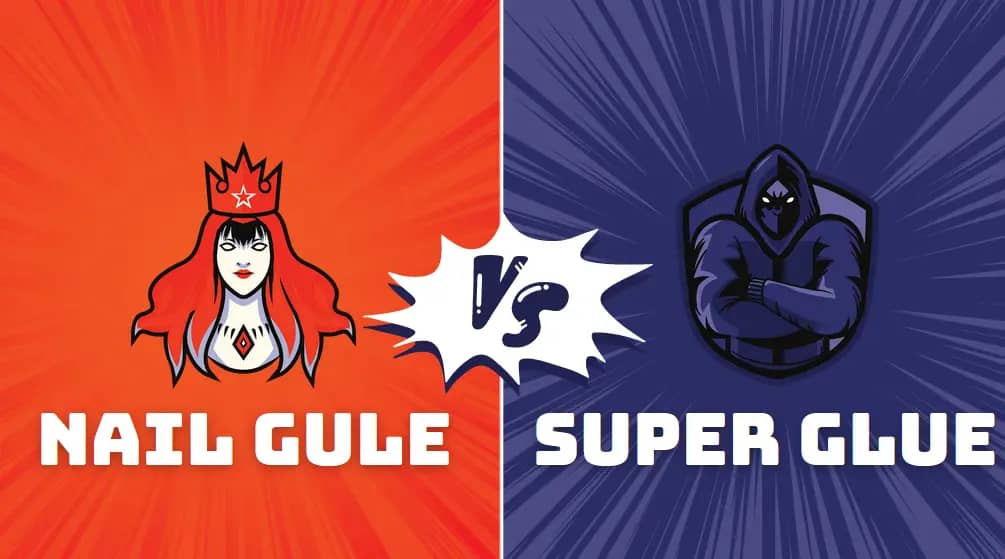 Which one should you choose? Fear not, my sticky friends! I'm here to break down the ultimate battle of adhesives.
Introduction to nail adhesives
When it comes to attaching artificial nails, press-on nails, or nail tips to your natural nails, the adhesive landscape is as diverse as a fabulous episode of "RuPaul's Drag Race." Let's take a strut down the runway and explore the common types of nail adhesives that'll have your nails looking runway-ready in no time!
Nail Glue: Our first contestant in the adhesive pageant is none other than the ever-popular Nail Glue. This diva is specifically designed for bonding artificial nails and nail enhancements like a match made in nail heaven. Here are some of the fan-favorite options, ready to grace your fingertips:
INFILILA Professional Brush On Nail Glue – The Beyoncé of nail glues, always ready to slay!
Nailene Ultra Quick Nail Glue – Faster than a Kardashian Instagram update.
Beauty Secrets Drip & Clog Proof Nail Glue – The smooth operator, never missing a beat.
KISS Vita Bond Nail Glue – A nail glue that'll make you pucker up and say "Wow!"
Super Glue: Now entering the stage is the multi-talented Super Glue, aka cyanoacrylate adhesive. This powerhouse is a strong and speedy adhesive that can be used for various purposes, including attaching artificial nails. While Super Glue may not be specifically designed for the nail game, it does pack a punch with its strong bond.
However, it might not be as gentle on your natural nails as our previous contestant's and could be trickier to remove than a stubborn piece of glitter. Proceed with caution and follow the manufacturer's instructions if you dare to dabble in the world of superglue for nail applications, or you can read articles on stickyaides.com, we have a lot of tests and reviews, for example, super glue comparison of 6000 vs b7000.

Why is it essential to choose the right adhesive for nail applications?
Selecting the perfect adhesive for nail applications is as crucial as finding the ideal pair of shoes – the quality and type of adhesive significantly impact the strength, durability, and lifespan of the nail enhancement. A high-quality adhesive helps prevent nails from popping off prematurely and ensures a secure bond between the artificial and natural nails, much like a comfortable, well-fitting shoe.
Adhesion systems that penetrate the nail can boost the nail's strength once cured, extending the enhancement's adhesion lifespan. Additionally, using a gel bonder that's part of a system is designed for maximum compatibility between steps – picture a harmonious duet between Batman and Robin. However, mixing systems is not recommended, as it may compromise the effectiveness of the adhesion, similar to a disastrous pizza topped with pickles and whipped cream.
Nail adhesives come in various formulas, akin to a buffet of tantalizing appetizers. Some are stronger or faster-drying than others, and it's essential to select the appropriate adhesive for the type of nail being applied to ensure the best results and a secure bond. Certain adhesives may have a slightly different consistency and are designed for specialized applications – reminiscent of how some people can rock a bold fashion statement. Choosing the right adhesive ensures the longevity and overall quality of the nail application, making it indispensable for both aesthetic and practical reasons – because everyone deserves nails as show-stopping as their favorite pop star's dance moves.

Nail glue
Nail glue is like a superhero in the world of adhesives, with cyanoacrylate resin as its secret identity. This polymer is well-known for its speedy drying and sturdy properties, making it the ultimate choice to keep your nails on fleek. It goes by many names: instant glues, power glues, or superglues (totally giving off those superhero vibes), and for those in the know, industrial-grade cyanoacrylates are often called "CA."
The secret sauce in cyanoacrylate adhesives is that they harden at lightning speed when moisture enters the scene, much like how a certain web-slinging hero reacts to danger. Need it even faster? Just add a catalyst or accelerator, and you'll be curing faster than a speeding bullet!
But don't be fooled; the term "cyanoacrylate" is like a bag of assorted candies, encompassing various rapid-curing adhesives, including – but not limited to – those used in nail glue applications. So, let's raise a toast to our adhesive superhero, keeping our nails fabulous and strong!

What are the benefits of using nail glue for artificial nails?
Nail glue offers several benefits when used for artificial nails:
Designed for nail use: Nail glue is specifically formulated to bond artificial nails to natural nails, ensuring a secure and lasting connection.
Fast-drying properties: Nail glues, such as cyanoacrylate resin, are known for their fast-drying and durable properties, making them an ideal choice for artificial nail applications.
Adjustable drying time: Some nail glues, like Makartt's brush-on nail glue, take about 10 seconds to dry, allowing users extra time to adjust the artificial nail placement before the glue dries completely.
Easy application: Nail glues often come with a brush applicator for precise and easy application, making the process more convenient for users.
However, it is essential to note that covering up brittle, soft, or damaged nails with artificial nails can worsen existing nail problems. It is crucial to follow dermatologists' tips and advice for reducing nail damage when using artificial nails and nail glue.

How to use nail glue for nail applications?
Here is a step-by-step guide on how to use nail glue for nail applications:
Prepare your nails: Clean your nails thoroughly, removing any nail polish, oils, or dirt. Make sure your nails are dry before applying any product.
Apply glue to the artificial nail: Place a dab of glue on the artificial nail, covering the area that will come into contact with your natural nail.
Position the artificial nail: Align the bottom edge of the artificial nail with the center of your natural nail. Press it gently onto your natural nail, making sure it is properly aligned and there are no trapped air bubbles.
Hold the artificial nail in place: Press the artificial nail onto your natural nail for about 10 seconds to ensure a secure bond.
Repeat the process: Apply the glue and artificial nails to all of your nails, one at a time, following the same steps.
Trim and shape the artificial nails: After the glue has dried, use a nail clipper and file to trim the artificial nails to your desired length and shape.
Wait for the glue to dry completely before touching anything, as the nails will be stronger once the glue dries completely.

Super glue: composition, benefits, and uses
Super glue is primarily composed of cyanoacrylate, a type of plastic that forms strong polymeric chains when it comes into contact with water. This ingredient is what makes super glue so effective at bonding various surfaces like metal, plastic, and glass in a jiffy.
When we say "superglue," we're generally referring to 100% ethyl 2-cyanoacrylate, although there are custom formulations available for specific applications. To add to its strength, super glue may also contain polymers, which are long chains of molecules.
So, if you need a quick and reliable bonding solution, super glue is the way to go! With its powerful composition, it can tackle any project with ease.
Can super glue be used for nail applications?
So you are thinking of using super glue for your nail applications. While it may seem like a quick fix, there are several reasons why it's not recommended.
First off, super glue can cause serious skin damage. It seeps through your pores, eats away at the skin's layers, and causes them to peel off. This can be painful and can take a while to heal.
Not only that, but super glue can also damage your nails. It can make them rough and flaky, which is not a good look. And on top of all that, it's much harder to remove than regular nail glue, which can be frustrating.
So, what's the solution? Instead of using super glue, it's better to use nail glue that is specifically designed for nails. This type of glue is less likely to cause skin irritation and is formulated to work specifically with your nails.
My Latest Updates
👋 Hi! This is Ronald. I just published 2 new articles you may enjoy reading. Feel free to keep reading this one or 👇 check out the new articles anytime.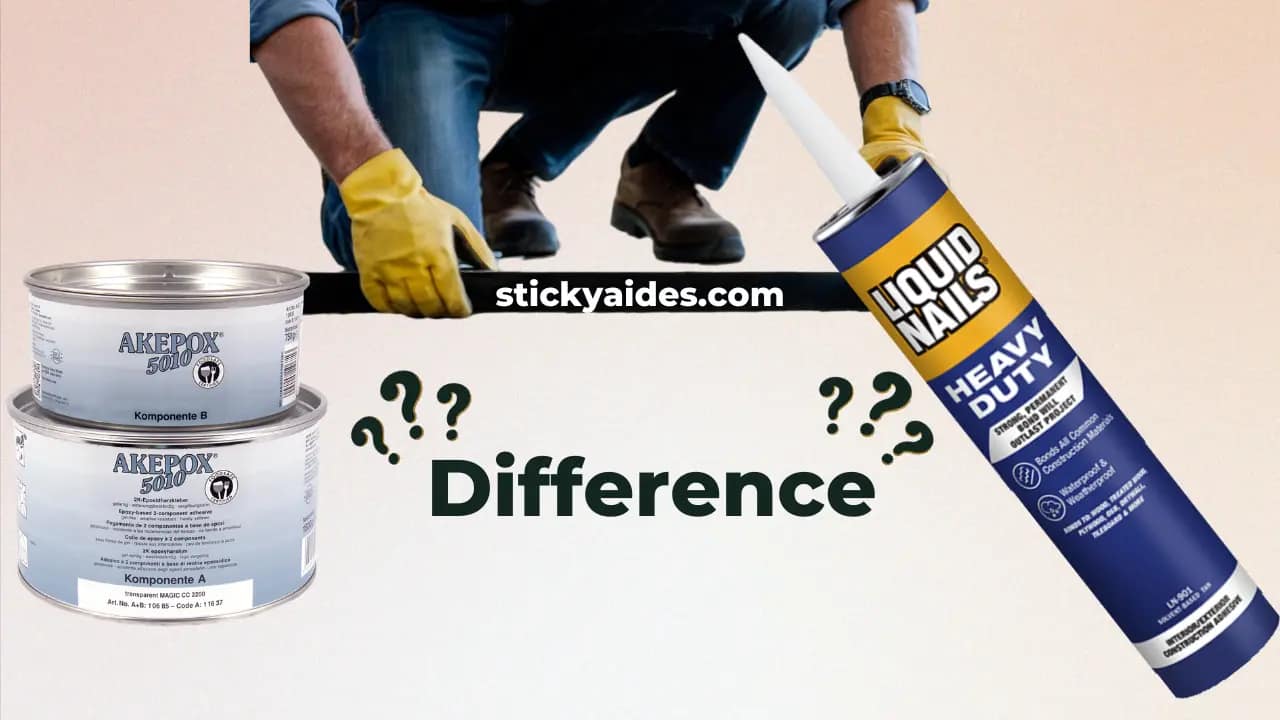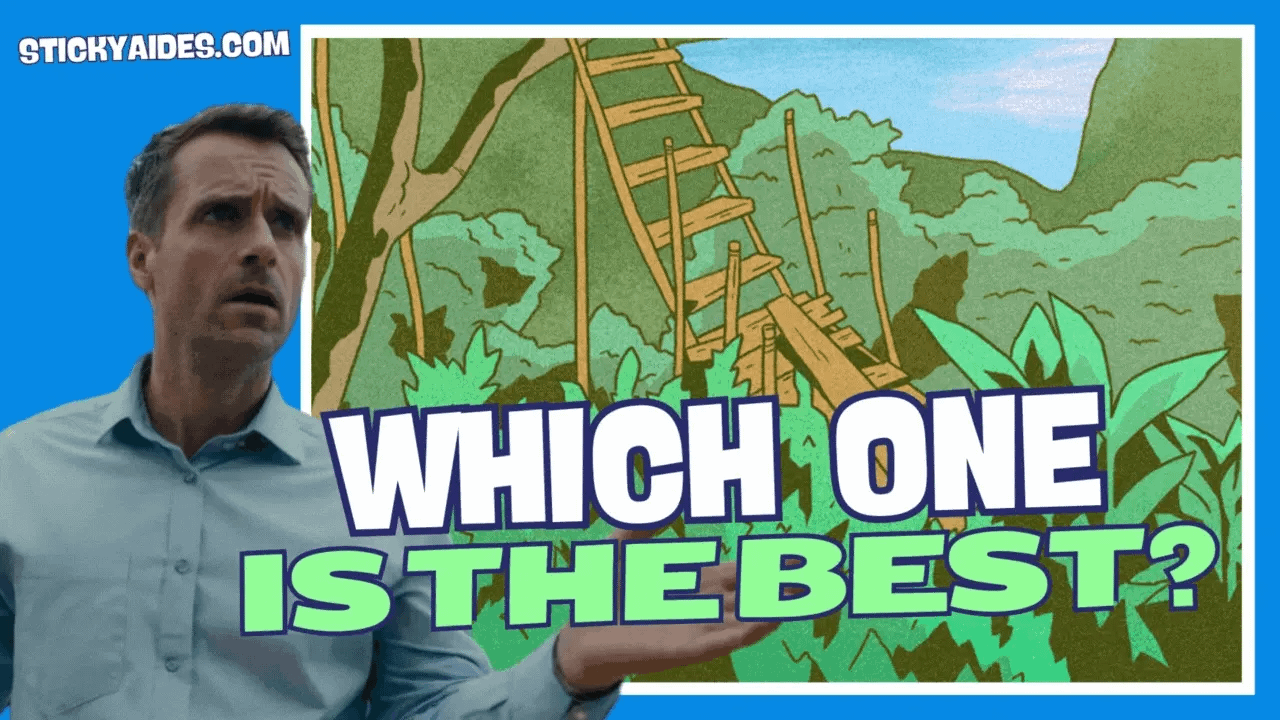 By using the right kind of glue, you'll not only avoid the risks of using super glue but also ensure that your nails look their best. So, choose wisely and keep your nails healthy and happy!
What are the risks and disadvantages of using super glue for nails?
Using super glue for nails comes with several risks and disadvantages.
Super glue can be toxic if it gets into the eyes or is ingested, and it can cause skin irritation, especially if not applied properly. When applied to the skin, it can cause irritation and burns. Super glue should not be used on open wounds or broken skin, as it can cause serious injury.
Super glue can be difficult to remove, potentially damaging natural nails if not applied properly, and can lead to a messy and uneven finish.
It may also cause irritation or allergic reactions in some individuals. In the long term, super glue can weaken natural nails due to exposure to moisture and may cause skin irritation if it comes into contact with the skin. The removal process can be difficult and tedious, often requiring nails to be soaked in acetone for a prolonged period, which can severely dehydrate nails and cuticles. Lastly, using super glue comes with the risk of skin contact and inhalation, which can cause respiratory irritation and lung damage.
Comparing nail glue and super glue
How do nail glue and super glue differ in terms of ingredients?
Nail glue and super glue share a common ingredient, cyanoacrylate, which is an adhesive. However, they differ in terms of the concentration of cyanoacrylate and the presence of additives. Nail glue has a lower concentration of cyanoacrylate compared to super glue.
The additives in nail glue, such as citric acid, hydroxypropyl methacrylate, and polymethyl methacrylate, make it gentler on the nail and skin around it, allow it to last longer, and deal with moisture better than super glue.
Additionally, nail glue and super glue have different viscosities. Nail glue is specifically designed for nails and is generally safer for the skin, while super glue is stronger and more versatile, but can be toxic and cause skin irritation.
In what situations should one choose nail glue over super glue?
One should choose nail glue over super glue in situations where the application involves attaching artificial nails, repairing damaged natural nails, or working with nail art. Nail glue is specifically designed for use on nails and is safer for the skin. Some nail glues also contain ingredients that promote nail growth. Additionally, nail glue is less aggressive than super glue and better suited for certain applications, such as nails.
In contrast, super glue is much stronger and versatile but may cause skin irritation and toxicity. It is not recommended for use on nails because it can be damaging, and removing it from nails can cause them to come off, leading to irritation and skin peeling. Super glue is also more likely to form visible air pockets when used for nail styling, which is not ideal for a polished appearance. Moreover, super glue weakens over time, especially when exposed to moisture, making it less preferable than nail glue for nail applications.
Are there any cases where super glue is a viable option for nail applications?
While super glue can be used for attaching fake nails or fixing damaged ones, it is generally not recommended for nail applications due to the potential for skin damage and irritation, as well as the risk of damaging the natural nails. Super glue contains chemicals that can cause skin damage, such as seeping through pores, eating away at skin layers, and causing peeling. Additionally, using super glue for fake nails can lead to infection, serious nail damage, or even nail loss.
Instead of super glue, there are many alternative nail glues designed specifically for nail applications, such as Nail Bond, Deadgal, and Esbasket nail glues. If these options are too expensive or unavailable, using nail polish as a temporary adhesive is a safer alternative to super glue for attaching fake nails or fixing damaged ones.
Removing nail glue and super glue from nails
What are the best methods for removing nail glue from nails?
There are several methods for removing nail glue from nails, ranging from using acetone to more gentle techniques.
Acetone: Acetone is the most effective solution for removing nail glue, including super glue, from nails. Most nail polish removers contain acetone, which can be used with a cotton ball to soak the nail and rub the glue away. A cotton swab dipped in nail polish remover can also be used to remove glue under the nail or around the edges.
Warm, soapy water: Soaking your nails in warm, soapy water for 15 minutes can help loosen the nail glue. Fill a bowl or sink basin with warm water and a little gentle hand soap, and submerge your nails completely for the entire soaking time.
Lemon juice: Soaking a cotton ball in lemon juice and placing it over the glue for about 10-15 minutes can help remove nail glue. Afterward, gently scrape off the glue using a cuticle pusher.
Non-acetone nail polish remover: Non-acetone nail polish remover can also be used to remove nail glue. Soak your nails in the remover for a few minutes, and then gently scrape away the glue.
Vinegar: Soaking your nails in vinegar is another gentle method for removing nail glue.
Remember to be patient and gentle when removing nail glue to avoid damaging your natural nails. It is crucial to avoid using harsh chemicals and take your time with the removal process.
Can super glue be removed from nails safely?
Yes, super glue can be removed from nails safely, but it may require a similar process to removing nail glue and extra caution to avoid damaging your nails or skin. Here are some methods for removing super glue from nails:
Warm soapy water: Soaking your fingers in warm soapy water for 10 minutes can help loosen the super glue. Fill a large bowl with warm water and add some gentle soap, then submerge your fingers for the specified duration.
Nail polish remover with acetone: Acetone is an effective way to remove super glue from your nails. Use a cotton ball soaked in nail polish remover containing acetone to rub the glue away. A cotton swab dipped in the remover can also be used to clean any glue under the nail or around the edges.
Butter and oils: Butter and oils, such as coconut or olive oil, can help separate fingers that are stuck together with super glue. Try soaking the skin in warm water first, then rub oil or butter on the affected area to loosen the glue.
Sandpaper or nail file: Gradually removing the glue one thin layer at a time from your skin using sandpaper or a nail file is another option. However, this method requires extra caution to avoid damaging your nails or skin.
Vegetable oil: Applying vegetable oil near, on, and around the glue can accelerate the separation process.
After removing the super glue, it's essential to moisturize your nails, cuticles, and hands to restore their natural moisture. Almond oil and olive oil are good natural nail moisturizers. Be patient and gentle while removing the super glue, and avoid using harsh chemicals or methods that can cause further damage to your nails or skin.
Tips for maintaining healthy nails when using adhesives
To keep your nails healthy when using nail glue or super glue, follow a proper nail care routine and ensure that you give your nails breaks between applications.
How to keep nails healthy when using nail glue or super glue?
Here are some steps to maintain healthy nails:
Prepare your nails: Before applying nail glue or super glue, wash and buff your nails to remove excess oil. Swipe your nails with either acetone or rubbing alcohol to ensure a clean surface.
Use nail glue instead of super glue: Nail glue is a better option than super glue for attaching fake nails or repairing broken nails, as it is less likely to cause damage and is easier to use.
Proper nail care routine: Maintain a proper nail care routine by keeping your nails clean and moisturized. Use a clean toothbrush with soap to gently scrub your nails and surrounding skin to remove dirt and exfoliate dead skin without using harsh, drying chemicals. Keep your nails shaped and free of snags by filing with an emery board, and avoid biting your nails or removing the cuticle, as doing so can damage the nail.
Give your nails breaks: Make sure to give your nails breaks between applications of nail glue or super glue, allowing your natural nails to recover and minimizing the risk of damage.
Remove nail glue carefully: When removing nail glue or super glue, soak your nails for 15-20 minutes in a bowl of warm water. Lift the edges of the fake nails using a cuticle pusher or your nail tips. The water will help to loosen the glue and make it easier to remove without causing damage.
Trim toenails regularly: For healthy toenails, trim them regularly, keeping them short to minimize the risk of trauma and injury.
By following these steps, you can maintain healthy nails even when using nail glue or super glue. Always prioritize using nail-specific products and follow a consistent nail care routine to ensure the best results.
What are the signs of damage caused by adhesives?
Signs of damage caused by adhesives can vary depending on the type of adhesive used and the skin's reaction to it. Some common signs of adhesive-related skin damage include:
Peeling: Peeling of the skin can be a symptom of damage caused by adhesives. This can result from irritation or an allergic reaction to the adhesive.
Discoloration: Discoloration of the skin, such as hypopigmentation (lighter skin) or hyperpigmentation (darker skin), can occur following the removal of an adhesive product. In some cases, nail discoloration can also occur when a nail lifts up due to an injury from an aggressive manicure or cleaning under the nails with a sharp object.
Irritant contact dermatitis: This is a non-allergic reaction to an adhesive, resulting in redness, itching, burning, or stinging on the skin.
Allergic contact dermatitis: This is an allergic reaction to an adhesive, causing symptoms such as redness, swelling, itching, and blisters.
Folliculitis: This is an inflammation of hair follicles, which can be caused by adhesive-related skin damage.
Maceration: This occurs when the skin becomes overly moist and soft due to prolonged exposure to moisture, which can happen when adhesives trap moisture against the skin.
Medical adhesive-related skin injury (MARSI): This type of skin injury is often seen in inpatient settings and vulnerable populations with fragile skin, such as older adults or pediatric patients. It can be caused by the improper use of adhesive products.
Residue and dirt attraction: Some adhesives, such as those used in Post-It® notes, can leave residues that attract dirt and other airborne particulates, potentially causing damage to surfaces or objects.
These signs of damage caused by adhesives can vary depending on the specific adhesive used and the individual's skin sensitivity. It is essential to follow proper usage guidelines and choose adhesives suitable for the intended application to minimize the risk of damage.
How to strengthen nails after adhesive use?
To strengthen nails after adhesive use, you can follow these tips and recommendations:
Allow your nails to rest: Give your nails a break from any nail treatments or polish for a few days after using adhesives or other nail enhancements to help them recover.
Nail treatments: Use nail strengtheners specifically designed to improve nail health. Some popular options include ISDIN SI-NAILS Nail Strengthener and products containing jojoba seed oil and keratin to prevent breakage or splitting. Apply the nail strengthener according to the product instructions, typically applying one coat and allowing it to dry for several minutes, then repeating the process for 4 to 7 days.
Supplements: Biotin (vitamin H or B7) is a B-complex vitamin known to promote healthy nail growth. You can take biotin supplements or look for multivitamins or nail-specific supplements containing biotin and other beneficial nutrients, such as Vitabiotics Perfectil Max.
Tea bag remedy: As a home remedy, cut a nail-sized portion of a tea bag and attach it to the nail using adhesive. This method may provide temporary reinforcement to the nail.
Proper hydration and nutrition: Ensure that you stay well-hydrated and maintain a balanced diet rich in vitamins and nutrients, as these factors can contribute to overall nail health.
Avoid exposure to chemicals: Limit your nails' exposure to harsh chemicals by wearing gloves when doing household chores or using cleaning products. This can help prevent further weakening of the nails.
By following these tips and using appropriate nail treatments and supplements, you can help strengthen your nails after adhesive use and promote healthier nails over time.
Conclusion
In the epic battle of Nail Glue vs. Super Glue, we've explored the adhesive landscape, delving deep into the sticky realms of these two formidable gluing titans. It's been a nail-biting journey, with each contender showcasing their own unique strengths and quirks, much like a superhero showdown in a Marvel movie.
As we bid adieu to this adhesive adventure, let's remember that while Super Glue might be the Superman of the bonding world – faster than a speeding bullet, more powerful than a locomotive – it's not always the ideal sidekick for our fragile, heroic nails. Enter Nail Glue: the unsung hero, specially formulated to swoop in and save the day, like a gentle adhesive breeze, ensuring our nails stay on point and ready for their next mission.
So, whether you're a nail enthusiast or a casual DIY-er, always remember the golden rule: "With great adhesive power comes great responsibility." Choose wisely, and may the glue be ever in your favor!
But seriously, folks, nail glue and super glue each have their rightful place in our adhesive arsenal. Just like Batman and Robin, sometimes you need the strength of one, and sometimes, the finesse of the other. In the end, it's all about finding the right glue for the job, and nailing it with a flawless application. Happy gluing, and may your bond be as strong as the friendships forged in a 90's sitcom!