Toupee tape vs Fashion tape – Stuck between a toupee and a hard place? When it comes to keeping your hairpieces or clothing in place, you've got options. But which sticky solution is best – toupee tape or fashion tape?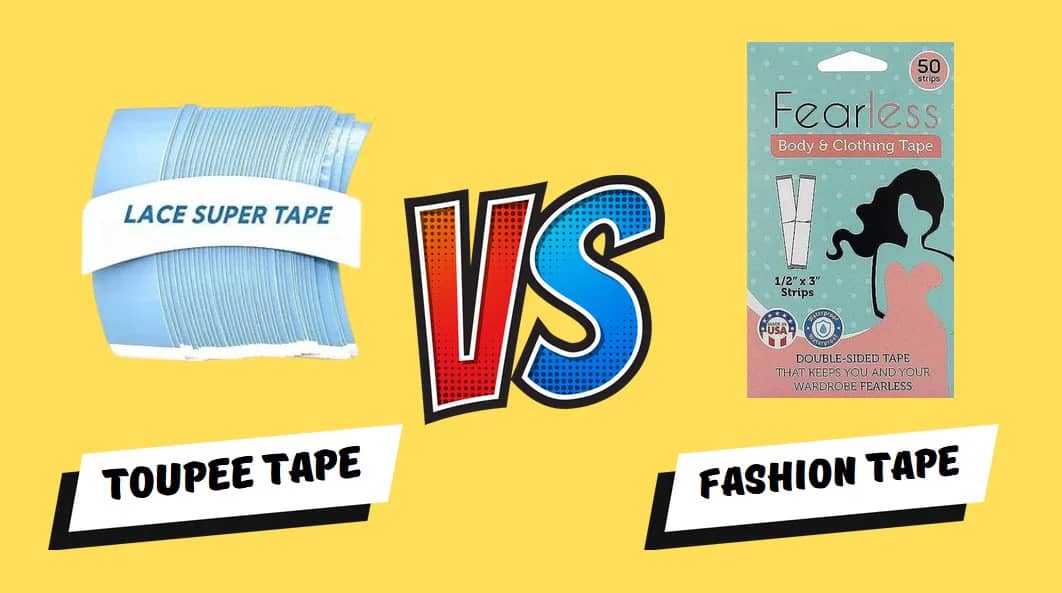 Whether you're looking to attach a toupee that even your stylist can't tell is fake, or want your plunging neckline to stay put all night long, you need the inside scoop on what tapes will really stay stuck when the heat is on. We've got the sticky details on which tape stands up to sweat, wind, and wardrobe malfunctions. Plus, we'll tackle the tape troubles that can leave you red-faced – like sticky residue on clothing or ripped out hair.
Toupee Tape vs Fashion Tape: What's The Difference?
Toupee tape has a very specific use case for securing hairpieces, while fashion tape is multi-use for various temporary fashion needs away from the head area. The tape adhesives and materials differ accordingly.
| | Toupee Tape | Fashion Tape |
| --- | --- | --- |
| Use | Securing hairpieces to scalp/head | Securing clothing, straps, hems, etc. |
| Adhesion | Strong, to stay secured on scalp | Varying strengths for different uses |
| Location | Only on scalp/head | On body, shoulders, back, etc. |
| Durability | Very durable, stays adhered for long periods | Can be single-use or temporary |
| Removability | Designed to remove cleanly and be reusable | Removability varies, may leave residue |
| Breathability | Made of breathable materials to ventilate scalp | Varies in breathability based on materials |
Please be noted that I'm not a fashion guy, so the product reviews here are from my female employee Olivia.
Olivia, thank you for your effort!
My Hands-on Test of Eumos Toupee Super Tape

✅Pros
One of the things that impressed me the most is how well these strips stick, even when applied directly on unwashed and oily skin. They hold on tight, and once you've placed them in position, it's best not to try and move your wig or adjust the placement. These strips are a one-and-done deal. However, if you do happen to pull the strip loose from your scalp, you'll need a new one as it tends to remove any dirt or residue from your skin along with it.
I decided to put these strips to the test during a full day spent on the river, engaging in water skiing and boat rides. To my surprise, my wig stayed perfectly in place throughout the day, even when it got wet and I went underwater. Not once did I have to readjust or worry about my wig slipping. It held on like a champ, giving me the freedom to enjoy my activities without any concerns.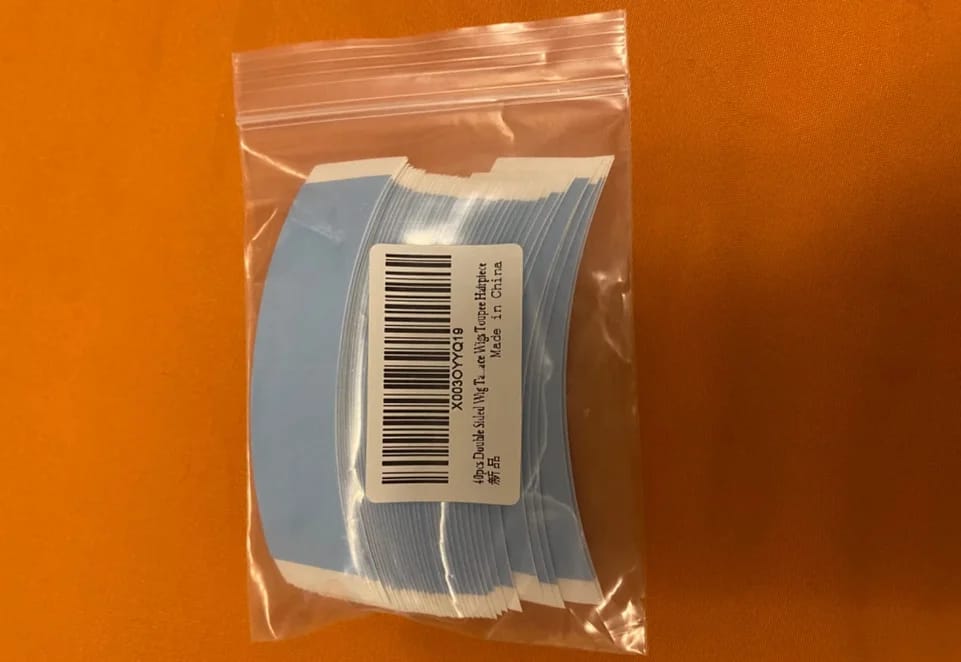 In terms of longevity, I found that these strips do have their limitations in hot and humid conditions. They tend to lose their stickiness and may cause your wig to slide back. However, if you're looking for a convenient and time-saving alternative to gluing your wigs down, these strips are still a worthwhile investment.
❌Cons
While these strips offer excellent adhesion and durability, I did notice that over time, particularly after a week, the tape can start to slide back on your unit. This may result in the tape being visible through the lace front, which can be a bit bothersome. Additionally, it leaves some residue on the front lace once you peel the tape off, requiring a thorough cleaning to remove it completely.

My Hands-on Test of Fearless Fashion Tape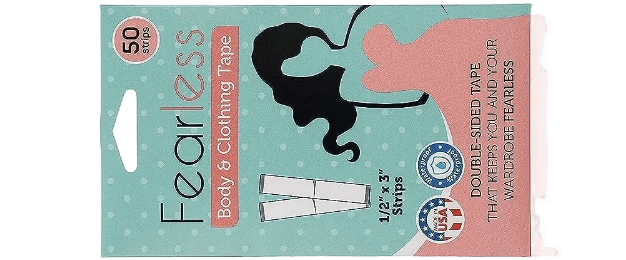 ✅Pros
I had a backless wedding dress, and this tape was the only thing that held the entire top in place throughout the day. If you ever find yourself in a similar situation, I highly recommend using this tape. My tip would be to do a practice run before the wedding, marking the desired tape placement with a pen or fine-tip marker on your skin. Then, tape your body, put on the dress, and remove the top layer of the tape, attaching it firmly to the dress.
Alternatively, you can tape it to the dress first and then to your body. Just make sure to avoid placing the tape on mesh or illusion fabric. In my case, I only taped the embroidery, and it held up beautifully even during our mountain wedding photoshoot, which involved climbing rocks and steep hills.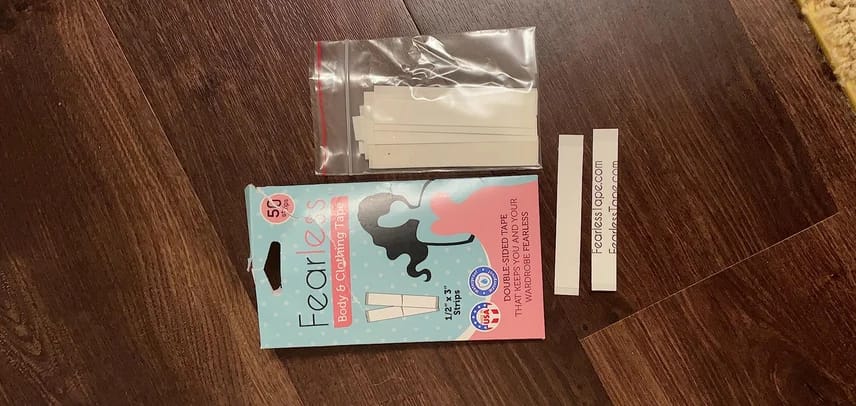 The wedding was Moroccan-themed, and dancing was non-stop for a good eight hours. This tape held up through all the moves and even survived my sprinting down the street after a bus (although my makeup didn't fare as well). It truly stuck with me, pun intended, and required zero adjustments throughout the night. There were moments when I honestly forgot I was even wearing a strapless bra, which is nothing short of a miracle for me. I can confidently say that 10/10 dentists would recommend this tape!
My Latest Updates
👋 Hi! This is Ronald. I just published 2 new articles you may enjoy reading. Feel free to keep reading this one or 👇 check out the new articles anytime.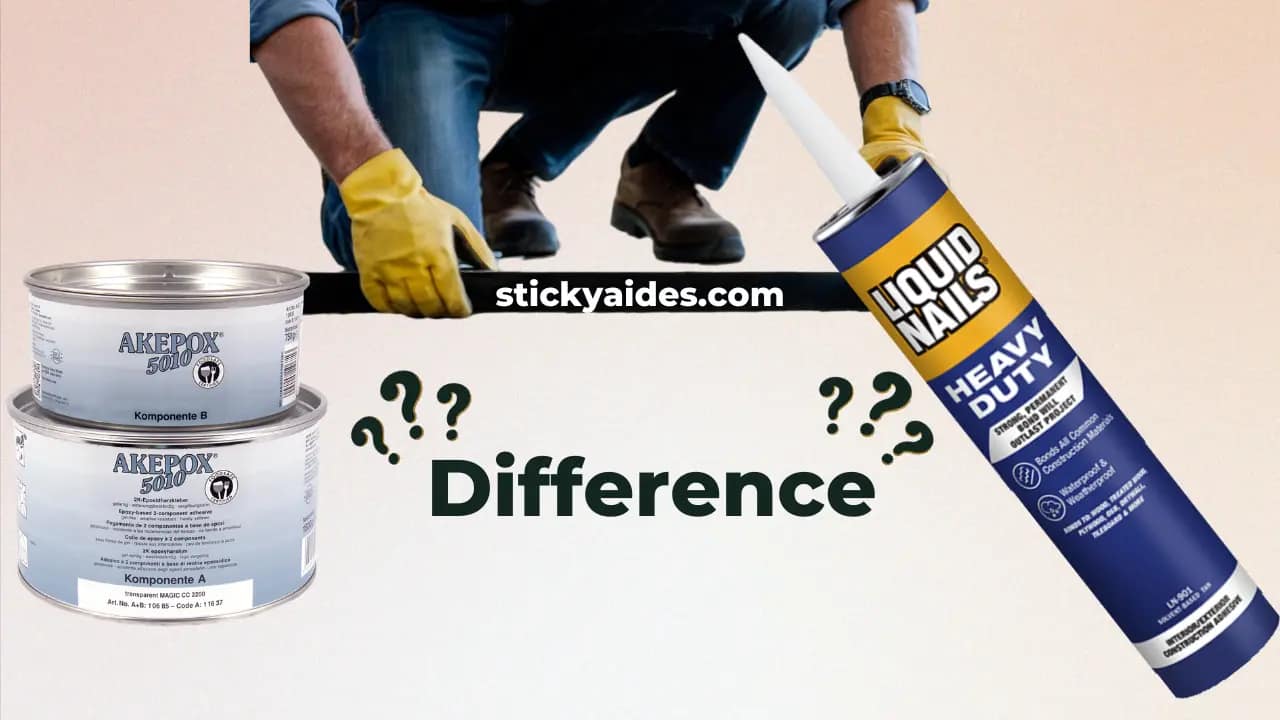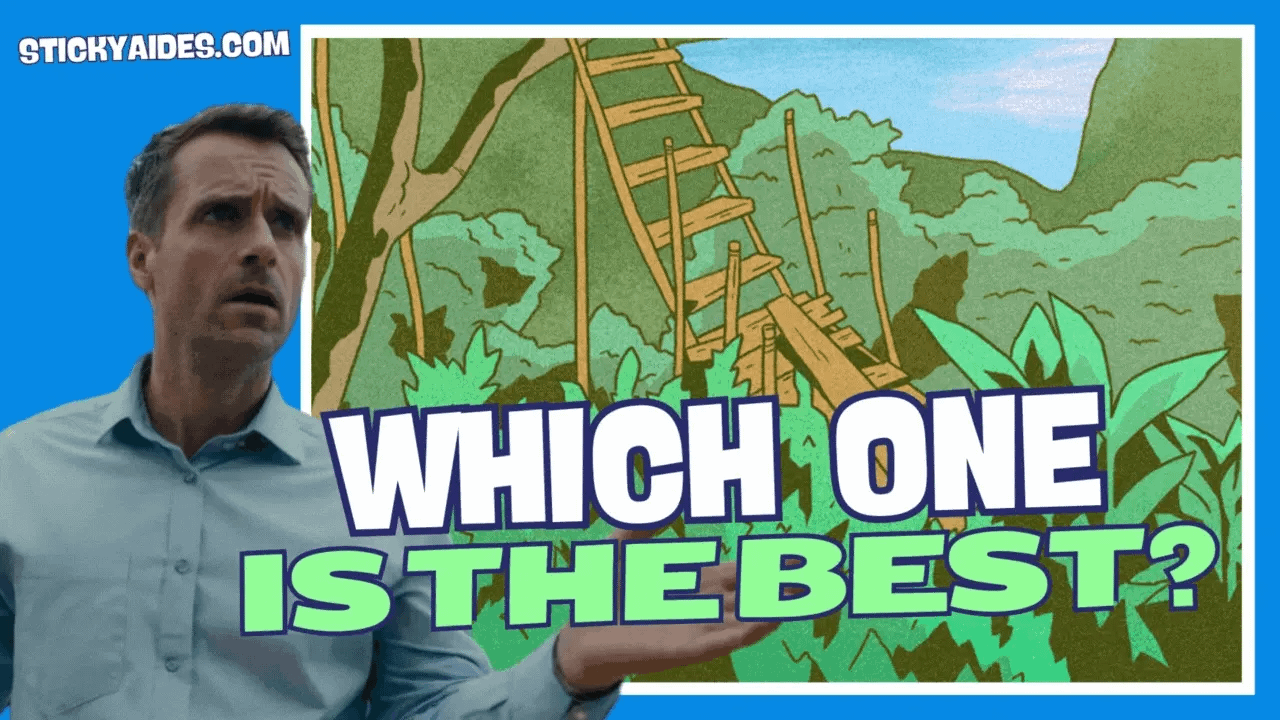 I had read some reviews mentioning skin irritation, but personally, I didn't experience that issue. I had the tape on for about eight hours during an outdoor wedding in the Caribbean, where sweating is almost inevitable. However, I was pleasantly surprised by how well the tape held up, considering my tendency to sweat. It stayed in place, and when it was time to remove it, it came off easily from both my skin and the dress. Keep in mind that I did not have it on for an extended period, and everyone's skin reacts differently. But based on my experience, this tape worked wonderfully even in warm and humid conditions.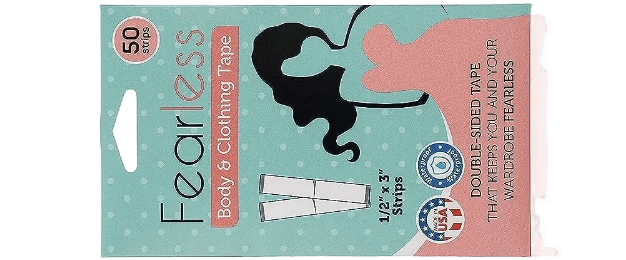 ❌Cons
One thing I'd like to mention is that I deducted one star because I wish there were tabs on the backing of both ends. Sometimes, it can be a bit tricky to peel off, but overall, it's still worth buying because it adheres remarkably well to any fabric I have tested it on.