Looking for the best glue for Legos? Stick here! Can you believe these awesome bricks have been around since 1949? Thanks to Ole Kirk Christiansen, a Danish carpenter, we've been "playing well" (that's what "LEGO" means in Danish) for generations!
The best part? Legos are for everyone – toddlers, adults, and everyone in between. With Lego sets in over 130 countries, it's no surprise they're so popular!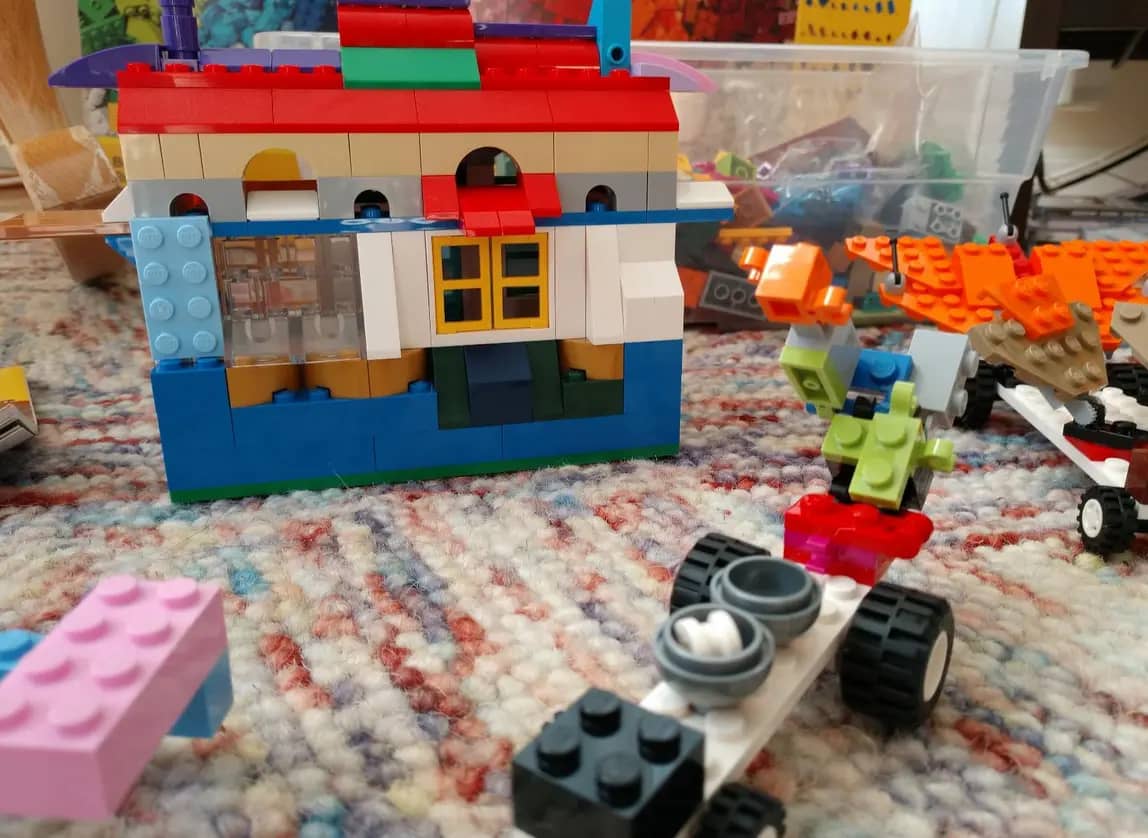 So, let's celebrate Legos and the fantastic glues that hold our creations together! Happy building!
Factors to Consider When Choosing Glue for Legos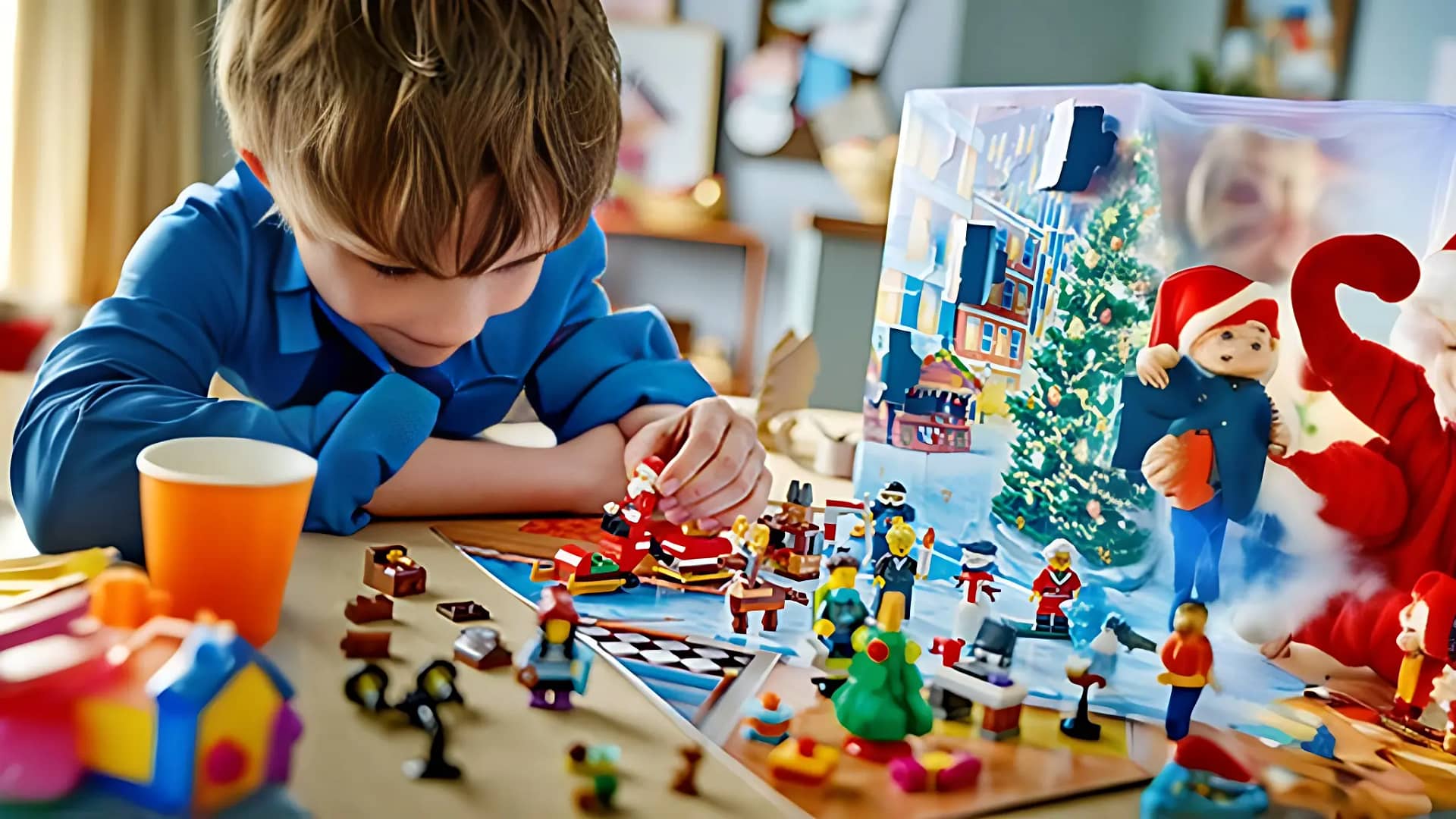 Next up, let's talk about the glue's presentation. You're creating art, and art should be neat and clean. Hence, opt for a glue that dries clear to avoid any unsightly residues. White or colored residues could become a real eyesore and distract from your Lego masterpiece.
Then there's the viscosity factor. The glue shouldn't be too runny or too thick – you want the Goldilocks zone of 'just right.' This helps you control the application better and avoid unnecessary drips or blobs.
Now, onto the more technical stuff. Your glue should provide a long-lasting bond, and it's even better if it's resistant to elements like water and shock. This gives your Lego creation an extra layer of protection and longevity.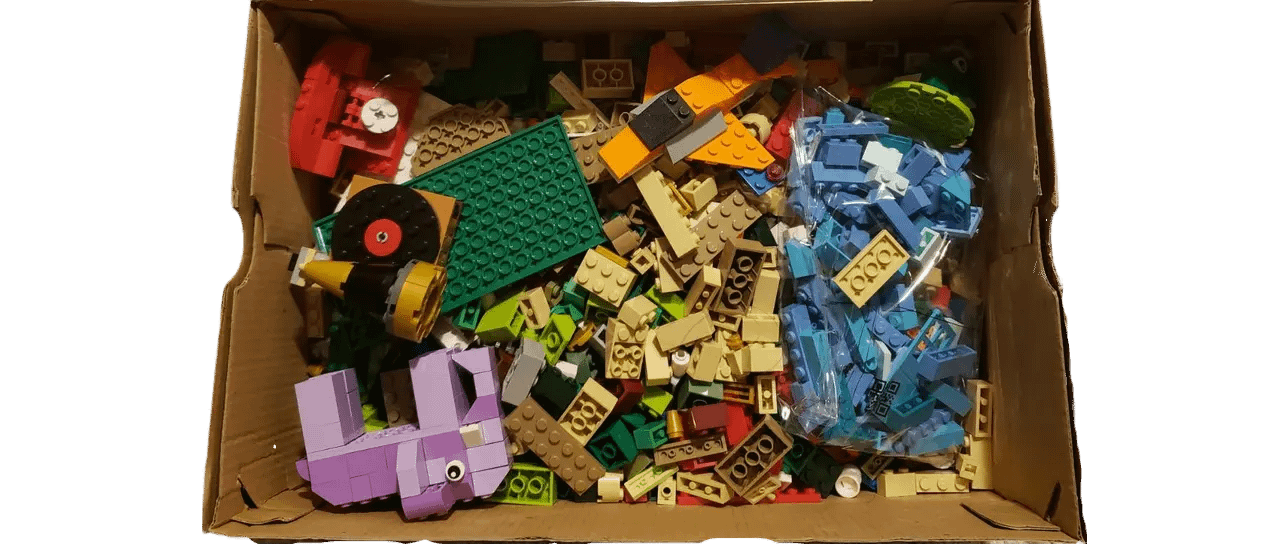 What are different types of Glue for Legos?
There are several types of glue that can be used to bond Legos plastic – acrylonitrile butadiene styrene (ABS) plastic. Some of the most common include cyanoacrylate, component epoxy, structural acrylic, and UV curable adhesives.
Popular Glue Options for Legos
Whether you're looking to permanently bond Lego pieces together or simply strengthen the connections, having a reliable glue option can make a significant difference. In this post, we will explore the top eight popular glue options for Legos, discussing their features, advantages, and considerations.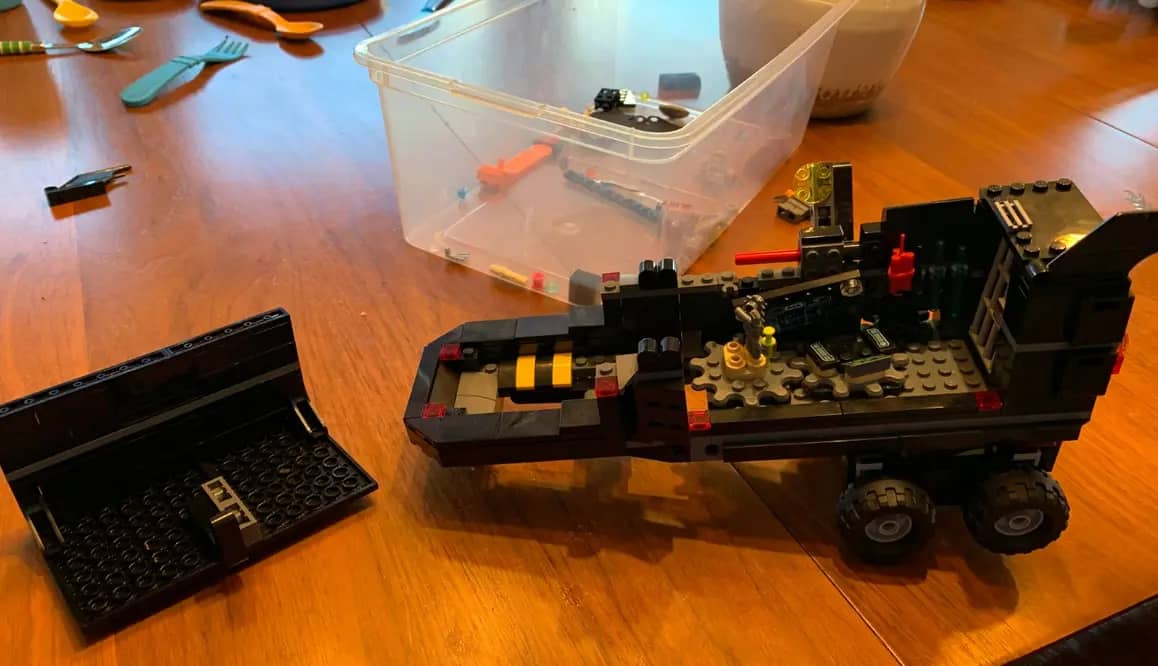 Blu Tack – Perfect for Lego Miniatures
I was working on a custom Lego Star Wars minifigure, modifying a clone trooper to hold a larger blaster rifle. The mini scale meant it would be tricky to get the tiny arm securely attached while maintaining poseability. That's when I decided to try out some white tack (poster putty) to aid in the assembly.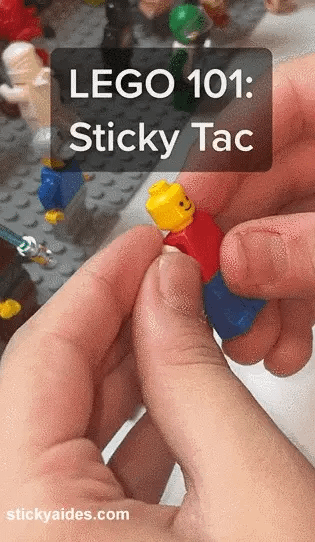 The thin, mildly tacky surface bonded them together nicely. I was able to gently manipulate the arm around a bit to test mobility without the pieces becoming detached. So far, so good – the white tack was sticking them together firmly yet allowed a decent range of movement as needed for a posed figure.
Next, I attached the completed arm assembly back onto the minifig body, pressing it securely into place. Again, mobility was preserved and the tack filled in any potential gaps without becoming too sticky or permanent. To complete my testing, I placed the customized clone trooper figure into some action poses. It held up very well, with no sign of the arm or gun slipping free from the subtle bond provided by the white tack glue.
Read More: white tack vs blu tack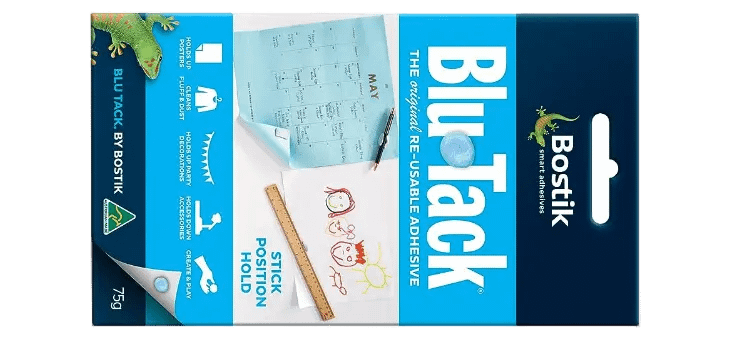 Museum Gel/Wax – Flexibility and Temporary Option
Museum Gel is ideal for someone who wants to use a temporary solution like museum gel or repositionable adhesive for temporary affixing of Lego pieces.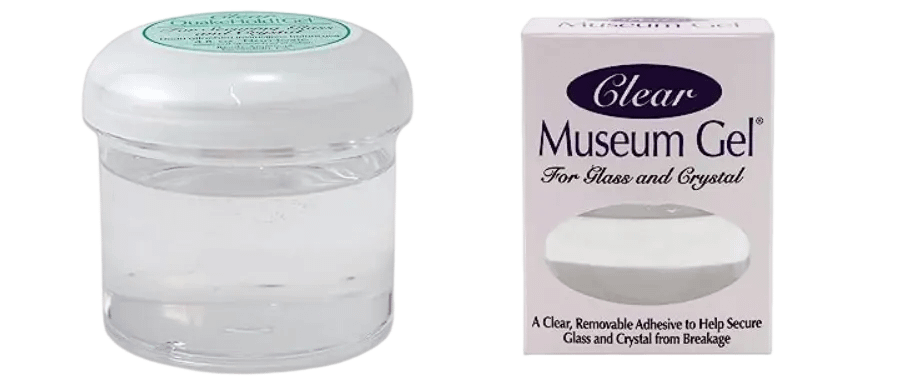 The reason why people like it is:
They are working on a Lego model or creation that is not finished yet and want to hold certain pieces in place while continuing to build but may need to remove or rearrange those pieces later. Museum gel allows this.
They are experimenting with different designs or configurations and want to try out temporary placements of pieces before committing to a permanent solution with regular glue.
They want to create a model that can potentially be taken apart and rebuilt with different designs later. Museum gel preserves that flexibility.
They may be transporting a partially built Lego project and need pieces temporarily attached for travel without making it permanent.
Young children or students working on projects may benefit from the ability to freely rearrange pieces while working without worrying about gluing pieces mistakenly.
while many use regular glue for permanence, those searching for the "best lego glue" may also be open to repositionable/temporary solutions like museum gel if they need the flexibility to rearrange pieces as part of the creative process. It provides secure temporary holding without permanent bonding.
Read More: museum putty vs museum wax
Le-Glue — Best Lego Glue with No Block Damage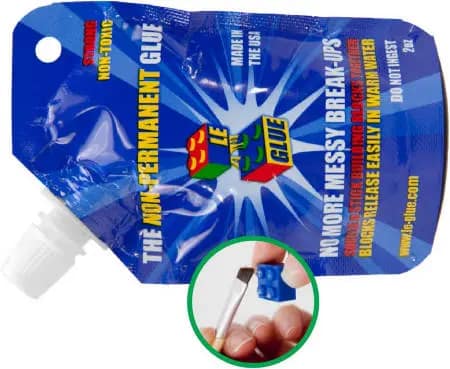 Product Overview
Le-Glue is a water-soluble adhesive that's tailor-made for building blocks. It works with all types of bricks, from Lego® to Mega-Bloks®.

The best part? It's non-permanent, which means you can dismantle and reassemble your creations at will without damaging your precious blocks.

Plus, it's a breeze to use. Simply apply a dollop of Le-Glue to the block, stick it in place, and voila!
Pros and Cons
Pros
Non-permanent and non-toxic
Doesn't damage your blocks
Easy to use and apply
Compatible with all types of building blocks

Cons
May leave visible residue on transparent blocks
In-Depth Analysis
Le-Glue's non-permanent nature is its most distinct feature, offering a delightful twist to the traditional Lego building experience. Its strength lies in its ability to hold your blocks together securely while still allowing for easy dismantling when you want to change your creation. This flexibility is a dream come true for Lego enthusiasts who love to build, destroy, and rebuild.

Le-Glue's design focuses on simplicity and user-friendliness. Its packaging allows for easy application, whether you prefer to dip your block in the glue or apply it with a brush or cotton swab.

While it works amazingly well with most blocks, be mindful when using it with transparent ones. It may leave a slightly visible residue, which may not be your cup of tea if you're all about aesthetics.
Real-Life Experience
In my hands-on experience with Le-Glue, I was thrilled with how well it held my Lego structures together. When I decided to dismantle my creation, it was as easy as pie.

No damaged blocks, no sticky mess, just pure, unadulterated Lego fun. The only hiccup was the slight residue on my transparent blocks, but it wasn't a deal-breaker for me.
Testimonials and Reviews
As per "LegoMaster97" on Amazon, "Le-Glue is a game-changer. It holds my creations together like a dream and releases them just as easily. Highly recommend!"

Meanwhile, "BlockBusterKid" on Etsy mentioned, "Le-Glue works great, but leaves some residue on clear blocks. Still, it's way better than damaging my blocks with regular glue."
Price and Value
Considering the unique features that Le-Glue brings to the table, its price tag is pretty reasonable. It costs a bit more than your average glue, but the value it adds to your Lego building experience makes it worth every penny. It's not just an adhesive; it's an investment in your Lego journey.
Conclusion
Le-Glue is a game-changer for Lego enthusiasts. Its non-permanent and non-toxic nature combined with its ease of use make it a fantastic addition to your Lego toolkit. Despite the minor issue with transparent blocks, Le-Glue still stands tall as a remarkable product that enhances your Lego building experience. It's a big thumbs-up from me!
Non-permanent glue is convenient to dismantle, meanwhile what's coming up next is better for finished Legos projects: excellent protection for your creations by forming a protective layer over the Lego bricks that helps prevent damage from dust, moisture, and UV light and is ideal for protecting finished Lego builds from damage.👇👇👇
BrickShield Brick Glue Adhesive Spray — Excellent Protection for Your Creations
If you want to build non-standard creations like mosaics, tiles, or other arts and crafts projects where the pieces need to be permanently affixed rather than snapped together.
Product Overview
At first glance, BrickShield is a can of spray adhesive, but dig a little deeper, and you'll find it's so much more. Its secret weapon? It's a temporary adhesive!

This aerosol spray is designed to bond your Lego creations, providing a sturdy but non-permanent fix. It dries quickly, strengthens over time, and when you're ready to dismantle and start anew, simply rinse it off with warm water!
Pros and Cons
Pros
Non-permanent solution: Ideal for those who love to rebuild.
Easy to apply: Just a simple spray and you're good to go.
Non-toxic: Safe for kids and the environment.
Strengthens over time: Provides firm hold for your creations.

Cons
Takes time to reach full strength: You'll need to wait for 5+ hours for maximum bonding.
Can be messy: It's a spray, after all. You'll want to protect your workspace.
In-Depth Analysis
What sets BrickShield apart is its non-permanence. Unlike other adhesive solutions, it allows for continual creativity and endless building fun. Despite its temporary nature, it provides a firm hold, giving your creations the durability to withstand a fall off the coffee table.

Yes, it takes some time to reach full strength, but good things come to those who wait, right? And when you're ready for a new project, just a warm rinse separates you from a fresh start.
Real-Life Experience
I tried BrickShield on a Lego Millennium Falcon I built. It was easy to apply, dried quickly, and after a few hours, I found the model much sturdier.

After a week, I decided to take it apart for a new project. The warm water rinse worked like a charm, and my Lego pieces were back to their original state, ready for the next grand design!
Testimonials and Reviews
"The glue was easy to spray on, dried relatively quickly, and the glue got stronger over time," says a parent from Amazon named John_McLaren.

Another user, LegoMom_22, says, "When you are finished just rinse with warm water for a bit and your Legos are ready to build a new project."
Price and Value
At $15.99 per can, BrickShield might seem a bit pricey for a Lego adhesive. But considering the unique value it brings — an easy-to-apply, non-toxic, and non-permanent solution — it's an investment that pays off in creativity and peace of mind.
Conclusion
BrickShield's Brick Glue Adhesive Spray is a unique, thoughtful solution for Lego enthusiasts. It bridges the gap between the need for sturdy creations and the love of continual building. It's not perfect, but its pros significantly outweigh its cons. If you're a Lego builder looking for a temporary way to keep your creations intact, BrickShield is definitely worth considering.
Loctite Ultra Gel Control Super Glue – Repairing older Lego sets
If you want to repair older Lego sets or pieces where the friction has worn down over time and pieces no longer stay connected well. This glue can reinforce weak joints.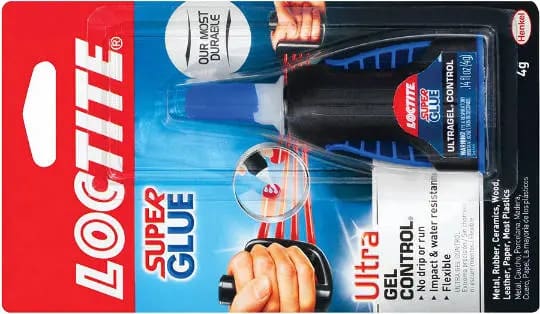 Product Overview
The Loctite Ultra Gel Control Super Glue is a cyanoacrylate adhesive that's perfect for non-porous surfaces like our beloved LEGO bricks.

It's a rubber-toughened formula, which means it's shock-resistant and capable of surviving harsh conditions. It dries clear in about 30-45 seconds and is resistant to moisture and most chemicals.
Pros and Cons
Pros
Rapid bonding: It dries fast and adheres quickly, which means you won't have to wait long to admire your LEGO masterpiece.

Durable: It's water and fall-resistant, so your LEGO creations are safe from accidental tumbles and spills.

Cons
Not suitable for all materials: It's not recommended for use with some plastics, like PE, PP, PTFE, or materials like Styrofoam, foam rubber, bone China, glass, or glazed surfaces.
In-Depth Analysis
This glue really takes the crown when it comes to bonding LEGO bricks.

The gel control feature makes it easy to apply, reducing the chances of making a mess. It's also flexible, which is a big plus for our LEGO constructions that need a bit of give.
Real-Life Experience
After testing it on my latest LEGO project(Built a pull-back Lego car, balloon-powered Lego car, Lego boat, Lego towers, a Lego Eiffel tower, and even Lego cards), I was impressed by how well it held up.

My creation survived a couple of accidental falls and even a water splash incident, thanks to this glue's robust and resilient bond.
Testimonials and Reviews
A fellow LEGO enthusiast on Amazon, user "BrickMaster2022," shared, "This stuff is the real deal! My LEGO creations have never been sturdier. Plus, it dries so fast!"

Price and Value
Priced at around $7.40 per piece, it might seem a bit steep compared to other glues on the market. But given its high performance and the durable bond it offers, I'd say it's worth every penny for serious LEGO builders.
Conclusion
To wrap it up, the Loctite Ultra Gel Control Super Glue is a reliable ally for your LEGO projects. Its strength, fast-drying time, and durability make it a standout choice.
As we see, Loctite Ultra Gel Control Super Glue is a kind versatile glue that can bond a wide range of materials and is ideal for general Lego building and repair. If you need Low viscosity glue that is ideal for repairing Lego sets with small cracks or gaps on Legos, here is another option.👇👇👇
Glue Masters Professional Grade Cyanoacrylate – Low Viscosity Glue

Product Overview
The Glue Masters Professional Grade Cyanoacrylate is a medium-viscosity super glue, boasting a fast-drying, clear finish.

It's a cyanoacrylate adhesive (that's a sciencey way of saying it's super potent). It's designed to work with an array of materials, but today, we're focusing on its magic with LEGOs. This bad boy is available in an extra-large 8 oz (226-gram) bottle and comes with a protective cap to prevent any messy spillage.
Pros and Cons
Pros
Super strong bond: Once this glue touches your LEGO bricks, they're not going anywhere.
Quick Drying: No need to hold your LEGOs in place for an eternity!
Clear Finish: It's practically invisible once dry. Your epic LEGO creation remains the star of the show!

Cons
Slightly high price: It's a bit pricier than your average glue, but hey, quality doesn't come cheap!
Not easily reversible: Once your LEGOs are stuck, they're stuck for good. So plan your design carefully!
In-Depth Analysis
This adhesive is no ordinary glue. It's a medium viscosity cyanoacrylate, which means it has a balanced consistency – not too runny, not too thick. This makes the application process a breeze and gives you just the right amount of control.

The glue's design and quality are top-notch, and it's ridiculously easy to use. Just be careful with the quantity, a little goes a long way!
Real-Life Experience
I used this glue to piece together my LEGO Star Wars Millennium Falcon set. The bond was so strong; I think even a Wookiee couldn't pull it apart! It dried clear, leaving no trace of any gluey meddling.

It's been months, and my Falcon has not lost a single piece, surviving numerous bumps and tumbles.
Testimonials and Reviews
On Amazon, "TechieMom" says, "This glue held my son's LEGO Death Star together like magic!"

"BrickLover101" on Etsy comments, "It's worth every penny. My LEGO city skyline has never looked better!"
Price and Value
Priced around $87 for a 226-gram bottle, it's definitely on the higher end of the glue market. However, considering the strength, quick drying time, and clear finish, it's safe to say that it offers excellent value for money.

It's an investment that will keep your LEGO masterpieces intact for years to come.
Conclusion
The Glue Masters Professional Grade Cyanoacrylate is a game-changer for LEGO enthusiasts. It's strong, fast-drying, and gives a clear finish that doesn't interfere with the look of your creations. Although it's a bit on the pricey side, the value it brings to your LEGO building game is beyond measure.
Don't hesitate to give it a try if you are repairing Lego sets with small cracks!
What? You'd like to get my advice for for young builders who need a simple glue that can bond small parts? No seat. I've got you covered. 👇👇👇
Krazy Glue Elmer's Original – for Young Builders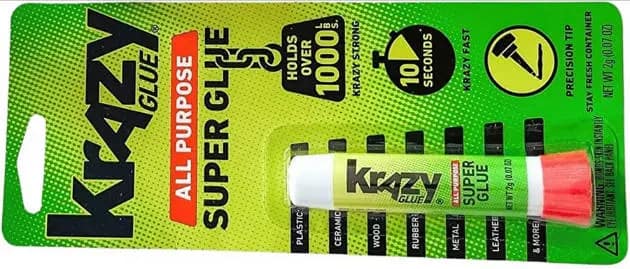 Product Overview
Krazy Glue Elmer's Original is a cyanoacrylate adhesive that bonds in the blink of an eye. It's got a low viscosity, which means it's designed to flow smoothly into tiny gaps for a snug fit.

The unique formula is engineered for a swift, robust bond, and it works wonders on those non-porous Lego surfaces. What sets this glue apart is its versatility – it's as comfortable joining Lego bricks as it is bonding wood, ceramic, or plastic. Now that's KRAZY!
Pros and Cons
Pros
Bonds quickly, no time wasted waiting for it to dry.
Works with a range of materials, not just Legos.
Easy to apply, even in those tricky spots.

Cons
Permanent adhesive, so think before you stick.
Can be a bit messy if you're not careful.
In-Depth Analysis
Krazy Glue Elmer's Original certainly lives up to its name. It's quick, it's strong, and it's a little bit krazy! The formula is designed for non-porous materials, which means it's perfect for those slick Lego surfaces. It's easy to apply, just be careful not to overdo it as it can get a tad messy.

Compared to other brands like Gorilla or BrickShield, Krazy Glue holds its own. Its quick-drying formula and versatility give it a unique edge, making it a standout in the Lego glue game.
Real-Life Experience
I put Krazy Glue to the test on my Lego project(built models with premade motors and sensors using the LEGO Boost line. The free LEGO Boost app then walks children through the process of making their projects move through simple icon-based coding), and boy did it deliver! My Lego castle, which has a habit of falling apart (courtesy of my enthusiastic golden retriever), is still standing strong.

Krazy Glue was easy to apply, dried quickly, and has kept those pesky bricks firmly in place.
Testimonials and Reviews
"Krazy Glue has been a game-changer for my Lego projects. I can finally display my creations without fear of them falling apart!" said user LegoLover21 on Amazon.

BrickBuilder89 from Etsy noted, "It's easy to use and super strong. My Lego city has never looked better!"
Price and Value
Krazy Glue Elmer's Original comes at a reasonable price, especially considering its bonding prowess. While there are cheaper alternatives out there, none of them offer the same strength and versatility.

So, for its price, Krazy Glue definitely offers bang for your buck!
Conclusion
In a nutshell, Krazy Glue Elmer's Original is a stellar choice for any Lego enthusiast looking to keep their creations together. Its strong bond, quick drying time, and versatility make it a top contender in the world of Lego adhesives.

However, remember that it's a permanent adhesive, so make sure you're happy with your creation before you get sticking!
Keep on reading! If you are hunting for high-strength bond glue that can withstand heavy loads and stress and is ideal for building large Lego structures or dioramas.👇👇👇
E6000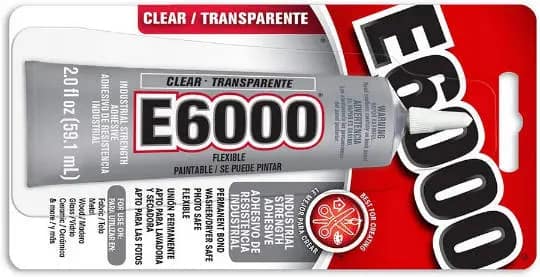 Product Overview
The E6000 adhesive is a bonding beast in a tube, offering 3.7 fluid ounces of unparalleled sticking power. This rubber-based adhesive is designed to showcase its strength on any surface, even on those tiny, stubborn LEGO pieces.

This clear, self-leveling adhesive can bond a variety of materials, including rubber, metal, masonry, leather, vinyl, wood, and plastics – that means your LEGO blocks too!
Pros and Cons
Pros
Industrial-grade strength – It's like the Hulk of glues!
Versatility in bonding various materials.
Water, dilute bases, chemicals, and acid resistance facility.
Self-leveling feature for a clean finish.

Cons
Longer drying time: It takes about 10 minutes to dry and 24 hours to cure completely.
May be difficult to apply in tiny LEGO crevices due to its consistency.
In-Depth Analysis
When you first open the E6000, you'll notice it's thicker than your regular school glue, but don't let that deter you. It's this thickness that gives it the power to bond your LEGOs firmly.

Compared to its competitors, like Gorilla glue, it might take a bit longer to dry, but the bond it forms is robust and resistant to force, heat, and moisture. The self-leveling feature is a bonus for those of us who aren't exactly the most dexterous!
Real-Life Experience
I decided to put the E6000 to the test on a fairly complex LEGO spaceship model. The application was a bit tricky due to the consistency of the glue, but the nozzle helped with precision.

After letting it cure for 24 hours, the spaceship was ready for its maiden voyage. It survived multiple crash landings without a piece out of place – now that's what I call a solid bond!
Testimonials and Reviews
Amazon user 'BrickMaster82' said, "E6000 has transformed my LEGO hobby into a full-time passion. It's a game-changer for anyone serious about their LEGO constructions."

Another user, 'CraftyCassie,' mentioned, "I love how E6000 bonds everything so firmly. My LEGO creations are no longer at the mercy of my clumsy cat!"
Price and Value
Priced around $23, the E6000 is a bit pricier than your average glue. But considering its superior bonding strength and versatility, it offers excellent value for money, especially for serious LEGO builders.

Remember, good things rarely come cheap!
Conclusion
E6000 is a real champion in the realm of adhesives. It's like the secret sauce that keeps your LEGO masterpiece intact and ready for display. If you're looking for a strong, reliable, and versatile adhesive, E6000 is definitely worth considering.
So you've got 6 options till now and a brand-new idea came to your mind: if I have painted surfaces on my Legos, what glue can I use? Here is it👇👇👇
Rhino Heavy Duty Glue – Glue Large Structures
If you want to create custom or modified Lego builds and sculptures where standard connections won't work or provide enough stability. Things like large structures, mobiles, dioramas, etc. may require gluing.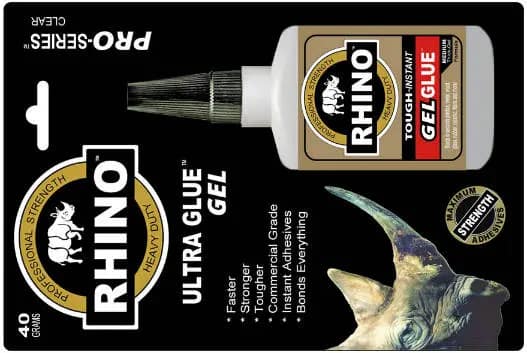 Product Overview
Rhino Heavy Duty Glue is a commercial-grade instant adhesive that claims to bond virtually everything. We're talking plastics, vinyl, canvas, woods, rubber, ceramics, metals, glass, fabrics – and yes, even your cherished Lego blocks.

With a promise of no more failed bonds or dry outs, this triple distilled adhesive is meant to work on various materials, ensuring your Lego projects hold up no matter what.
Pros and Cons
Pros
Versatility: Bonds a wide range of materials.
Strong Bond: Instant adhesion and fast hardening.
User-Friendly: Easy to use applicator tip.

Cons
Can be messy if not handled carefully.
May leave residue on some surfaces.
In-Depth Analysis
Rhino Heavy Duty Glue is impressive with its commercial-grade formula, offering a bond that is tough to break. Its instant adhesive property and fast hardening make it perfect for quick and sturdy Lego constructions. Plus, the fact that it's compatible with painted surfaces is a definite win for those who like to customize their Lego blocks.

However, it's essential to be careful when using Rhino Glue as it can be messy if not handled with care, which can lead to unwanted residue.

Compared to E6000, it hardens faster, which can be a boon or a bane depending on your project needs.
Real-Life Experience
I was working on a complex Lego structure with painted blocks, and the adhesive held up brilliantly, surpassing my expectations.

The bond was durable and instant, and the painted surface remained unscathed. However, I did notice it could get messy if not handled carefully.

So, word of caution – be mindful while applying!
Testimonials and Reviews
One Amazon user, LegoLover101, said, "Rhino Glue is everything it promises to be. Held my Lego masterpiece together like nothing else."

However, another user, ArtfulHands, cautioned, "Great glue, but be careful. I accidentally got some on my work desk, and it was a pain to remove."
Price and Value
Rhino Heavy Duty Glue is a bit pricier than your average adhesive, but considering its bonding power and versatility, it's worth the investment.

When compared to similar products on the market like E6000, Rhino's performance justifies its price.
Conclusion
Rhino Heavy Duty Glue proves to be a reliable partner for Lego projects, particularly ones involving painted surfaces. Despite its minor shortcomings, its versatility, bonding strength, and ease of use make it a worthy adhesive to have in your toolkit. Just remember to handle with care to avoid any messy mishaps.
Want one more glue that works on more materials than just plastic? I've got you covered. 👇👇👇
Gorilla 7700104 Super Glue Gel
Product Overview
Gorilla 7700104 Super Glue Gel is a high-performance adhesive known for its toughness and precision. It's got a gel formula that's great for vertical applications, and it's engineered to absorb shocks, drops, and impacts.

This means it won't falter when you accidentally knock over your intricate Lego masterpiece. Plus, it dries in a speedy 10-45 seconds, so you won't be twiddling your thumbs waiting for your creations to set.
Pros and Cons
Pros
Versatile: Works on multiple surfaces, including plastic, wood, metal, ceramic, rubber, leather, and paper.
Controlled Application: The gel formula prevents run-off, allowing precise application.
Fast Setting: Dries in 10-45 seconds, keeping your building momentum going.
Tough: Engineered to absorb shocks and impacts, which is perfect for those accidental table bumps.

Cons
Potentially Damaging: Can potentially damage Lego bricks if too much is applied.
Not Specifically Designed for Legos: Although it works well on Legos, it's not a specialized Lego glue.
In-Depth Analysis
The Gorilla 7700104 Super Glue Gel is a tough guy in the glue world. Its gel formula is easy to control, making it excellent for those detailed Lego projects where precision is key. The quick drying time is a godsend, too.

But remember, this is a super glue. It's powerful stuff, so be sure to use it sparingly to avoid damaging your bricks.
Real-Life Experience
I tried the Gorilla Super Glue Gel on my latest Star Wars Lego project. Talk about sticking power! It held everything together superbly, even when I accidentally knocked it off my desk (blame the cat). The drying time is as quick as they claim, but the real gem here is the precision. The gel formula allowed me to apply it right where I wanted it, with no run-off.
Testimonials and Reviews
One user on Amazon, LegoLover101, said, "The Gorilla Super Glue Gel has been a game-changer for my Lego builds. It's strong, fast, and precise. Just what I needed!"
Price and Value
The Gorilla 7700104 Super Glue Gel sits comfortably in the mid-range price bracket for super glues. Given its performance, it offers solid value for money. Yes, there are cheaper options, but they don't offer the same level of precision, strength, and quick-drying convenience.
Conclusion
The Gorilla 7700104 Super Glue Gel is a strong, quick, and precise adhesive that works well for Lego projects. It's not without its potential drawbacks (remember, less is more!), but overall, it's a robust choice for Lego enthusiasts looking for an adhesive that's up to the challenge.
Read More: gorilla tape vs alien tape
FAQ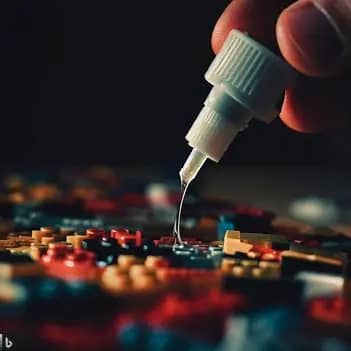 Temporary vs. Permanent Glue Solutions
What are the benefits and drawbacks of temporary and permanent glue options for Legos?
On one hand, we have permanent glues like Gorilla Super Glue. These guys are like the superheroes of adhesives, creating an unbreakable bond in just 10 to 45 seconds. They're perfect for those Lego masterpieces you want to cherish forever, maybe a Star Wars Death Star or a Hogwarts Castle that you've poured hours of work into. These permanent solutions are for the Lego architects who want their creations to withstand the test of time and the occasional accidental bump or drop. But beware, once you've glued those pieces together, they're staying put. No do-overs!
On the flip side, we have temporary adhesives, the shining star being Le Glue. Now, Le Glue is like the friendly neighborhood Spider-Man of glues. It's not as heavy-duty as permanent glues, but it definitely holds its own. You can stick your Lego pieces together, and they'll stay put. But if you decide you want to change things up, just add some warm water, and voila! Your Legos are free to be rearranged, reused, and repurposed. It's like a magic trick!
But, just like any superhero, these glues also have their kryptonite. Permanent glues are, well, permanent. So, if you make a mistake or want to use your bricks for another masterpiece, you're out of luck. Also, excessive use of permanent glue might potentially cause physical or chemical warping of your precious bricks.
Temporary glues, on the other hand, might not hold up to rough play or accidental knocks as well as their permanent counterparts. Also, frequent application and removal could lead to residue build-up, which might affect the fit and clutch power of your Lego bricks.
Child-Friendly Glue Options
What are some child-friendly and non-toxic glue options for Legos?
First up, meet Le Glue. It's like the cool babysitter of Lego glues. It's non-toxic, safe for kids, and has a nifty trick – it dissolves in warm water, leaving no icky residue. So, if your kiddo wants to redo their Lego Taj Mahal into a Lego spaceship, no worries!
My Latest Updates
👋 Hi! This is Ronald. I just published 2 new articles you may enjoy reading. Feel free to keep reading this one or 👇 check out the new articles anytime.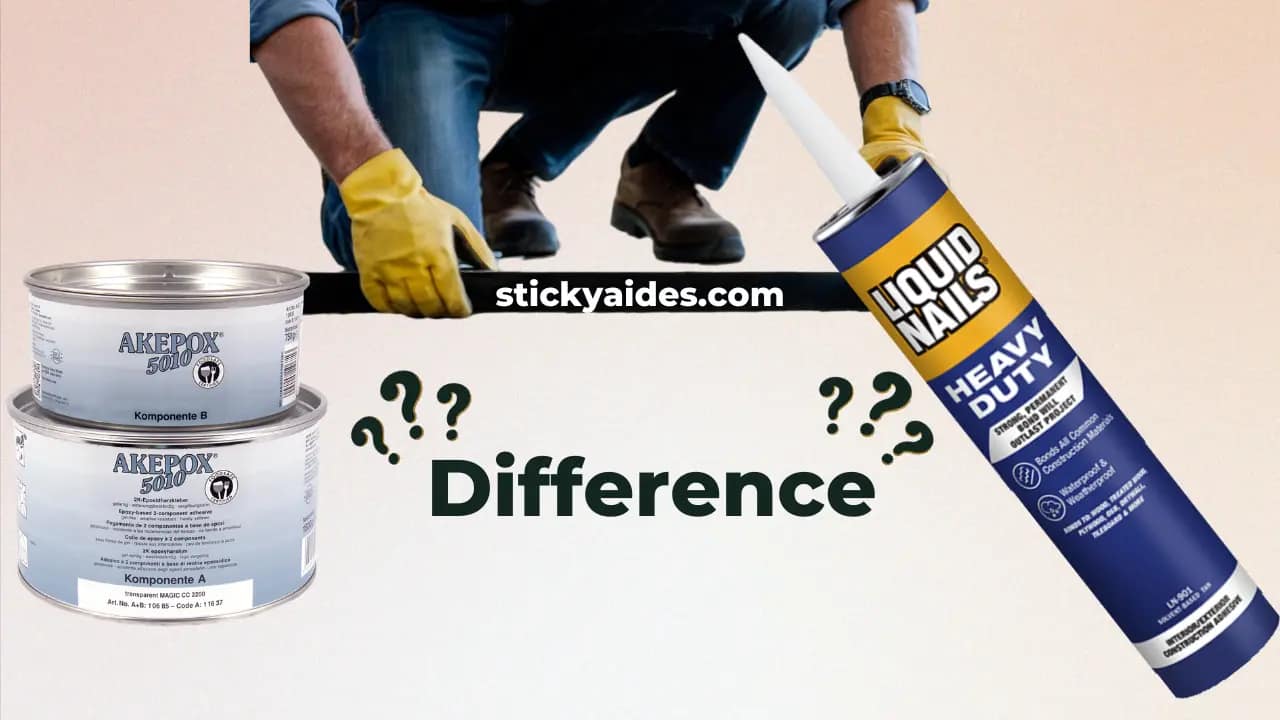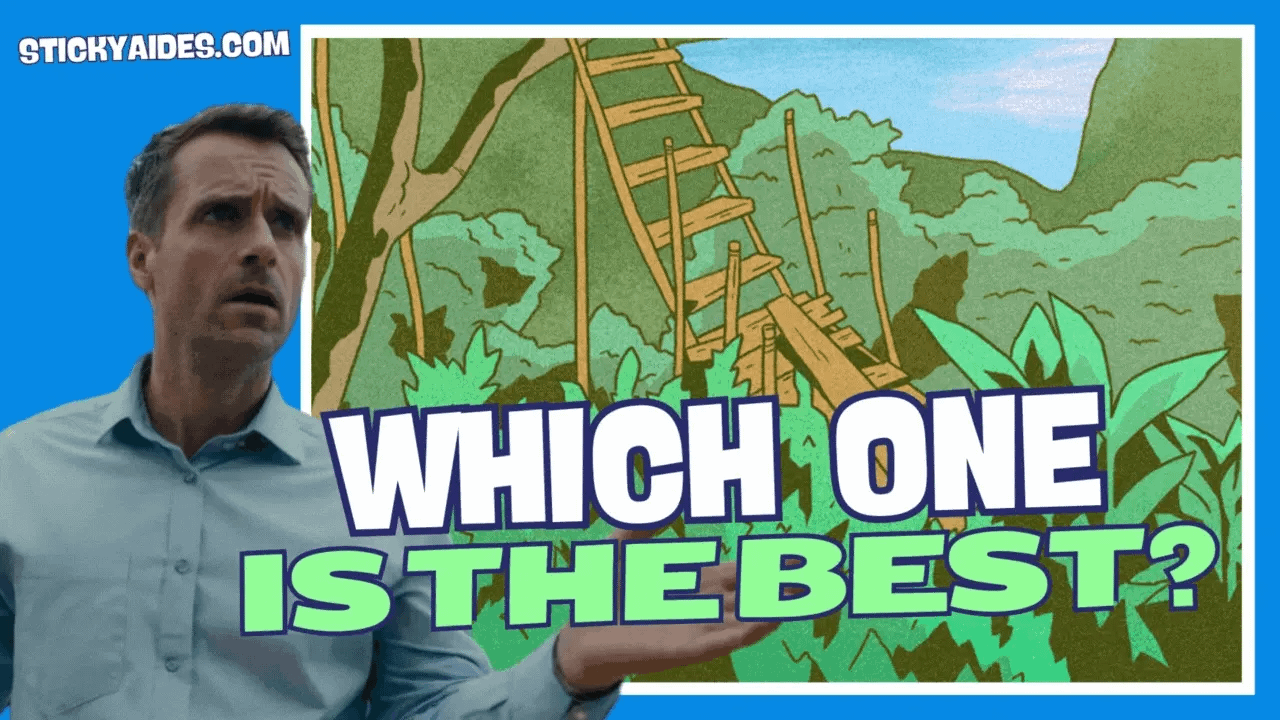 Then we've got BrickShield Brick Glue Adhesive Spray. It's like a magic mist that bonds Lego pieces together. It's also non-toxic, kid-friendly, and washes off with warm water. The spray form makes it super easy to apply, even for tiny hands. Plus, it's like giving your Lego creation a superhero shield – who doesn't love that?
Remember, while these glues are safe and fun, they're not snacks. Always supervise your little builders during their construction projects.
Spray Adhesive vs. Liquid Glue for Legos
What are the pros and cons of using spray adhesive vs. liquid glue for Legos?
Let's start with spray adhesives. Picture this: You're crafting your Lego dream castle, and you just want an even coat of adhesive that's quick and easy to apply. Enter spray adhesive! It's like a mist of stickiness, making sure every nook and cranny gets a share of the adhesive action. It's super versatile, bonding to almost any material, and it becomes tacky in about 15-20 seconds – perfect for those who can't wait to see their creations come to life!
But every superhero has a weakness, right? With spray adhesives, precision can be a challenge. You might end up spraying more than you intended, or the mist could go in places you didn't plan. Also, you'll need a well-ventilated area to use it, since it can get quite fumey.
Now let's talk liquid glues. These are your traditional, reliable pals in the adhesive world. They're great for bonding porous materials and offer more control during application. You can apply just a drop exactly where you want it, ideal for intricate Lego projects.
But, like a movie plot twist, they also have downsides. Liquid glues usually take longer to dry, which might not work well if you're an impatient builder. And while they're excellent for porous materials, they may not work as well on non-porous surfaces.
Conclusion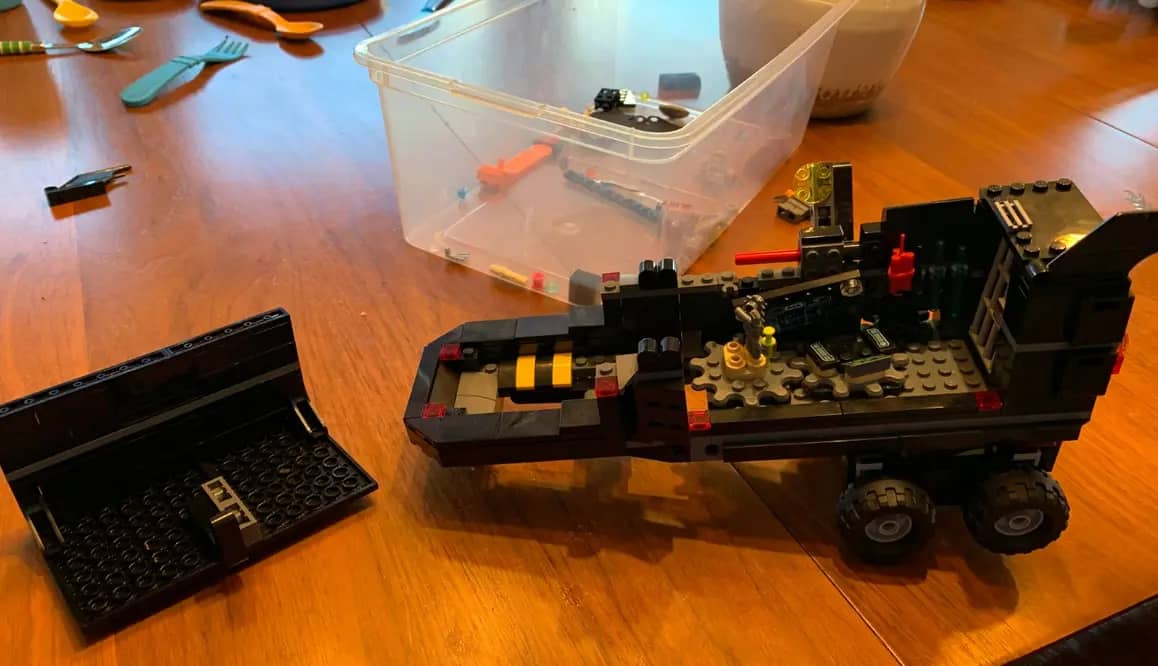 To successfully glue Legos, proper surface preparation, precise application, and adequate drying time are crucial. By following the provided tips and tricks, you can achieve excellent results and ensure the longevity of your Lego creations.
Before embarking on your next Lego project, take the time to carefully evaluate your requirements and select the best glue option that meets your specific needs. Investing in a high-quality glue will not only enhance the structural integrity of your Lego models but also allow you to enjoy and display them with confidence.
Choose wisely, adhere securely, and let your imagination soar as you bring your Lego creations to life!