Hondabond vs. Permatex: With every gasket maker out there bragging they're the cat's pajamas, I took it upon myself to test drive the top dogs – Hondabond HT and Permatex Ultra Grey.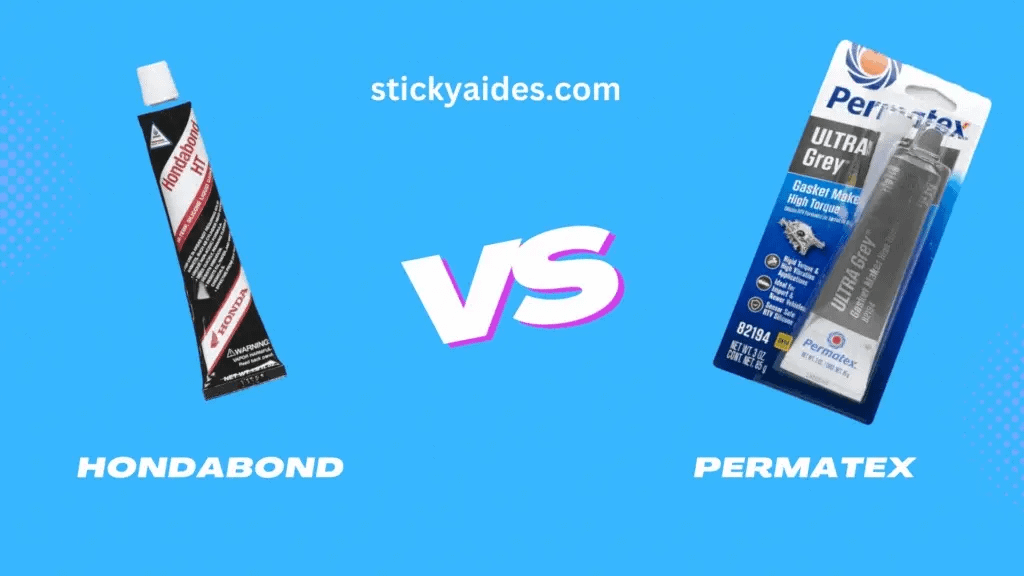 After wrenching for more years than I can count, here's my two cents – if you need to seal up or dress a new gasket, Hondabond will do the trick with its better sealing and adhesion properties. But Permatex might work okay on simpler jobs. For long-lasting gasket sealing, Hondabond is still top choice in this grease monkey's book. The silicone gives it an edge over Permatex's rubber formula.
Hondabond vs. Permatex: What's The Difference?
So in my experience, Hondabond takes the checkered flag over Permatex when it comes to gasket makers. Hondabond had better seals and stick-to-it-iveness. Permatex did a middling job on both fronts. When I need to get the job done right, Hondabond is still king of the garage.
My Hands-on Test of Hondabond

✅Pros
First and foremost, it's important to note that Honda Bond is specifically designed for use on Honda vehicles. So if you own a Honda, you're in luck.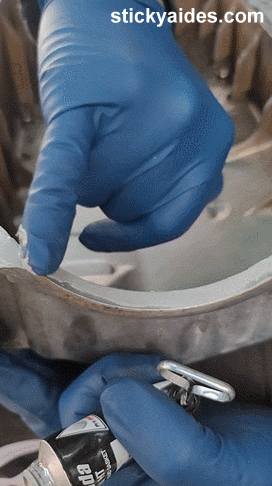 I recently used Hondabond to create a seal when replacing my exhaust resonator, and let me tell you, it did not disappoint. However, I must warn you that it can get quite messy. The consistency is sticky, and it tends to cling to your fingers and clothing. Removing it can be a bit of a challenge. My advice is to cut the end of the tub off and squeeze it with all your might, almost as hard as you can.
Incredibly Effective
Despite the initial messiness, Honda Bond has proven to be incredibly effective. It has been on my exhaust system for a month now, and it has maintained a perfect seal. Now, I'm not entirely sure if this is its intended use, but it worked like a charm for me.
Useful Technique
If you're not accustomed to working with your hands on a daily basis, squeezing the goo out of the tube can be a bit difficult. However, I discovered a useful technique. Try rolling the bottom of the tube to create pressure, especially if you're dealing with a small hole. This will make the application process much easier.
Sealing the Valve Cover Gasket
Apart from my exhaust system, I also used Honda Bond to seal replacement parts on my vehicle that were no longer exact fits due to rust and wear and tear. It did the job perfectly. In fact, Honda themselves recommended this product for sealing the valve cover gasket on my '14 Accord during a replacement.
It's specifically designed to seal metal-to-metal connections under the rubber gasket that may leak oil. I followed the instructions, applied the Honda Bond, and waited the recommended time before adding oil. It has been 2000 miles now, and I haven't encountered any leaks.
OEM Recommendation
I know there are other alternatives out there, such as Permatex silicone sealer, but why take the risk? When it comes to sealing and bonding, I believe in going with the OEM (Original Equipment Manufacturer) recommendation. Honda Bond has proved its worth time and time again, and I wouldn't settle for anything less.
In terms of usability, Honda Bond is a breeze. It's easy to work with and holds up exceptionally well, regardless of the application. The folks at Honda really know how to create products that deliver outstanding performance.
❌Cons
Now, I must admit that working with Honda Bond can be a little challenging due to its tacky nature. It tends to stick to everything it comes into contact with, which can make spreading it a bit of a hardship. However, the seal it creates is well worth the effort and inconvenience. Just be prepared for the stickiness.

FAQ of Hondabond High-Temp Silicone Liquid Gasket
Q: Can I utilize Hondabond to seal the cam seal on my Integra?
A: This sealant is of exceptional quality and primarily used for motorcycles. It should effectively seal your cam cover without any issues.
Q: According to the 2008 Honda Civic service manual, it recommends applying "liquid gasket" to the engine block coolant drain plug before installation. Is this applicable?
A: This is the finest liquid gasket sealant I've come across for Honda engines. It works exactly as advertised if you follow the instructions.
Q: I have a hairline crack on the inside thread of where the oil-sending unit screws into the block of my car's engine. Will Honda Bond stop the oil leak?
A: When applied correctly, Honda Bond serves as a reliable sealant and gasket maker. While I can't guarantee it will fix your issue, it's worth a try at just $12. Apply some sealant on the threads of the sending unit, reinsert it, and ensure proper drying by following the instructions. Worst case scenario, you'll be in the same situation, but at least you gave it a shot. It won't cause any harm.
Q: Can I use Hondabond for a head gasket on a model airplane motor that uses glow fuel?
A: In the past, we used aluminum spray paint for head gaskets, and there are copper-based sealers available as well.
Q: Is Hondabond the right product for the clutch cover? I need to replace the gasket on my 2007 CBR600RR.
A: Hondabond 4 appears to be the more popular choice. However, please note that the 2007+ CBR600RR does not require a gasket for the clutch cover.
Q: I purchased Hondabond for the oil pan seal on my Accord. Can I fill it up with oil and drive after 1-2 hours?
A: No, I wouldn't recommend it. You must wait at least a day, but ideally 2-3 days before filling the oil pan with oil.
Q: Should I use some of Hondabond on my oil pressure sensor for my 2017 CBR1000RR? It has a very small leak, a few drops a day.
A: If the oil pressure sensor is leaking from the threads, you'll need thread sealer instead of silicone. If the sensor is leaking from the housing, it needs to be replaced. Silicone, Teflon, and other products are not recommended.
Q: What color is the bond?
A: The bond is gray in color.
Q: Can Hondabond be applied in cold weather, around 30 degrees Fahrenheit?
A: I applied it at approximately 40 degrees, and it has held up for one year.
Q: Will Hondabond help seal the vacuum leak between the carb and the engine on my Husqvarna chainsaw?
A: You'll need to completely remove the carb, thoroughly clean all surfaces, and then reseal it as instructed on the bottle. While it should work well, if possible, it would be faster and likely better to obtain a factory gasket. Unless the mating surfaces are damaged and you need the liquid sealant to fill in flaws, or if you can't find a cut gasket and regular sealant.
Q: How many tubes do I need for the oil pan?
A: You only need one tube, and you'll only use a portion of it. I used it on a 1991 Honda Civic oil pan, applying some in the four corners as mentioned in the shop manual.
Q: Can I use Hondabond to seal a leaky rubber gasket on an air conditioner? The condensation from the AC is leaking into the electrical compartment.
A: This gasket material is designed to compress between two objects, so if you're using it solely for an outer seal, it may not hold.
My Latest Updates
👋 Hi! This is Ronald. I just published 2 new articles you may enjoy reading. Feel free to keep reading this one or 👇 check out the new articles anytime.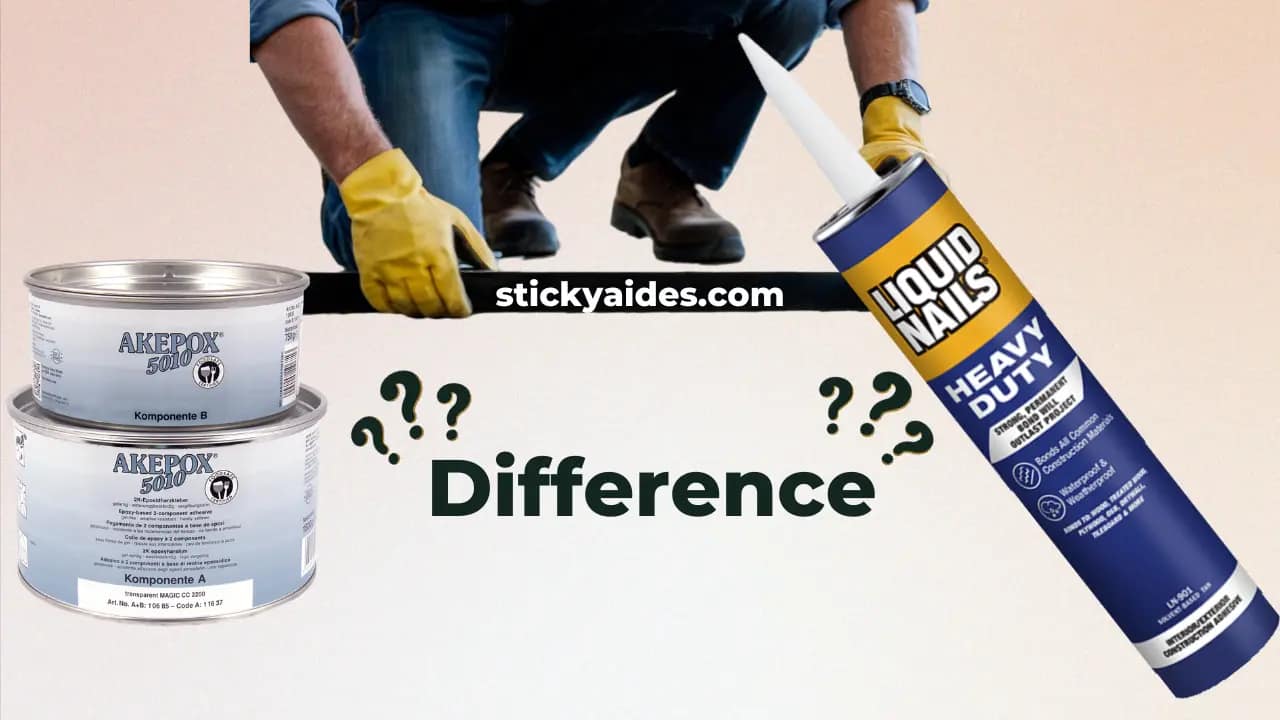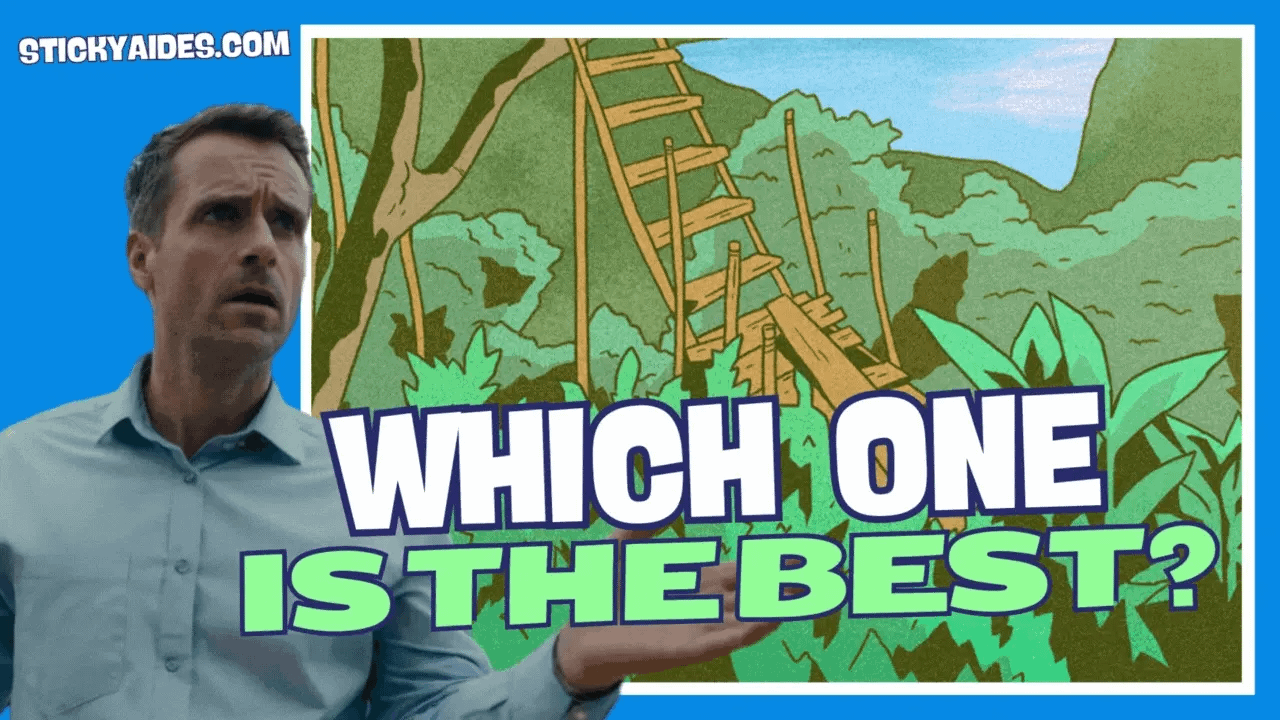 Q: Is it suitable for sealing the chainsaw head?
A: I'm quite certain it will work.
Q: I have a 2001 Acura Integra GSR and need to replace my fuel pump and oil pan gasket. Is this the right sealant to use?
A: It's best to consult your auto manufacturer. Most cars come with a kit that includes a transmission filter and oil pan gasket, unless the manufacturer uses liquid gasket in place of a rubber gasket.
Q: How long does it take to dry before I can add new oil to my 2004 Accord V6 engine?
A: It can take between 20 minutes and up to 2 hours. The best approach is to apply a small portion of the sealant, similar to what you're dealing with, on a disposable piece of paper or any suitable material. Check the sealant every 15-30 minutes. If it has hardened and no longer sticks to your fingers, it has started to cure on your engine and is safe to beexposed to oil or coolant.
Q: Will Hondabond work between the cylinder and crankcase of a chainsaw?
A: Hondabond is specifically designed for cases and covers, not for the cylinder area.
Q: Would Hondabond be effective for sealing water pump mounting bolts to prevent coolant leaks?
A: Personally, I prefer using Honda Bond HT over the regular Honda Bond because it is thicker and easier to apply. It provides excellent sealing for motorcycle engine side cases and cylinder heads, so it should work great for your water pump as long as it's not warped. I've used Hondabond extensively and it surpasses anything else I've tried. I have worked on numerous motorcycles and ATVs.
Q: Hondabond showed up when I was searching for a valve cover gasket. Should I use it with a gasket or instead of it?
A: No, Hondabond is not a replacement for a valve cover gasket. If your model requires a valve cover gasket, you should use the appropriate gasket.
Q: Is this the right Hondabond to seal my leaking Honda mower transmission after I open it?
A: I believe it should work on your mower as well. However, it's always a good idea to double-check.
My Hands-on Test of Permatex Ultra Grey 82194

✅Pros
One particular use case that impressed me was its effectiveness in securely sealing the transmission case and cover on my tractor. No leaks, no issues whatsoever. It gets the job done, and it lasts a long time, which is essential when you're dealing with heavy machinery.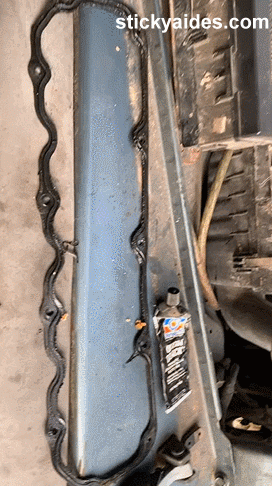 Nice Performance
While Ultra Grey is fantastic, it's only fair to mention that there are other sealants available, such as Yamabond 4, which some might argue is superior. However, in my opinion, Ultra Grey gets the job done exceptionally well, and I have had no issues with leaking or brittleness.
Efficacy
Speaking of efficacy, let me share a personal experience that truly impressed me. The rearview mirror in my Camry kept falling off, and I tried countless adhesive solutions without success. It wasn't until I found Ultra Grey. Let me tell you, it's been seven weeks, and that mirror hasn't budged since. I couldn't be happier with the outcome.
Application
In terms of application, Ultra Grey performs best when applied correctly. There's no magic involved, but if you take the time to prep and apply it properly, it will undoubtedly meet your needs. I've learned that the hard way, ensuring a clean surface and following the instructions pays off in the long run.
Durability
In terms of durability, Ultra Grey has proven itself time and time again. I installed a new gasket in my 2003 Ford Sport Trac rear end, applying a thin layer of Ultra Grey, and I haven't experienced a single hint of leakage even after a few months. It's good stuff, indeed.
❌Cons
The tube I received was dented and squished, making it a bit challenging to squeeze the sealer out.

FAQ of Permatex Ultra Grey 82194
Q: Hi there! Is this particular sealant suitable for sealing the gasket on my scooter's oil crankcase?
A: Absolutely! The Ultra Gray is actually the recommended gasket material for case applications in BMW Motorrad. If it's good enough for BMW motorcycles, it should work great for your scooter.
Q: I've been struggling with my rearview mirror falling off every few months. Can I use Ultimate Grey to hang it securely on the windshield?
A: To tackle this issue, I suggest using high-temperature double-sided epoxy tape. Start by thoroughly washing the windshield and the mirror's mating surface with detergent and water. Make sure to avoid any finger oils on the adhesive area. Next, lightly abrade a hidden area of the windshield with 600-grit sandpaper. Repeat the process on the mating surface of the mirror. Follow the instructions provided by the tape manufacturer for applying the tape. It's best to do this in the late day or in a garage to avoid excessive heat. Also, consider using a support, like a bent coathanger, to hold the mirror in place while it cures.
Q: Can I use it on the threads of water pump bolts?
A: Absolutely! Just be sure to follow the instructions on the tube precisely.
Q: Will it be effective for valve cover gaskets?
A: Yes, it's great for valve cover gaskets. Apply a 1/8-1/4 bead of the sealer all around the cover. Wait for 10-15 minutes before installing it. I personally use it with gaskets to keep everything in place.
Q: I'm confused about whether I can use it on my headers. The description says yes, but the bottle says you don't recommend it. What should I do?
A: No, I wouldn't recommend using it on headers.
Q: So, is it essentially the same as Ultra Grey but better?
A: From what I can tell, yes, it's very similar to Ultra Grey. I used it to seal the oil and coolant passages on my Acura motor, using a copper head gasket with o-rings. The application process was just like using Ultra Grey. It's supposed to have higher heat and vibration tolerance than Ultra Grey. So far, it's been working well for me.
Q: Would it be suitable for sealing a wood stove chimney pipe?
A: While it's possible to use it, I would recommend looking for specific products designed for sealing stove and fireplace pipes.
Q: Can I use it to seal windows?
A: It's possible, but please note that it is primarily used for custom gaskets on motors. Unlike other sealants, you don't have to wait for it to cure before putting it into service.
Q: Will it work for sealing rear ends that are filled with synthetic gear oil with LS added?
A: it will only bond to an oil-free surface. Make sure to clean off the cover plate and the differential body of any oil residue. Apply a bead of silicone along the perimeter and bolt on the cover. Let it set up for 24 hours, and then you can add the oil. However, I recommend purchasing the proper gasket that fits the rear end for best results.
Q: Can it be used for a range hood duct?
A: For a range hood application, it's better to opt for a high-temperature RTV (Room Temperature Vulcanizing) silicone. You might need to search for the specific product life caulk vs life seal designed for sealing joints in this context.
Q: How much of it is recommended for V8 valve cover gaskets?
A: The amount of silicone gasket maker you will need for replacing valve cover gaskets on a V8 engine can vary depending on the size of the gasket surface and the manufacturer's recommendations. Generally, a 3.5 oz. tube should be sufficient, but it's always best to consult the manufacturer's instructions for precise guidance.
Q: Could I use it to seal an inspection hatch or top plate on a diesel tank?
A: I used it to seal a Beans sump underneath a diesel tank, even with the tank surface still wet. It has held up for over two years,so it should work well for sealing an inspection hatch or top plate on a diesel tank as well. Just make sure to clean the surface thoroughly before applying the sealer for optimal adhesion.